If viewing on the ABC10 app, click HERE to view multimedia
Colder weather and rain are becoming more of a norm in northern California, and, as people drive their vehicles, the weather will be playing a big part in how your car's tires behave this season.
When the weather changes, the air pressure in your car's tire can change also, possibly triggering a low air pressure light. While a few psi may not seem like a big deal, the trend can result in more than a dashboard light.
Bill Tester, tire expert and store manager of Les Schwab in Sacramento, says air pressure can translate to a difference in tire wear, handling, and even a tire blowout.
"It can be very risky," said Tester. "It can definitely impact handling characteristics. It can definitely increase tire failure if it was a significant difference in air pressure…"
When the weather gets colder, the air molecules in the tire start to shrink, which is what is lowers the air pressure in a tire and triggers the dashboard light.
"If it goes 6, 7, 8, 10 psi above and/or below that target point, it will trigger that light, and this is where the weather can be a factor in addressing that," Tester added.
For every 10 degrees the temperature changes, air pressure in tires drop 1 psi. On some California days, drivers can see their tire pressure drop by 5 psi overnight.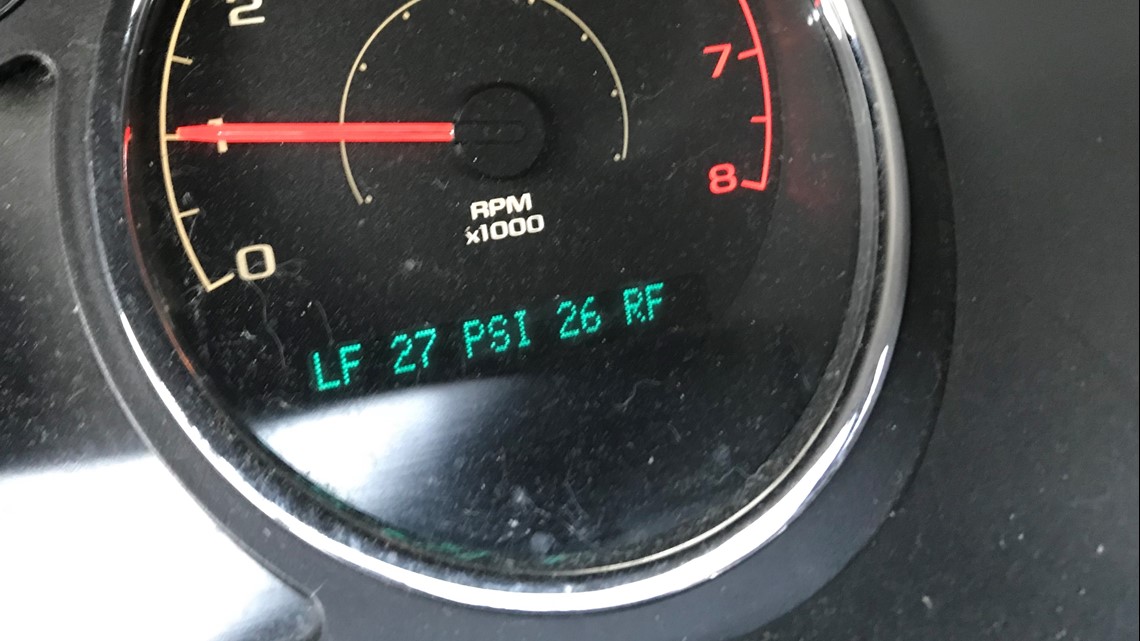 In regard to blowouts, the increased friction from driving on an under-inflated tire will cause them to overheat and increase the risk of a blowout.
How do I avoid blowouts in the winter?
According to Accuweather, one way to avoid air pressure risks is to use an all-season tire, which they consider to be a good rule of thumb when driving in conditions below 40 degrees. Winter tires are built for traction and handling on snowy or icy roads and are suggested for those in areas where temperatures regularly reach zero.
In the Sacramento area, Tester suggests something a little simpler: checking air pressure once a month. Whether it be with a tire pressure gauge or a monitoring system, monitoring the air pressure in a tire is a good way to avoid risks from under-inflated tires in the first place.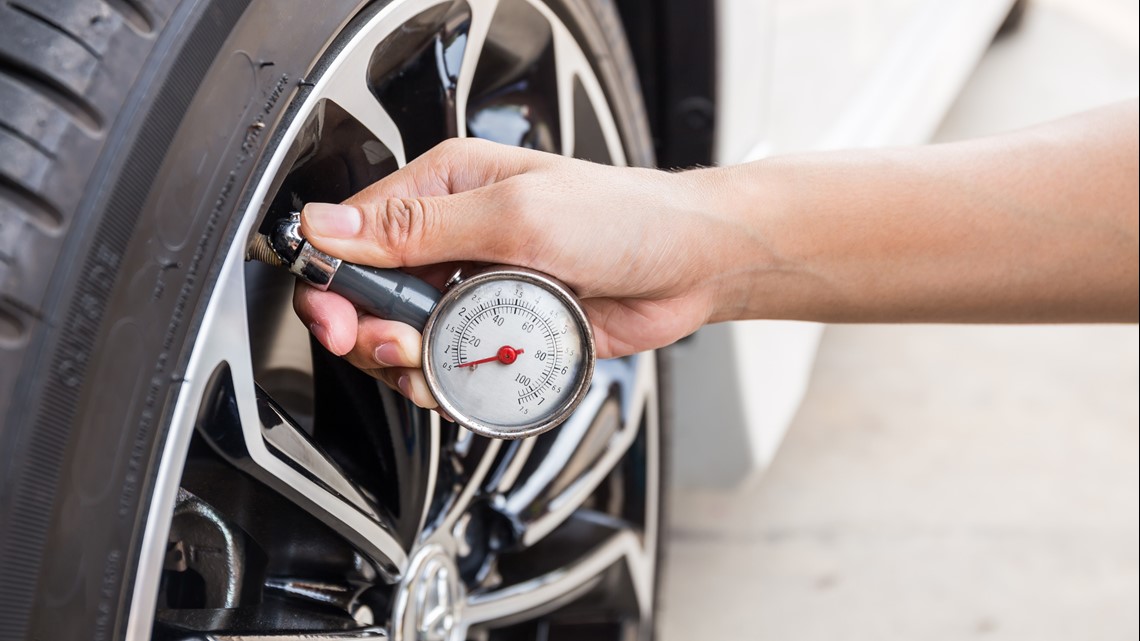 One key tip from Tester is to check air pressure when the tires cold.
"We always recommend checking the air when the tires are cold and sitting for a while. That is going to be your most accurate air pressure to go off of," Tester said.
Don't check the air pressure immediately after driving the vehicle. The friction being generated by the tire alone is going to heat up the air inside the tire and give an inaccurate reading. The best times to check could be early in the morning or when the car has not been driven for a few hours.
Even though the air pressure can increase while driving, most tires can handle the increase from driving and from hot weather if the pressure was set while cold, according to Accuweather.
"If you stick to those best practices, you should endure or eliminate any light coming on" in lieu of getting an actual puncture on the tire, Tester added.
If your vehicle's tire pressure is low, its recommended air pressure can usually be found on the inside of the door jam.
What about the rain?
With rainy weather in the area, air pressure can make a difference in how the handles itself in wet conditions.
"The idea behind having the recommended air pressure for whatever specific vehicle you have and own is to maximize tire wear, first and foremost, and also to increase traction, whether it's wet weather or dry," said Tester.
That traction is going to help make the car's footprint on the road more pronounced, according to Tester. Otherwise, the low air pressure could impact gas mileage, tire wear, and even decrease the life of the tire.