CARMICHAEL, Calif -- Make-A-Wish helped a young teen's dreams come true while he is battling a form of cancer called Neuroblastoma. Despite having just left the hospital that morning, 15-year-old Talon Bonanno was all smiles on Tuesday.
In March 2017, Bonanno was diagnosed with Neuroblastoma. Since then, the teen has endured 12 rounds of chemotherapy, corrective surgery, 20 rounds of radiation, multiple stem cell treatments, and now, immunotherapy. Through it all, Bonanno has remained positive and hopeful.
Bonanno has always been a big fan of cars, and there was one wish he hoped would come true: to get his Eagle Talon refurbished. With the help of Make-A-Wish and Edwards Collision Studio, Bonanno was able to get his beloved talon revamped.
"He saw one, one day when he was a little kid and he said 'one day I'm going to have a car with my name on it,' and today his wish came true," said Talon's father Nick Bonanno.

After picking his car up at Edwards Collision Studio on Tuesday morning, Talon and his family were accompanied by a caravan with Sacramento County Sheriff escort, as they made their way to Jesuit High School. At the high school, hundreds of friends, family members, classmates and teachers were on hand to welcome Talon and his newly revamped ride.
"I was just so happy to see all of them and it's awesome that they were here to support me,' stated Talon. It's a day that Talon will never forget.
Make-A-Wish helps 15-year-old's dream come true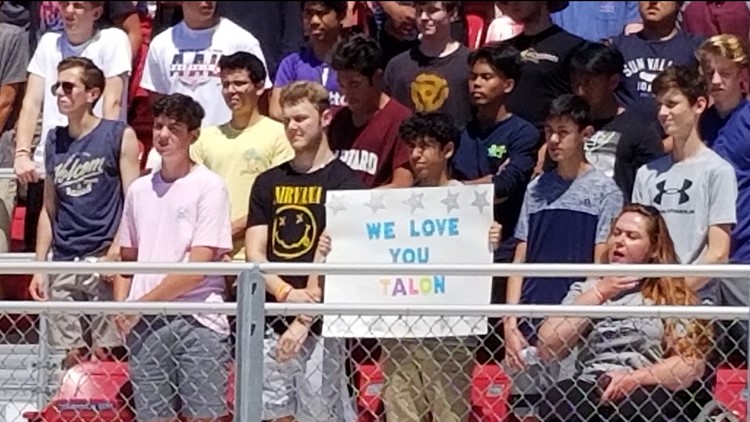 Keannu was diagnosed with an aggressive form of brain cancer when he was a sophomore in high school. Thanks to Make-a-Wish, he was able to play with his football team again.