Build-A-Bear Workshop is offering a $15 voucher to customers after overwhelming turnout for their "Pay Your Age Day" promotion forced some to wait in lines for hours and left others leaving empty handed.
Customers flocked to stores around the country Thursday morning hoping to snag a discounted Build-A-Bear but instead were met with lines that rivaled Black Friday crowds.
Parents stood in line up to six hours to get a plush toy for the cost of their child's age. Although the typical prices of the toys, which are stuffed at the stores, only cost between $10-$25, the additional accessories can raise the total to more than $100. On Thursday afternoon, Build-A-Bear released a statement admitted they had disappointed guests but "could not have predicted" the deal would be so popular.
In a statement to All the Mom, Build-a-Bear said, "We feel it is important to share that, based on the information available to us before the day began, we could not have predicted this reaction to our Pay Your Age Day event. We understand that many Guests were turned away as, due to safety concerns created by the crowds, authorities in certain locations closed Build-A-Bear stores and, in other locations, we were forced to limit the line."
PHOTOS: Build-A-Bear: Lines at 'Pay your age' events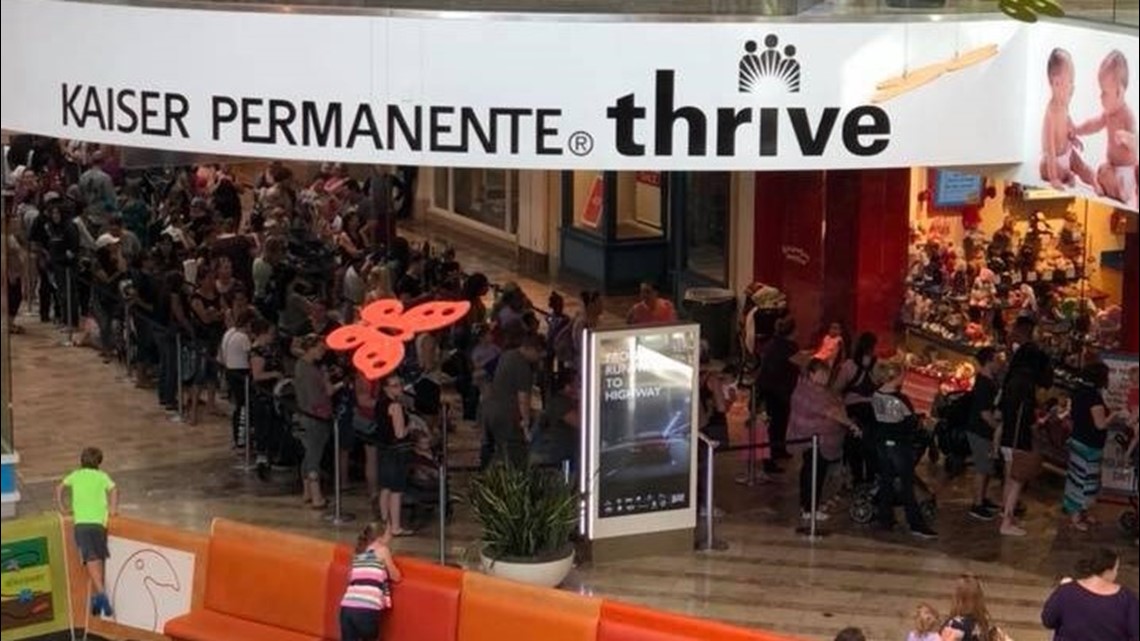 The company said they distributed vouchers to the customers who were waiting in line and will also make those vouchers available online for Build-A-Bear Club members in the U.S. and Canada who log into their account by July 15, 2018.
"Our goal with the voucher extension is to enable us to better flow traffic to the stores over the next several weeks to avoid long lines and wait times as much as possible," the statement read.
Get your voucher. Here's how
In order to take advantage of the one-day deal, an adult had to enroll in the free Build-a-Bear Bonus Club rewards program by creating an account and providing an email address.
Customers who were in line, but were turned away were given a $15 voucher toward the purchase of a bear. Now, customers who avoided the line or otherwise missed the sale still can get a $15 voucher in the U.S. and Canada. Here's what to do:
Log onto your Build-a-Bear Bonus Club account by midnight July 15.
Click to print or screenshot the voucher.
Limit one coupon per Bonus Club account.
Valid for in-story purchases only.
Build-a-Bear representatives are encouraging customers to take their time using the vouchers in order to "enable us to better flow traffic to the stores over the next several weeks to avoid long lines and wait times as much as possible."
The company said they will be honoring the vouchers until August 31, 2018.