PARIS, France — As bystanders screamed for help, a man with a knife stabbed four young children at a lakeside park in the French Alps on Thursday, assaulting at least one in a stroller repeatedly. The children between 22 months and 3 years old suffered life-threatening injuries, and two adults also were wounded, authorities said.
A suspect, identified by police as a 31-year-old Syrian, was detained in connection with the horrific attack in the Alpine and lakeside town of Annecy. French Prime Minister Elisabeth Borne said he had refugee status in Sweden.
A prosecutor leading the investigation said the man's motives were unknown but did not appear to be terrorism-related.
The helplessness of the young victims and the savagery of the attack sickened France.
Lead prosecutor Line Bonnet-Mathis said all four children suffered life-threatening knife wounds. The youngest is 22 months old, two are age 2 and the oldest is 3, she said. Two of them were tourists, she said.
One of the young victims is British, the prosecutor and British authorities said. There was confusion over the nationality of the other child who was not from france. Bonnet-Mathis said the child was Dutch, but Germany's chancellor said one of the child victims was German.
One adult also suffered knife wounds and a second adult was hurt both with the attacker's knife and later by a shot fired by police as they were making the arrest, Bonnet-Mathis said.
Video appearing to show the attack in and around a children's play park was posted on social media. The footage showed a man in dark glasses and with a blue scarf covering his head brandishing a knife, as people screamed for help.
The man appeared to shout "on name of Jesus Christ" as he waved his knife in the air, while people nearby could be heard screaming: "Police! Police!"
He slashed at a man carrying rucksacks who tried to approach him. Inside the enclosed play park, a panicked woman frantically pushed a stroller as the attacker approached, yelling "Help! Help!" and ramming the stroller into the barriers around the site in her terror.
She tried to fend off the attacker but couldn't keep him from leaning over the stroller and stabbing downward repeatedly. Afterward, the man strolled almost casually out of the park, letting himself out through a gate, with the man carrying two rucksacks still chasing after him.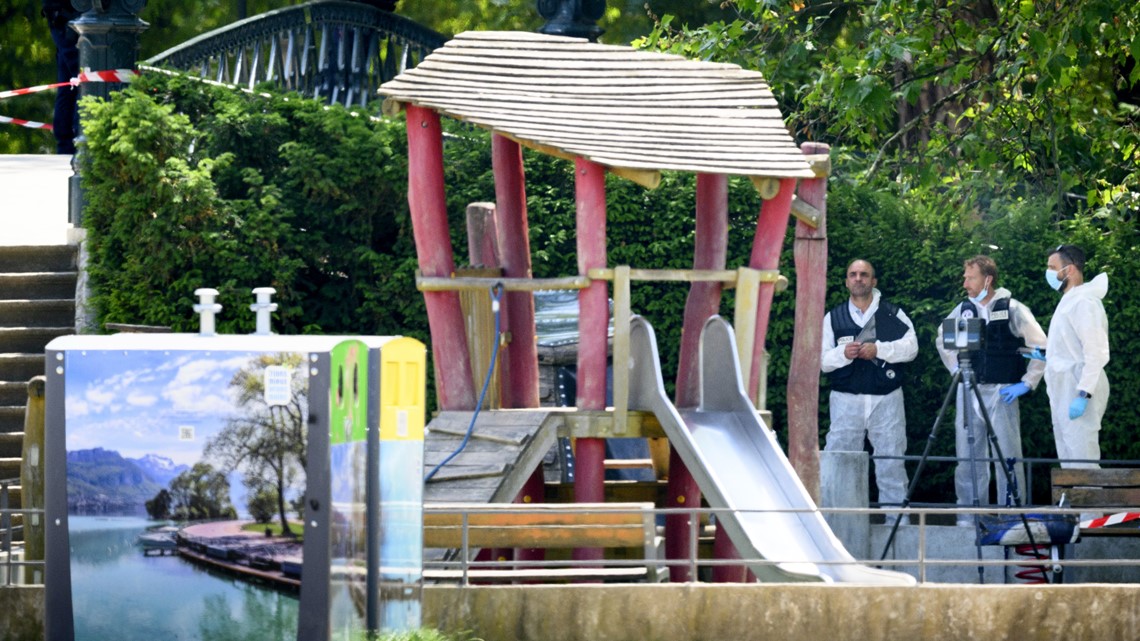 French President Emmanuel Macron described the assault as an "attack of absolute cowardice." Of the victims, he said "children and an adult are between life and death."
"The nation is in shock," Macron tweeted.
A witness who spoke to French broadcaster BFMTV said he saw the attacker jumping on an elderly man, and stabbing him repeatedly. The witness said he yelled at police to act.
"I screamed, screamed at them to intervene," he said.
An ice cream seller who works in the waterside park said he'd seen the attacker there several days earlier, looking out at the lake ringed by mountains.
Eleanor Vincent, an American author vacationing in Annecy, told The Associated Press of her shock at seeing an emergency helicopter descending to the picturesque park.
"As soon as I heard the sirens and saw police running, I knew something horrible was happening. I am in shock. It's a park where they take children out to walk," Vincent said.
Crowds stood in "absolute silence," dumbfounded as the tragedy unfolded, she said.
"As a parent who has lost a child, I know what these parents are experiencing. It's a horror beyond belief," Vincent added.
In Paris, lawmakers interrupted a debate to hold a moment of silence for the victims.
The assembly president, Yaël Braun-Pivet, said: "There are some very young children who are in critical condition, and I invite you to respect a minute of silence for them, for their families, and so that, we hope, the consequences of this very grave attack do not lead to the nation grieving."
Thomas Adamson in Paris, Jill Lawless in London and Nicolas Vaux-Montagny in Lyon, France, contributed.