SACRAMENTO, Calif. — Meet Huggie. He's a two-year-old black lab and, without factoring in dog years, he's the youngest employee at UC Davis Health. He's the hospital's first facility dog and helps young patients cope with the stress of the hospital setting.
"He's here to normalize the environment, to bring in socialization and help other kids connect with each other," said Jennifer Belke, Huggie's foster mom and child life specialist, who received Huggie free of charge from Canine Companions for Independence.
A recent poll conducted by the University of Michigan's C.S. Mott Children's Hospital showed half of the parents said their two to five-year-olds were afraid of going to the doctor.
Huggie may be the cure for that.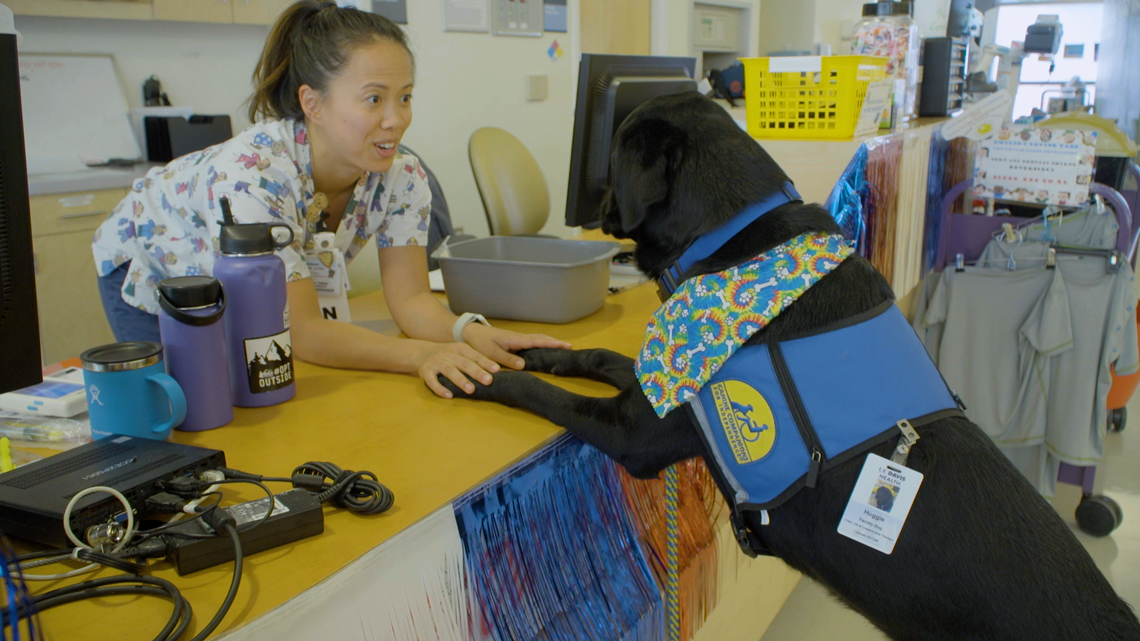 "A lot of kids come in and they can't say 'no' to a nurse, they can't say 'no' to a doctor," Belke said. "But they can tell Huggie what to do and have control over something."
Alec Dorn is receiving treatment for an enzyme deficiency in his blood known as Hunter syndrome. Every Friday, his dad, Reid, drives him down to U.C. Davis from their home in Chico for enzyme replacement therapy. There's no cure, and until one is found, Alec will need this procedure once a week for the rest of his life.
But with Huggie, Reid says there's a constant positive in Alec's routine.
"It's nice to have something that's a rock, or a solid, or a base," Dorn said. "Something positive from his week-in week-out."
Belke said Huggie has brought a new light to the cancer center.
"A lot of kids had to get rid of their dogs, or give the dog to a family friend until they're done with their treatment because of the cleanliness of the animals," Belke said. "Huggie can come in because of how strict his cleaning and infection control is, and he can bring kids that love of animals — that unconditional love — and encourage them to engage with others, and to calm down and just relax."
Dorn likens Huggie's presence to having an old soul around to keep his son company.
"He's been here since day one, so Huggie sees Alec like a familiar face and a smell," Dorn said. "So, it's kind of like having like a close buddy in your life."
For more on how you can help support UC Davis Children's Hospital click here.