Athletics Unlimited Sports Standout: Pacific women's water polo
There are only three college programs that have won a national championship in women's water polo over the last 17 years but the University of Pacific Tigers could be the next team to change that.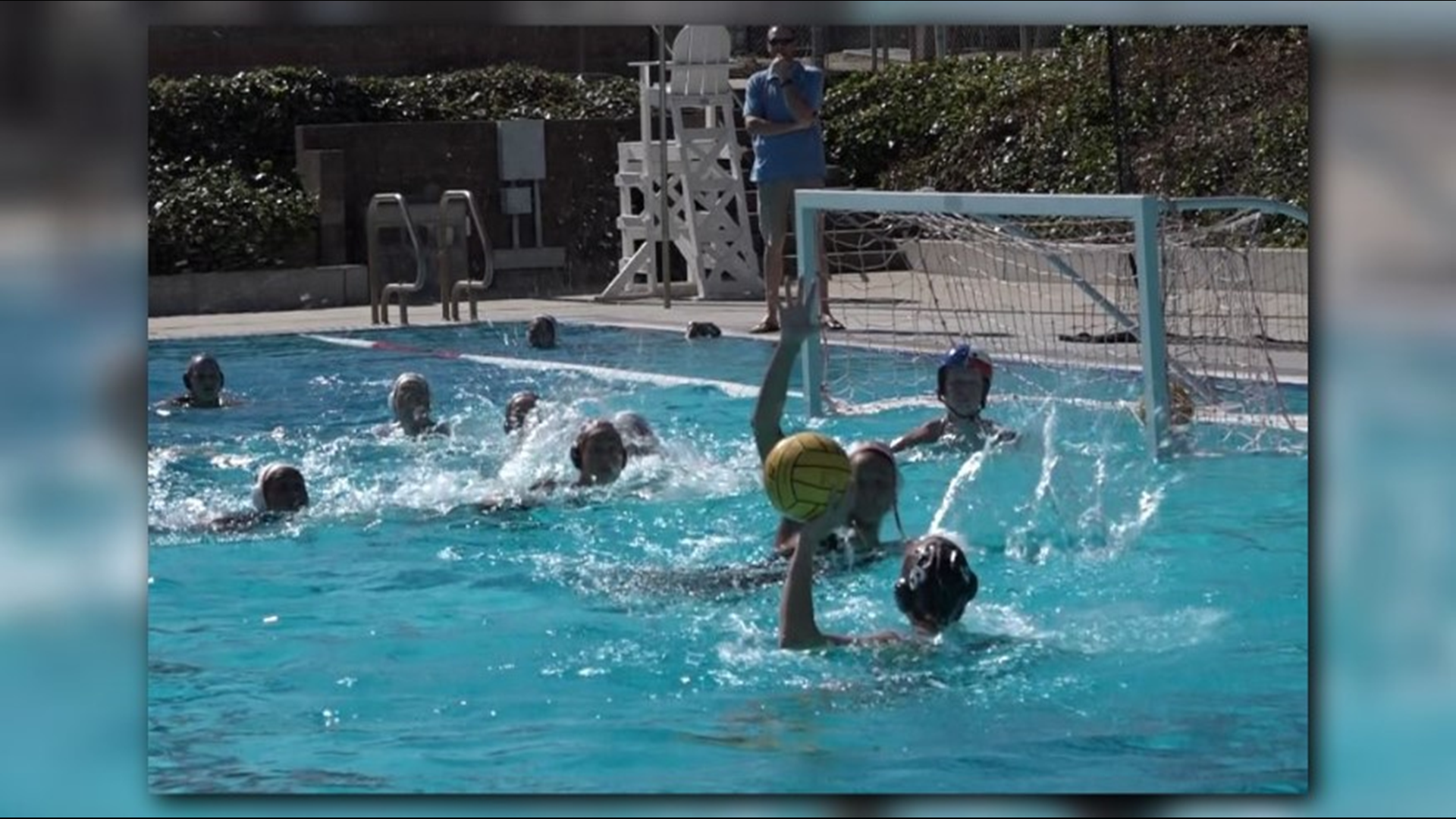 Pacific women's water polo
:
The University of Pacific women's water polo team is making a splash.
Since the NCAA introduced a women's water polo championship in 2001, only three programs have won: Stanford, USC, and UCLA. Only two other programs, Loyola Marymount [LMU] and Cal, have made it to the championship match over the last 17 years. LMU was the first and remains the only school outside of the Pac-12 to make it to an NCAA championship match, but the University of Pacific women's water polo team is looking to change that.
For the second straight year, the Tigers claimed the Golden Coast Conference championship, earning an automatic bid to the NCAA Tournament. The Tigers earned the fifth seed in the bracket and will face fourth-seeded UCLA 4:45 p.m. Friday, May 11 at USC. The Bruins were last year's runners up, losing to Stanford by a final of 8-7.
When water polo coach James Graham took over the women's team in 2013, the Tigers finished with a 16-16 record and ranked 20th in the nation. This year, the Tigers closed out the regular season with an 18-7 record, going 7-0 in GCC play, and sitting behind some of the legacy programs in the women's water polo rankings at seventh.
This was a year of improvement for the Pacific women's water polo team. Not only did the Tigers go undefeated in their league for the first time in program history, they beat perennial power Michigan in all three matchups this season.
The Pacific women's water polo team faces its toughest task of the season this weekend in Southern California. The Tigers are 0-19 all-time against the Bruins who handed Pacific its only home loss of the seasons.
Folsom High School's Robert Vidovszky has Olympic fencing dreams
:
Fencing hasn't quite hit the mainstream in the United States but one of the world's most talented up-and-coming fencers hails from Folsom. Described as "physical chess," the sport is a display of fast-paced skill, risk-taking, and defense, and one local athlete has received international accolades after just six years of training.
16-year-old Robert Vidovszky is coming off a second-place finish in the Junior and Cadets World Fencing Championships in Verona, Italy, which qualifies him for the Youth Olympics. Fencing has taken the high school sophomore all over the world which is preparing him for his ultimate goal of making it to the Olympic games.
Vidovszky started fencing when he was just 10 years old. He previously practiced Taekwondo, earning his black belt, before focusing on competitive fencing. After six years of training at Premier Fencing Academy in Carmichael, Vidovszky has become one of the best in the world in his discipline.
Fencing runs in Robert's blood. His Hungarian father, Tamas, was a fencer when he was younger and continues to compete and train at the same club as his son. The two try to face each other during every practice, which typically runs two hours.
Premier Fencing Club's owner and Robert's trainer, Kristiyan Hristov, says the 16-year-old is the most talented fencer he has worked with for his age and has the potential to make even more noise on the international stage. Some of Vidovszky's biggest accomplishments include becoming the "Youth 14 and Under" Pan American champion and winning third place in the "19 and under" age group at the Junior Olympics.
Local NFL Draft prospects to watch
:
It's a dream that thousands of young men have growing up but few get to experience every year: hearing your name called in the NFL Draft.
This year, there are four prospects hailing from our area expecting to be selected and they spoke with ABC10 ahead of the event on Thursday. Here is a breakdown of the names to listen for and the standout players to keep an eye on throughout the weekend.
Kolton Miller - Left Tackle - Roseville High School - UCLA (expected first-round draft pick)
Taron Johnson - Cornerback - Sheldon High School - Weber State
Devron Davis - Defensive Back - Lincoln and Franklin High Schools (Stockton) - University of Texas at San Antonio
Trayvon Henderson - Safety - Grant High School - University of Hawaii
Oak Ridge High School's three-sport athlete Sophia Barden
:
Being a high school athlete is a big commitment. Being a two-sport athlete is even more of a challenge. But Oak Ridge High School junior, Sophia Barden, makes being a three-sport athlete look easy. She's also one of the best in the world at what she does.
"I hate when people say baton twirling is not a sport. Or they'll say 'oh you do baton twirling? Just... Baton twirling?' because it's so much more than that," Barden explains. "I want people to realize it's not makeup and lipstick. It's competing, it's hours in the gym, it's sweat and blood and tears."
Twirling is a lifestyle for Barden who will be representing the United States in August at the 34th World Baton Twirling Championships.
"Baton twirling is such a mental game that you have to really be able to overcome that to be able to compete," Barden said of the biggest challenge she faces in twirling. "You can have the skills, you can do it, but once you're on the floor if you don't have the mindset of being able to do it, that you can do it, and the confidence... Nothing that you practiced will happen."
Barden says the pressure of having to nail a three-minute routine once to show the culmination of eight-hour-a-day practices is another challenge she faces when competing. But baton twirling isn't the only sport she shines in. When she's not doing front walkovers Barden is slide tackling opponents as a member of the Oak Ridge girls soccer team.
"My parents kind of put me in every kind of sport possible. Like basketball and softball and soccer. I was kind of a lot to handle as a child so they wanted me to focus to do and have something to put my mind to be productive with my body," Barden said. "Baton twirling I started with and then around nine years old I started soccer."
But Barden's need to compete doesn't stop there.
"For track, I do high jump and depending on what I want to do that day I'll probably do the 400 (meter dash) or the mile or two mile," the three-sport athlete explained. "I do track mainly to stay in shape and because I love the racing and competing part of it."
Barden can't see her future without both baton twirling and soccer, which has become a deciding factor when looking at universities to attend after graduation.
"I'm still on the fence. Definitely juggling baton and soccer for the college level," Barden said. "I'm looking into UCs and military academies and that's where I want to go. I can't imagine life without either one of my sports."
From sequins, to soccer, to Semper Fi. In March, Barden was selected by members of the United States Marine Corps to be nationally recognized as the MaxPreps Athlete of the Month, beating out thousands of nominations.
"She's a world class athlete, there aren't too many of those, right?" said MaxPreps President and Founder Andy Beal. "She's a multi-sport athlete as well and she's 4.0 in the classroom."
Barden says she's closer to a 4.2 GPA as she is a straight A student taking two AP classes.
Celebrating high school seniors as basketball All-Stars
:
The high school basketball season has come and gone. Our region saw only one team win a state championship, the West Campus girls, but there is plenty of talent worth being celebrated.
The 41st Annual Optimist High School Basketball All Star Game provided a platform for some of the most talented seniors from around our area to close out their high school careers on a high note. The event, held at Sacramento High School, featured four games for boys and girls teams from large and small schools to showcase their talents.
More than 50 different high schools were represented with 17 players already set on where they will be furthering their education next year. The rosters featured some of the brightest stars from our area including Folsom's Shayley Harris who will be joining West Campus's Kiara Jefferson at UCLA, Folsom's Mason Forbes who will be heading to Harvard, and two future University of San Francisco Dons in Del Oro's Sylvia Sloss and El Camino's Madeline Lee.
The Outstanding Players for the boys in this year's All-Star games were Kai Huntsberry of Placer High School, Landis Spivey of Aspire Langston Hughes Academy, Folsom's Forbes and Elias King of Jesuit High School.
The Outstanding Players for the girls were West Campus's Jefferson, Makaila Sanders of Foothill High School, Richelley Turney of C.K. McClatchy High School, and Lauren Toler of Sacramento High School.
In the battle of the large schools, the South teams prevailed on both the girls and boys sides. The Jefferson-led small school South team came out victorious while the boys small school North team pulled away in an 86-83 thriller.
The dunks were on display as friends, family, and high school basketball fans packed the house to send some of the most talented seniors from our region off as they begin a new chapter. Other college-bound athletes featured on this year's All-Star rosters include Foothill's Sander, who will be heading to UC Davis, Amia Moore who will attend Yuba College, and CSU Bakersfield-bound Nia Johnson.
Griffin Trull of Sacramento Adventist Academy, who will be heading to North Central University, was featured as a member of the boys small school North team. In the large schools, Zack Perlstein of Vacaville High School will be heading to CSU East Bay next year, Adam Orr of Ponderosa High School will be traveling out of state to the Metropolitan State of Denver, and Jesuit's Jake Virga is Southern Oregon University-bound.
St. Francis High School's Marlee Nicolos, who was a member of the girls large school North team, will be going to Santa Clara University while Myli Martinez of Vanden will be heading to CSU Chico. While the South team featured Oak Ridge's Marie Olson, who will be heading to Southern Methodist University next year, and Inderkum's Shauna Jackson who will be attending Sonoma State.
Dale Currie and Ronald Agebsar, who helped the Sheldon Huskies to a CIF Northern California Regional Championship, were two of the feature players on the boys South team in the large school matchup. Cal Berkeley-bound McKenzie Forbes, who is coming off a stellar showing at the McDonald's All-American Games in Atlanta, was listed as an honorary player for the girls large school South team.
Oakdale Junior High School softball star Amanda Bricker
:
Go out to a softball tournament on any given weekend and you'll see hundreds of girls who can hit and pitch with the best of them. But it's what one Oakdale softball player can't do that sets her apart from everyone else.
"My strengths? Hitting. I'm a big hitter," said 13-year-old Amanda Bricker. "Last game I almost hit one over the fence. So, I mean, I guess hitting is my biggest strength. Pitching is my other one and then defense."
The Oakdale Junior High School student is confident in her softball skills and she already has big plans for her future.
"After high school I want to go to a four-year university and study to be in the hearing department. Something like an audiologist or something in sports medicine," Amanda said. "I want softball to help me get into a good school that will carry my major."
While Amanda's travel softball coach, Greg Mettler, knows she shines come game time, he is more impressed with her academics.
"You've gotta be great in the classroom. You gotta be a great student because that's where your future is," Mettler said. "You're going to get your degree and softball is a help to get that. She gets that."
Amanda has been playing softball since she was five years old. She even played for her father, Kevin, who helped teach her the fundamentals of the game. Her mother, Brandy, also played softball.
"She's just got a drive to her that makes it easy for a parent, but coaching your kid is tough," Kevin said. "Of course you want them to be perfect. Sometimes it's hard to bite your tongue, but she earns her keep. She works very hard on and off the field with her grades."
All of that hard work has made Amanda a hot recruit. She's in the thick of her first season with a nationally recognized travel team, the Firecrackers.
"She brings a lot to the table," Mettler said of Amanda. "Great bat, she can pitch, play multiple positions. She's fitting in great with the team, great with the girls, and that's the biggest key. Chemistry is huge."
Amanda likes being able to fit in with her teammates and many people aren't able to tell what makes her different from her peers.
"When I tell people, my friends that I'm deaf they're like, 'What? You don't sound deaf. You don't sound like a deaf person'," Amanda said.
"We knew something was wrong about three months before we found out," Kevin explained. "When we first found out I didn't do very well. I couldn't believe it. It was tough. When you speak to her you wouldn't know she was deaf because she has no speech impediment whatsoever."
When Amanda was 16-months-old, her parents made the decision to take her to UC Davis Medical Center to receive cochlear implants.
"It's basically a computer chip inside your head. It's not inside your skull, but it's right outside and not on the outside of your skin. Then you have your processor, which picks up the sound waves," Amanda explained.
Upon the suggestion of her doctors, who Kevin says the family still stays in contact with, the Brickers chose the path of hearing and speaking as opposed to teaching Amanda how to communicate through sign language growing up.
Kevin says while it was difficult at times, he and his wife don't regret their decision to give their daughter the ability to hear the soundtrack to her favorite sport.
"She doesn't hear a bird chirping the same way you or I would. The sound of the bat is different for her," Kevin explained. "We know others that have cochlear that unfortunately don't speak as well as Amanda, who aren't doing as well, so just because you get that put in doesn't mean it's going to work like everyone would hope it would, so we're very blessed in that sense."
The softball star is refusing to let the way she was born keep her from swinging for the fences when it comes to achieving her dreams.
"My goals? Be better than what I used to be," Amanda said. "I have my main goals that are the higher ones, but I have smaller ones that I push myself to every single game."
One of Amanda's "higher goals" is to get a higher education. She's already toured the campuses of the University of Alabama and the University of Oregon.
"There are a lot of kids out there that are like, 'This isn't a disability, this is just a hurdle to get over.' And I think that's what she proves; this isn't a disability, this is a hurdle and I'm going to get over it. And she kicks butt out there," Mettler said.
"She wants to compete at a top level like everybody else like she doesn't have a disability. I think that's that drive and how we raised her. That's the way she wants to do it," Kevin said of his daughter. "And I don't think she's going to change."
Argonaut High School boys basketball team
:
Their coach calls them the "Team of Destiny," and the varsity basketball squad at Argonaut High School is one win away from living up to the name.
"It sounds dorky, but, hey, I believe it and if they believe it, let's do it," second year head coach Jon Gilliam said. "I want to see those boys jumping up and down, I want to see them holding the trophy. I want their last game, my seniors, to be the state championship like we talked about from day one."
Gilliam took over the Argonaut High School varsity basketball program having worked with a number of his current players since eighth grade.
"It's been, like, a four-year journey," junior Carter Swingle said. "It started in my eighth grade, our coach coached us, and worked through summers, we've done travel together. So it's great that we have this team chemistry for four years and it's great that we get to be playing at the highest level of basketball."
The Mustangs have already won their first Northern California Regional Championship after beating Colfax 72-57, just two weeks after beating the Falcons for the Division V Sac-Joaquin Section Championship in similar fashion.
"It was always there, we always knew we could do it," junior Westleigh Kling said of winning the NorCal title. "It didn't become a reality until we won that section championship and we all saw that we were the first seed."
"I thought it was a long shot," two-sport athlete Seth Tomczak said. "But coach has been calling it our destiny to get here and it's worked so far."
The players describe Jackson as a football town and coach Gilliam remembers when crowds would be sparse at varsity games. But his vision of creating a culture where kids in Jackson are excited about basketball and the possibility of playing for a championship team is coming into fruition before his very eyes.
"When we started this we had like 100, 200 people in the stands and it'd be so frustrating," Gilliam said. "But by the end of it, the gym is packed. And we're hoping this is a 10 year or 15 year run. That's kind of our focus moving forward. This team started the tradition but we want to build a culture here of hard work, basketball, and it's not easy."
Gilliam and his players say they have overcome adversity, including a close loss in last year's NorCal playoffs, to make it to this point. Tomczak, a baseball player verbally committed to Arizona State, faces the challenge of balancing both sports as he helps his team make history for the school.
"I played a baseball game and a [playoff] basketball game in the same day. Which was, oh my gosh, it's not physically straining, it's mental," Tomczak said. "I was doing everything I could to get psyched for that game, but it was hard. Balancing the two is hard, but I love it."
Although Argonaut High School is out for spring break this week, the players say they've felt a warmer reception around town with all the success they're seeing on the court. Mel and Faye's Diner has become the postgame spot for the Mustangs, their loved ones, fans, and peers to celebrate what's been the program's best season at 29-5 with a state championship game left to be played.
"I had some friends and family come to the last game and I had them come to the diner and every seat in the diner was full of Argonaut Mustang green," Gilliam said. "Giving a little 'ooh, ahh, you wish you were a Mustang!' we got that little chant going. That sense of community and that sense of community... That's the best after the game."
Argonaut will face Santa Clarity Christian at noon Saturday, March 24, at the Golden 1 Center for the Division V CIF State Basketball Championship and the team expects the "Stang Gang" to be out in force.
"It's a small town, everyone knows each other, so it'd be awesome to bring something like a state championship to Jackson," Kling said. "A lot of the old timers here are just rooting us on, they're ecstatic for us. And we're trying to win it for ourselves, but mainly we're just trying to win it for the community."
"Working from day one...all the progress, all the practice, that's what it's for, you know," Tomczak said. "It's already not for nothing we're NorCal champs, I'm already stoked!"
The Mustangs go into the D-V State Championship having won their last nine games, going back to a 58-39 win over rival Amador on Feb. 9, 2018. With four senior captains playing their final game in the green and gold, this team is hoping to fulfill its destiny and cap off the season with the program's first state championship.
"I wouldn't rather do it with anybody else," Swingle said. "These are my brothers and it's just an amazing feeling. It's been a pretty crazy ride. To be playing in the state championships, never done before from our school, and it's been hard but it'll be worth it."
"I've got tough players. I've got players that want it bad," Gilliam said. "And it's going to be their night."
Bradshaw Christian High School girls basketball team
:
Finishing a game with just three players on the floor is nothing new for the Bradshaw Christian High School girls basketball team.
The Pride are small, but mighty, and now they are just two wins away from the program's first CIF State Championship.
Six girls strong, Bradshaw Christian has powered itself to an ongoing 22-12 season that includes a 12-0 run in the Sierra Delta league and an appearance in the Division III Sac-Joaquin Section Championship game. Since the Pride's 65-55 loss to Christian Brothers in the section title game, they've gone on a tear in the Division IV CIF State Playoffs. The team, led by the school's athletic director, Mike Ruble, has outscored opponents 209-130 in the NorCal Playoffs thus far.
But it's the way the small school team is winning that is catching peoples' attention. Junior forward Leida Mangang injured her back during the section title game and was unable to play in the second round matchup against third-seeded Union Mine in the NorCal Regional Playoffs 11 days later. With just five available players, the 11th-seeded Pride were able to go on the road and pull off the improbable, by knocking off the Diamondbacks, a team that had just two losses at the time, 66-55.
In the final two minutes of the game against Union Mine, junior guards Cookie Marques and Jasalyn Brown fouled out. That left Ruble with his three youngest players, Jordan Patterson Reid, Anaya Mejia, and Lani Fall to close out the game. Reid, a sophomore guard, hit some clutch shots to keep BCHS in the game, while fellow sophomore Mejia and freshman Fall maintained their composure with the game on the line.
That win set up a meeting in the NorCal Regional Semifinals with second-seeded Notre Dame Prep out of Belmont where the Pride pulled off another upset. Bradshaw Christian doubled up on the Tigers with a 62-31 win and now the small school team looks ahead to its first NorCal Regional Championship game.
The 11th-seeded Pride face their toughest challenge yet at 5 p.m. Saturday, March 17. The Bradshaw Christian girls face top-seeded Woodside Priory in the Division IV NorCal Regional Championship game with a spot in the March 24 State Championship game at Golden 1 Center on the line.
Antelope High School girls basketball team
:
This week dozens of high school basketball teams from our area begin their journey to a CIF State Championship.
The Antelope High School girls basketball team has made a couple appearances in the NorCal playoffs over the program's nine seasons, but never have the Titans come in as Sac-Joaquin Section champions.
This year's Titan team will be forever known as the first to bring back a section championship, but this young squad envisioned the success they're seeing on the court now many years ago.
Highlands High School graduate Sean Chambers has been the only girls' basketball coach Antelope High School has known. Before joining the Titans, Chambers coached the Lady Scots at his alma mater. After enjoying a 14-year career as a professional basketball player in Alaska and the Philippines, Chambers was inducted into the Cal Poly Hall of Fame in 2005.
Antelope High School is only 10 years old, but many of Chambers's current players have grown up in the gym on campus.
"I've been working out with coach Sean since the fourth grade," freshman guard Jzaniya Harriel said. "I would always ask him 'do you guys have a state championship yet? do you have a section?' And he would always say no. So I always thought when I got here I'd try to make a difference and change that. Yeah, we did it, but we're not done yet. We have to go get state."
Harriel is the middle of seven children. Her older brother, Mister, was a standout football player for the Titans, but now he's a star defensive back at Sacramento State where he helped the Hornets to a program-best record of 7-4 last season.
Chambers remembers Harriel expressing her aspirations at an early age.
"She's been in this gym since she was in the fourth grade. Coming to watch her brother play, coming to watch the older girls play basketball here," Chambers said as he pointed up to the big "Lady Titans Records" hanging up over a hoop. "She would come and she would stare up at that wall and look at every record that is on that wall she she would say 'coach, I want all those records.' I would tell her 'Jay,' we call her Jay, 'slow down a little bit.' And she was like "coach, I want to win sections all my years here. I want to win state, I want to be all NorCal and she's got a chance to do all that."
Harriel is one of three freshman on the Titans' section championship squad, but she's surrounded by other players Chambers describes as "old souls." With a young core, the Lady Titans are confident they will be able to make even more history for the program.
"It's definitely great to look forward to because a lot of teams have, like, six or seven seniors. We only have two," sophomore guard Jordan Goodwin said. "Backed up by a really good coach, Sean Chambers. Hes definitely been a big part of who we are as a team. Always pushing us, always wanting the best out of every single player. I don't think we'd be where we are without him. We definitely wouldn't."
Chambers describes Goodwin as his work horse. The vocal leader on the floor, Goodwin helped the Titans maintain their composure en route to a 66-58 overtime win over Bear Creek to claim the Division II section championship at Spanos Center in Stockton. But the goal is to make it to Golden 1 Center, the site of this year's CIF State Championships. Goodwin has never played on that big of a stage, but her motivation to get there is bigger than her.
"It'd be super great to go there and just play for this school," Goodwin said. "Everybody at our school has such pride and such confidence in our team. I really just want to go there and compete for coach Sean and for this school and all the administrators and everyone who supported us along this whole journey."
The furthest the Antelope girls basketball team has gone in the CIF State Playoffs is the second round in 2015. The Titans lost to the eventual D-II champions, Archbishop Mitty. After beating St. Ignatius of San Francisco at home on Wednesday, the fifth-seeded Titans now hit the road to fourth-seeded Miramonte out of Orinda.
"I think the biggest piece of what this group is at, we play for not ourselves but for one another," Chambers said. "But especially for Antelope High School. For everything that it means here because this is a special place. All sports, all programs support one another as if they're part of that team."
West Campus High School guard Kiara Jefferson
:
Sports and music go hand in hand.
For athletes, the perfect playlist could bring out the best in them come game time or give them an outlet for creativity. But for West Campus High School senior point guard Kiara Jefferson, music has become part of her identity.
Jefferson is a fast and explosive player who has become a major factor in the Warriors' recent success.
"You have to be on your toes when you're guarding me," Jefferson said of her game.
KJ, as she's known to her friends, has a quiet confidence about her when she's on the court, but the impact she has on her team can be best validated with West Campus's 2017 Division IV CIF State Championship.
"We went from being an average school and an average team to winning a state championship last year," Jefferson said, "It's amazing. Just to hear St. Mary's and McClatchy and you hear West Campus right behind that or next to it it's like, 'wow we did that, we made a name for ourselves, we put our school on the map' so we're proud of ourselves for that."
"That was big," Singleton said fighting back tears. "I was very proud. I still am. Just to see her with the option to have different schools to choose from... Division I, UCLA... it was big."
Jefferson, like many other student athletes, doesn't have a lot of extra time to squeeze in another hobby, but she is particularly passionate about one thing outside of basketball.
"I'm sure she said something about her Fifth Harmony group," Singleton said. "If it's not basketball, it has been Fifth Harmony. I really think it's more important than basketball to her. I really do."
"A lot of people know me when they hear 'Kiara Jefferson' they hear 'Fifth Harmony," Jefferson said. "Put those together that's usually who I am!"
Jefferson concedes that she won't become the fifth member of the popular music group as singing is not her strength. She did, however, grow up tap dancing, in addition to playing softball and soccer. But Jefferson fell in love with basketball when she was five years old. Although she would love to continue a basketball career after college, she says she's interested in pursuing a career in psychology with a focus on working with children.
But KJ would like to close out her high school career with another state championship. She and her teammates are using last year's work ethic and title as motivation for a repeat.
"From the beginning of that season as we were running sidelines and baselines we were saying 'state, state' that was our mindset, that was our focus," Jefferson said. "And the fact that we actually got there and won is a dream come true."
Jefferson is Singleton's only child. Singleton describes herself as the loudest fan in the gym and as someone who has grown up in the area, watching her daughter propel a program to become an area power brings her immense joy.
"That is my passion. That is my thrill, watching her play," Singleton said. "I'm proud of her and everyone else to put West Campus on the map."
The CIF Sac-Joaquin Section playoffs are underway and the Warriors have earned the third seed in the Division IV bracket. As if hoisting a state championship trophy wasn't motivation enough, Jefferson says even the haters will power her performance on the court.
"A lot of people have doubted me," Jefferson said. "A lot of people have doubted my team and honestly that just fuels me as a player. People that say 'you're not going to make it, they can't do this, they can't do that' and I'm like, no, we can. Now watch us do it."
Folsom High School basketball stars McKenzie and Mason Forbes
:
There are a number of famous siblings who have excelled on the basketball court but Folsom could be home to the next brother-sister pair to get some of that of hoops hype.
The Forbes family takes the saying "ball is life" to a whole new level.
All four of the Forbes kids -- Marcus, Max, Mason and McKenzie -- grew up playing basketball with their Harlem Globetrotter father, who was known as "Smooth" during his playing days. Now his kids are schooling him on the court with McKenzie and Mason, seniors at Folsom High School, enjoying the spotlight.
"I can't touch them. I'm too old, can't jump anymore so I just pass the ball and let them do what they do," Sterling "Smooth" Forbes said.
McKenzie is the youngest of her siblings but she has grown into one of the most talented players in the country. The five-star wing received offers from renowned basketball programs like South Carolina and Baylor.
"Throughout my recruiting process I just knew that I wanted to find a staff where I felt comfortable where I could be myself and really just grow into a better person into a better player while I was there," McKenzie said. "I narrowed my choices down to about five or six - UCLA, Stanford, Cal, Louisville, Tennessee... But it really just came down to who I felt I had the best relationship with and where I thought I could really thrive and Berkeley was where I thought I could do that."
"It was a pretty surreal day for me and my family," McKenzie described the day she received her honorary jersey. "It was good ot have everyone out here and see all my friends and even teachers who have supported me through this entire process so just really great feeling to be recognized for that."
If you think her three older brothers and father, who happens to be her coach at Folsom, took it easy on her because she's a girl and the baby of the bunch... Think again.
"I mean, always being the youngest sibling you always want to do what your older siblings are doing," McKenzie said. "Even being the only girl I still wanted to do everything they were doing. If they were playing basketball I was going to be out there whether it was football, baseball, soccer, they always made sure to drag me along and they weren't easy on me either which I think has a big part to do with my toughness and my game today."
"We always treated her like one of the boys," Mason said. "We were never soft on her and we always pushed her to be the best and it's really paid off now in the long run."
McKenzie and Mason's work ethic transitions from the court to the classroom. That's part of the reason why Mason is heading to Harvard after graduation.
"I got my first offer the summer after my sophomore year and then this fall I narrowed it down to a couple schools - San Diego State, Princeton, Harvard, and St. Mary's," Mason said. "It really came down to east coast, west coast, whether I wanted to do academics or basketball as a priority. I felt that Harvard was the best of both worlds, academic side and basketball and I felt that it was a home away from home. Even though it's on the east coast I felt that there was still a family that I could be comfortable with so that was important to me."
"Seeing him choose Harvard was an incredible, incredible moment for me and my family," McKenzie said. "We're all just super proud of him."
Mason's academics and basketball skills aren't the only things getting attention. His hairstyle has become a highly identifiable trait in more ways than one.
"It definitely gets me recognized everywhere I go. Whether it's at the grocery store or school or on the basketball court everyone knows 'Fear The Fro,'" Mason said. "It's kind of like my trademark now so I can't even cut it."
They've had their fair share of battles on the court but the siblings have no problem accepting each others' strengths.
"She'll kill him on the outside with threes but he's going to score everything down low and dunk on her from the inside," Sterling said.
"She's a really dynamic player," Mason said of his sister. "She has a great feel for the game, a real student of the game. She's always teaching me a lot of things. Even when we're just watching TV she notices a lot of stuff and always surprises me."
They're practically inseparable now but soon they'll be going to college on opposite sides of the country continuing to pursue a passion that runs in the family.
"It's unbelievable honestly," Sterling said. "I mean, you got (Mason going to) the number one private university in the country and Kenzie getting into the number one state school in the country so it's a blessing. It shows their hard work and their dedication to achieve that."
Edison High School guard Celeste Almendarez
:
While the streets of south Stockton are tough, she's tougher. Edison High School senior guard Celeste Almendarez might be soft spoken but her strength and determination speak volumes.
She's all smiles on the court but her hoop game is mean enough to validate her being a captain on the Vikings varsity squad.
Almendarez is the middle of five children raised by her mother, Eugina Coilton. The 17-year-old basketball star will become the first in her family to attend college on a full scholarship when she begins her freshman year at California State University, Monterey Bay in the fall.
While her future is bright, Almendarez and her family are no strangers to struggle.
Coilton is a single mother whose brother, Ezell, helped shuttle Almendarez to school and practice in the wake of tragedy striking their family.
Coilton credits her brother, Ezell, with stepping up to care for Almendarez while the family coped. By shuttling her to and from practice and pitching in so the family could afford the necessities for Almendarez's development, the young player was able to regain focus.
The basketball standout from Southeast Stockton used the tragedy as fuel to change the trajectory of her life and inspire her younger siblings.
While basketball is a passion she hopes to pursue opportunities overseas after college, Almendarez's career aspirations are a reflection of her selflessness. She's unsure of what she'll study at CSUMB but Almendarez says she's interested in becoming a paramedic, a police officer, and a doctor.
Oak Ridge High School quarterback Marco Baldacchino
:
From moving the chains to moving the tassel, the high school football season is over and now Oak Ridge football's senior leader, Marco Baldacchino, is looking ahead to graduation.
Baldacchino is one of the most dynamic quarterbacks in the area and while he's not letting his skill get to his head, the head coach at the rival high school is among those who recognize his talent.
"He's a great athlete," Folsom head coach and three-time state champion Kris Richardson said. "He's a guy that makes his living off the quarterback run game but he's probably at his most dangerous when he's scrambling around making plays."
Baldacchino is an exciting playmaker to watch, but his humility keeps him in check.
"I don't really like to talk about myself," Baldacchino said.
His teammates, however, are happy to sing his praises.
"He is so friendly and supportive and he really gets us all going too," Oak Ridge senior lineman Bailey Smith said. "He never says anything negative."
"Obviously we only talk about winning," Baldacchino said. "We don't even consider losing, you know?"
Baldacchino threw for 15 touchdown passes and ran for12 rushing touchdowns to help the Trojans this season, but for the leader of the offense, it's not about the stats.
"It's all about the team," Baldacchino said. "Honestly, what I've learned being a quarterback in this system and working with the God-given abilities that I have is if I execute my role and lead the offense to where they're supposed to be led they'll take care of it for me."
The quarterback's high school career came to an end in the semifinals of the Division I Sac-Joaquin Section playoffs, where the Trojans finished with an 11-2 record. Their only losses coming against Folsom and St. Mary's, who appeared in the section championship game.
According to his Twitter page, Baldacchino has received college football offers from Seton Hill and Southern Oregon Universities, both Division II/III schools. The six-foot, 170-pound playmaker might be humble, but he's confident in his strengths.
"Honestly, if I had to say one thing about myself it's the way that my mind thinks in a football state of mind," Baldacchino said. "With the size I am ab d the way I play I have to be smart. I have God-given talent with the way I move my feet, my brain, so I try to use that to my advantage."
St. Mary's High School water polo star Matthew Hosmer
:
He's one of the best water polo players in the state and his talents have taken him all around the world. Matthew Hosmer, a junior attacker for St. Mary's High School in Stockton, is making waves in the sport he hopes can take him to the Olympics.
"When I was in about fourth grade I was watching the Olympics with my dad and I figured to myself I like this sport a lot and I should try it out," Hosmer said.
A passion for water sports runs in Hosmer's family. His mother, Christy, was a swimmer and his father, Todd, played for the U.S. National Water Polo Team during the 1996 Olympics. The University of Pacific Hall of Fame inductee was a big influence on Matthew's love of the sport.
"I also played other sports," Hosmer said. "I played baseball [for 12 years] but I felt that water polo was in my heart and I liked it more."
Rams varsity water polo coach, Jeff Hoornaert, has been working with Hosmer since he was 12 years old as a member of his club team.
"He's a great kid. He's a great athlete, he works his butt off," Hoornaert said. "He has all the talent in the word but he works just as hard."
Hosmer is taking the steps toward achieving his Olympic dream as a member of the Team USA Men's Youth National Team. He has competed at the highest levels available for him but he remains humble as a member of the Rams varsity squad.
"He's a great leader," Hoornaert said. "All the kids on the team work well with him, they look up to him, and he does a great job of leading by example."
"Being a part of St. Mary's is a dream come true," Hosmer said. "I'm always a team player, I'm not just in it for the stats, I'm just in it to win the game. That's all I'm working for."
The Rams season ended with a 12-7 loss to Davis in the semifinals of the Division I Sac-Joaquin Section playoffs. Hosmer finished his season leading the state in goals this season with 161 and finished second in points with 200.
"I'm in awe every time I watch him play," Hoornaert said. "He has an uncanny ability to score, he's incredibly fast and has the ability to completely take over a game. He's pretty phenomenal to watch."
After high school Hosmer would like to continue his water polo career at Cal, UCLA or stay local by attending Pacific. While he hasn't decided on a major, he is interested in studying business management or sports management.