They hail from totally different parts of the world but came together to flourish with one of the most competitive teams in the Sac-Joaquin Section. St. Mary's of Stockton has two foreign players on their football team and this season they've added another level of diversity and unity in the locker room and on the field.
"I'm from Brazil I've been in Stockton for two or three months almost three," explained wide receiver Nicolas Reis. "I came for playing football. It was my principle thing I wanted to do and I wanted to learn about the school here because it's different from Brazil. It's pretty cool."
Rams kicker Dominik Soos who is originally from Budapest, Hungary, took a different path to join the team.
"I've been here for a year and I moved here because my brother already lived here," Soos said. "He goes to University of Pacific so that was the main reason but my parents are still back home."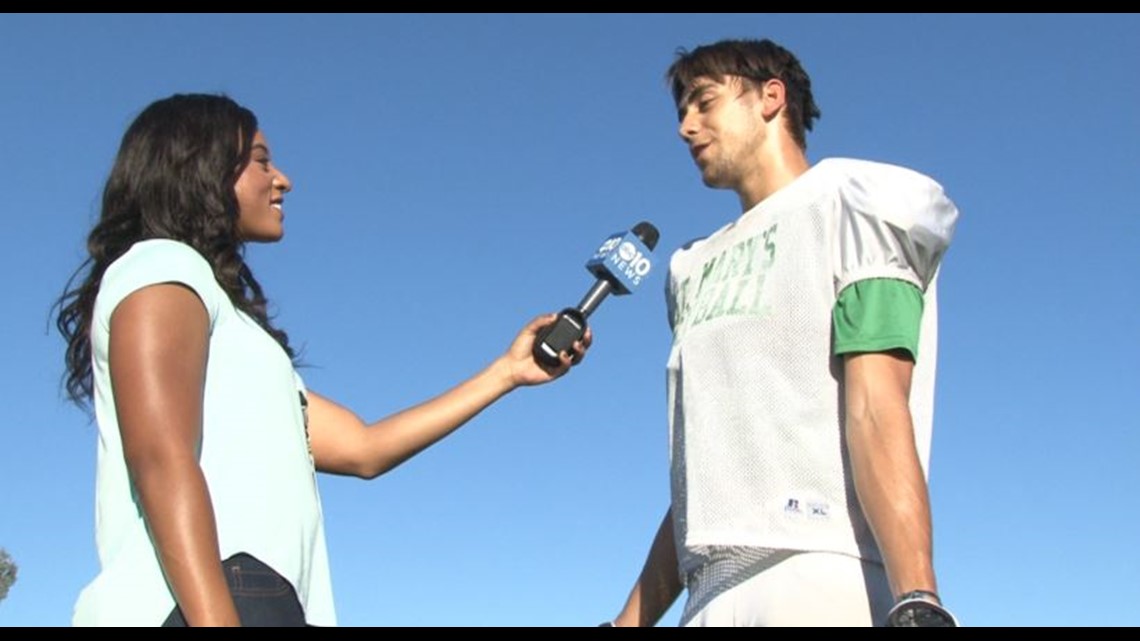 Reis is living with a host family as an exchange student. Although soccer is the sport his home is known for, he's more interested in a different kind of football.
"I just wanted to play football and wanted to go to California and that was it," Reis said. "Soccer is our first sport in Brazil but I don't know, I just like it (American football) better than all the other sports."
Soos, meanwhile, led the St. Mary's soccer team in goals scored last season, according to MaxPreps.
"I've been playing soccer for 14 years," Soos said. "Coach (Franks) asked me like a month ago to be a kicker because the football team didn't have one so I became one."
After his intended kicker failed to show up to the first practice of the season, players told head football coach Tony Franks to consider Soos for the vacant position.
"I just said 'ok Dominik let's just see if this is going to work,'" Franks said of their first meeting. "'I'm going to tee up a ball and I just want you to take two steps at it and kick it and see what happens.'"
Then, in his first attempt at ever kicking a football, Soos surprised the St. Mary's coaching staff.
"I'll never forget it. It's teed up and he steps back two steps and kicks the ball and it goes all the way into the endzone and he just boomed it," Franks said smiling. "I was just so excited I looked around to see if anyone else had saw that and one of the other coaches saw it and his eyes were wide open and we thought 'wow what a great kick!' It was such a nice surprise to see that we had such a gifted kicker that just kind of plopped into our laps."
Soos, a senior, hopes to play for a Division I college as his next step. Reis also hopes to play at the next level with the NFL as his aspiration.
Reis finshed the season with three touchdowns and 27 receptions in 10 games. Of his 83 total kickoffs in 13 games, Soos recorded 35 touchbacks, made five of his seven field goal attempts and 62 of his 64 PAT attempts.
St. Mary's went on to the Division I Sac-Joaquin Section championship game where the Rams fell to top-seeded Folsom 50-21.
If you know a local student-athlete worthy of being one of our Athletics Unlimited Sports Standouts and would like to see them featured on-air and online, let us know on our Facebook page.