Thursday night will mark the first round of the 2020 NFL Draft.
But before we look ahead to what the Cleveland Browns will do with the No. 10 overall pick, let's take a look at the franchise's track record by ranking every first-round pick they've made since returning to the NFL in 1999.
The rankings are in reverse order from least successful career in Cleveland to most successful. Rankings are based on productivity and tenure with the Browns, with the player's overall NFL career being used as a tiebreaker when applicable. Reasonable projections for current players have also been factored in.
26. CB Justin Gilbert (No. 8 overall, 2014)
Started just three games in 23 appearances over the course of two seasons with the Browns. Traded to the Pittsburgh Steelers, who he appeared in 12 games for (0 starts) before being suspended for the entirety of the 2017 season for violating the league's substance-abuse policy. Hasn't appeared in an NFL game since. Best season came as a rookie, when he tallied 8 pass defenses and 1 interception, which he returned for a touchdown.
25. WR Corey Coleman (No. 15 overall, 2016)
The Browns entered the 2016 NFL Draft with two first-round picks but traded down twice before coming to the podium at No. 15. There, first-year general manager Sashi Brown selected wide receiver Corey Coleman, who caught 56 passes for 718 yards and 5 touchdowns in 19 games over the course of two seasons in Cleveland, where his most notable contribution was dropping the pass that sealed an 0-16 season for the Browns in 2017.
Coleman was traded to the Buffalo Bills ahead of the 2018 season before being cut by both the Bills and New England Patriots. After catching 8 passes for 71 yards in eight games for the Giants in 2018, he missed all of the 2019 season due to a torn ACL, but remains a member of the team's roster.
24. QB Johnny Manziel (No. 22 overall, 2014)
One of the most polarizing draft picks in NFL history, Johnny Manziel arrived in Cleveland with plenty of hype -- most of which he never lived up to. Due in large part to off-field issues, the 2012 Heisman Trophy winner's NFL career was limited to just two seasons, in which he amassed a 2-6 record in eight starts and 7 touchdown passes, 7 interceptions and 7 fumbles in 15 total appearances.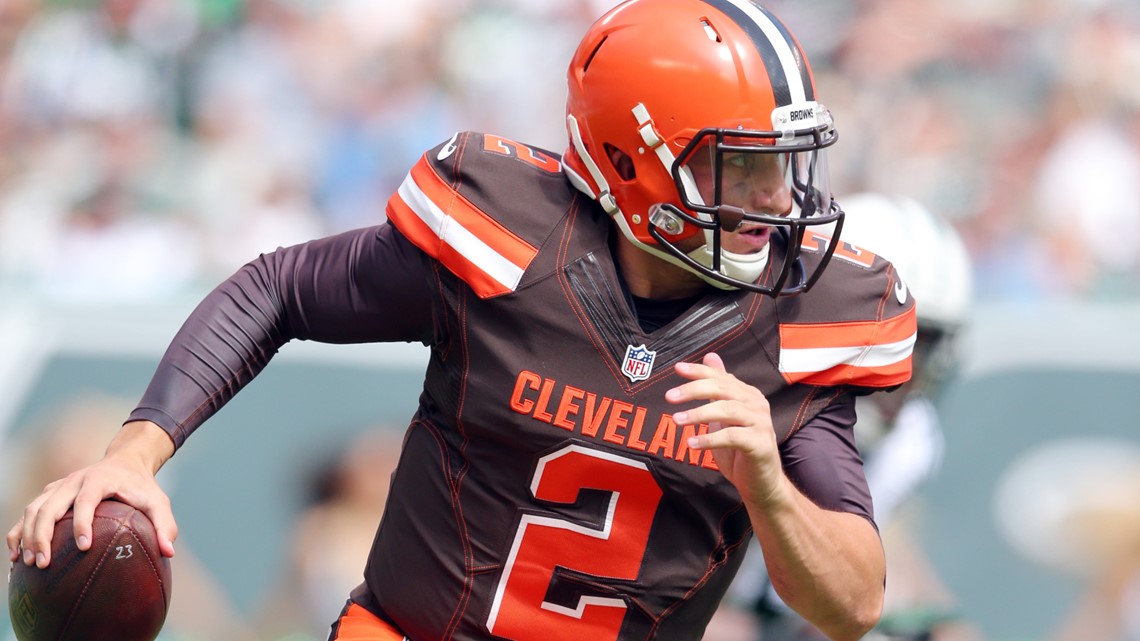 23. QB Brady Quinn (No. 22 overall, 2007)
The Browns traded their 2008 first-round pick to end Brady Quinn's free fall in the 2007 Draft, but the Dublin, Ohio native failed to find much success in Cleveland. After sitting behind Derek Anderson as a rookie, Quinn started just 12 games for the Browns between 2008 and 2009, amassing a 3-9 record, 10 touchdown passes and 9 interceptions.
After being traded the Denver Broncos, with whom he never appeared in a game for over the course of two seasons, the Notre Dame product finished his NFL career amassing a 1-8 record in nine starts with the Kansas City Chiefs in 2012.
22. QB Brandon Weeden (No. 22 overall, 2012)
The oldest player ever selected in the first round of the NFL Draft, Brandon Weeden was 28-years-old when the Browns selected him in 2012. In two seasons with the team, he tallied a 5-15 record, 23 touchdown passes and 26 interceptions and was most remembered for getting trapped under the American flag during the National Anthem before his NFL debut.
After being released by the Browns, Weeden spent five seasons as a backup for the Dallas Cowboys (2014-15) and Houston Texans (2016, 2018) and Tennessee Titans (2017).
21. OL Cameron Erving (No. 19 overall, 2015)
The Browns selected Cameron Erving to be their center of the future, but the Florida State product soon found himself playing -- and failing at -- multiple positions. After appearing in 29 games (17 starts) in two seasons in Cleveland, he was traded to the Kansas City Chiefs, where he has since caught on as a reliable reserve offensive lineman.
20. LB Barkevious Mingo (No. 6 overall, 2013)
Barkevious Mingo started just 16 of a possible 48 games in three seasons with the Browns -- 46 of which he appeared in. While he hasn't lived up to the hype of a top-10 pick, he has turned into a solid reserve linebacker over the course of a career that's included time with the New England Patriots, Indianapolis Colts, Seattle Seahawks and Houston Texans.
19. RB Trent Richardson (No. 3 overall, 2012)
As far as Browns first-round picks go, Trent Richardson had one of the better rookie seasons, rushing for a franchise rookie record 11 touchdowns and 950 yards. He was traded, however, just two games into his second season, being sent to the Indianapolis Colts for a future first-round pick.
After two disappointing seasons in Indianapolis (977 rushing yards, 6 touchdowns in 29 games) and multiple failed comebacks, the Alabama product hasn't appeared in an NFL game since 2014.
18. RB William Green (No. 16 overall, 2002)
William's Green's time in Cleveland didn't last long, but it was memorable. As a rookie, he rushed for 887 yards and 6 touchdowns, including the a 64-yard touchdown run to clinch the Browns' first -- and only -- playoff appearance since returning the league in 1999.
"Run William Run," however, would prove to be the high point of his pro career. Plagued by off-field issues, Green never totaled more than 585 yards or 2 touchdowns in either of his final three seasons of his four-year NFL career.
17. C Jeff Faine (No. 21 overall, 2003)
Jeff Faine was solid, but unspectacular in his three seasons in Cleveland, as injuries limited him to starting in 36 of a possible 48 games with the team. In 2006, the Browns traded him to the New Orleans Saints for a second-round pick and he went on to appear in a total of 125 games (124 starts) over the course of a 10-year NFL career that also included time with the Tampa Bay Buccaneers and Cincinnati Bengals.
16. DT Phil Taylor (No. 21 overall, 2011)
After trading back from the No. 6 pick the Atlanta Falcons used to select Julio Jones, the Browns selected Phil Taylor at No. 21. After a promising rookie season in which he was named to the PFWAA's All-Rookie Team, injuries limited Taylor's NFL career to just four seasons in which he amassed 7 sacks and 15 tackles for a loss while appearing in 44 of a possible 64 games.
15. DE Courtney Brown (No. 1 overall, 2000)
A year after taking a quarterback first overall to restart their franchise, the Browns turned their attention toward defense selecting defensive end Courtney Brown. Injuries, however, plagued the Penn State's product's time in the pros, as he appeared in 47 of a possible 80 games in five seasons in Cleveland, tallying 30 tackles for a loss and 17 sacks.
Brown's six-year NFL career came to an end after the 2005 season when the Denver Broncos lost to the Pittsburgh Steelers in the AFC Championship Game. He never tallied more than six sacks in a single NFL season.
14. TE David Njoku (No. 29 overall, 2017)
The third of three players the Browns selected in the first round of the 2017 draft, the only thing that's been consistent about David Njoku's time in Cleveland has been inconsistency. After seeing his production increase from 32 receptions for 386 yards and 4 touchdowns as a rookie to 56 receptions for 639 yards and 4 touchdowns in 2018, Njoku caught just 4 passes for 51 yards and 1 touchdown in 4 games in 2019 as injuries and a disconnect with the coaching staff limited his playing time.
Entering his fourth season with the Browns, Njoku is slated to be the team's No. 2 tight end following the offseason signing of Austin Hooper.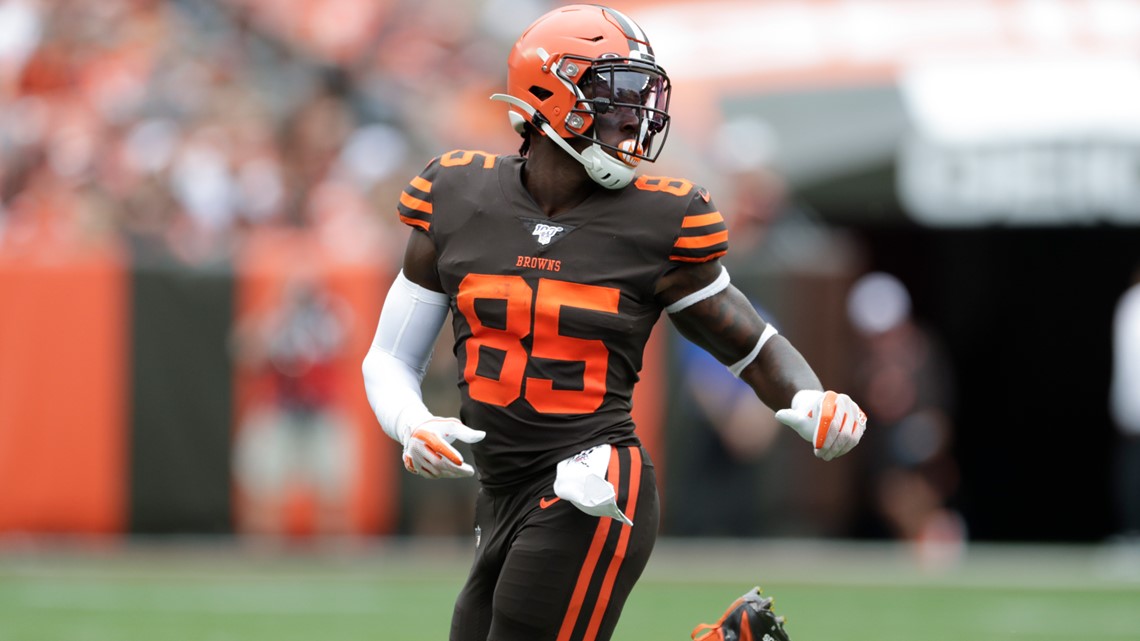 13. DL Danny Shelton (No. 12 overall, 2015)
A 345-pound space-eater, Danny Shelton saw his role with the Browns fluctuate as the team adjusted its defensive schemes. Nevertheless, he still appeared in 46 (44 starts) of 48 possible games in his three seasons in Cleveland, recording 128 tackles, 11 of which came for a loss and 1.5 sacks.
Following the 2017 season, the Browns traded Shelton to the New England Patriots, with whom he won a Super Bowl with in 2018. Earlier this offseason, he signed a 2-year contract with the Detroit Lions.
12. S Jabrill Peppers (No. 25 overall, 2017)
After a disappointing rookie season, Jabrill Peppers turned into a productive defender in 2018, totaling 79 tackles, 5 of which came for a loss and a game-clinching sack vs. the Denver Broncos.
His Browns tenure was ultimately limited to just two seasons as he was traded to the New York Giants as a part of Cleveland's deal to acquire Odell Beckham Jr. ahead of the 2019 season.
11. DL Gerard Warren (No. 3 overall, 2001)
Gerard Warren never lived up to the hype of being the No. 3 overall pick, but he did go on to enjoy an 11-year NFL career. Only four of those seasons were spent in Cleveland, where the Florida product appeared in 60 games (59 starts), tallying 152 tackles, 27 of which came for a loss and 16.5 sacks.
10. QB Tim Couch (No. 1 overall, 1999)
With their first pick after returning to the NFL, the Browns selected the player they hoped would become their long-term franchise quarterback. Unfortunately, Tim Couch never quite became that as injuries limited his NFL career to 62 games in five seasons. But he did show enough promise that many Cleveland fans were left wondering "what could have been?"
9. LB Kamerion Wimbley (No. 13 overall, 2006)
Posting 11 sacks and 13 tackles for a loss as a rookie, Kamerion Wimbley looked like the Browns' next great edge rusher, but he never topped 6.5 sacks in any of the next three seasons. After being traded to the Oakland Raiders, who he spent two seasons with, the Florida State product went on to finish his nine-year NFL career playing three seasons with the Tennessee Titans.
8. TE Kellen Winslow II (No. 6 overall, 2004)
While injuries and a motorcycle accident resulted in him playing in just two total games in his first two NFL seasons, Kellen Winslow II proved to be worth the wait as he amassed 89 receptions for 875 yards and 3 touchdowns in 2006 and 82 receptions for 1,106 yards and 5 touchdowns en route to earning Pro Bowl honors in 2007.
After being traded to the Tampa Bay Buccaneers in 2009, Winslow spent time with the New England Patriots and New York Jets over the course of his nine-year NFL career. In 2019, he pled guilty to charges of sexual battery and rape for which he is currently awaiting sentencing.
7. WR Braylon Edwards (No. 3 overall, 2005)
In five seasons with the Browns, Braylon Edwards proved to be one of the franchise's most productive receivers, with the high point being a 2007 campaign in which he tallied 80 receptions for 1,289 yards and a Cleveland franchise record 16 touchdowns. Issues with drops, however, plagued his final two seasons with the Browns and ultimately led to him being traded to the New York Jets in 2009. He also spent time with the San Francisco 49ers and Seattle Seahawks over the course of his eight-year NFL career.
6. QB Baker Mayfield (No. 1 overall, 2018)
The Browns' two-decade-long quest for a franchise quarterback seemed to come to an end in 2018 when they selected Baker Mayfield with the draft's No. 1 pick. After throwing an NFL rookie record 27 touchdown passes in 14 games, the 2018 Heisman Winner struggled in his second season but enters 2020 poised for a potential bounce back under new head coach Kevin Stefanski.
5. CB Denzel Ward (No. 4 overall, 2018)
Selected three picks after Mayfield, it didn't take long for Denzel Ward to make an impact, picking off Pittsburgh Steelers quarterback Ben Roethlisberger in his NFL debut. After earning Pro Bowl honors as a rookie, injuries limited the Ohio State product to appearing in just 12 games as a rookie, but he remains a likely cornerstone of the Browns' defense for years to come.
4. CB Joe Haden (No. 7 overall, 2010)
Joe Haden found both immediate and sustained success with the Browns, tallying 18 pass defenses and 6 interceptions as a rookie and two Pro Bowl appearances (2013, 2014) and one second-team All-Pro selection (2013) in seven seasons. After being released by the Browns ahead of the 2017 campaign, he signed with the Pittsburgh Steelers, with whom he earned Pro Bowl honors as a member of in 2010
3. C Alex Mack (No. 21 overall, 2009)
After entering the 2009 pick with the No. 5 overall pick, the Browns traded all the way back to No. 21, where they selected center Alex Mack. The Cal product would go on to become one of the best interior offensive linemen in the NFL, earning three Pro Bowl selections in seven seasons with the Browns and three more in four seasons with the Atlanta Falcons.
2. DE Myles Garrett (No. 1 overall, 2017)
The top pick in the 2017 NFL Draft, Myles Garrett has already established himself as one of NFL's top pass-rushers. After totaling 30.5 sacks in his first 37 NFL games -- including 13.5 in a Pro Bowl campaign in 2018 -- the Texas A&M product was suspended for the final eight games of the 2019 season after striking Steelers quarterback Mason Rudolph in the head with his helmet during a fight.
Having been reinstated by the NFL earlier this year, Garrett is still just 24-years-old as he enters his fourth season in the league.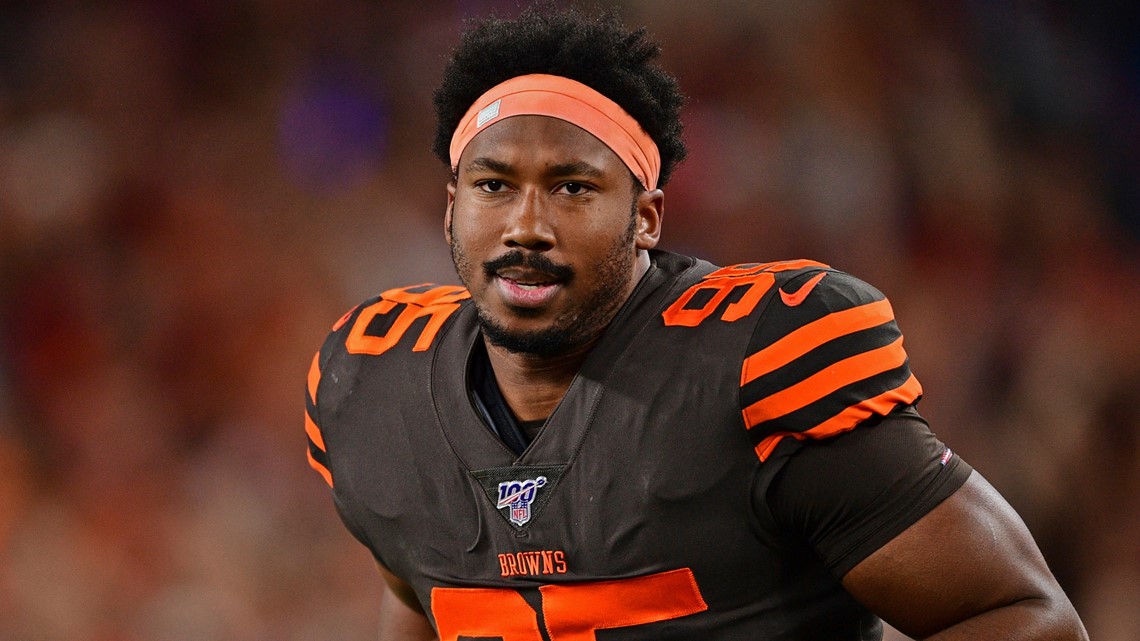 1. LT Joe Thomas (No. 3 overall, 2007)
While the Browns haven't been known for the decision-making in the draft, it would be tough to get it any more right than they did taking Joe Thomas third overall in 2007.
Thomas spent the entirety of his Hall of Fame-caliber career in Cleveland, earning 10 straight Pro Bowl selections from 2007-2016. In that span, the Wisconsin product was named first-team All-Pro seven times (2009-2011, 2013-2016) and second-team twice (2008, 2012). In 2017, his NFL record 10,363 consecutive snaps streak came to an end -- as did his playing career -- when he suffered a torn triceps during a loss to the Tennessee Titans.
Thomas was just one of eight unanimous selections to the NFL's All-Decade Team for the 2010s.