NASHVILLE, Tenn. — No more need to browse through mock draft after mock draft on every sports website you can think of. The 2019 NFL draft is on!
The San Francisco 49ers hold the second pick of the draft, while Jon Gruden's Oakland Raiders possess three first round picks (4th, 24th and 27th).
The night is sure to bring some surprises. About the only thing that's certain is fans booing Commissioner Roger Goodell.
Watch live on ABC10 and check back for live updates for all of tonight's action!
________________________________________________________________
San Francisco 49ers:


Pick 2: Nick Bosa, DE, Ohio State
Nick Bosa played three years at Ohio State, playing every game as a freshman before taking over the starting role as a sophomore. During his junior season in 2018, Bosa suffered an abdominal injury. He later withdrew from school to focus on the draft. In just three games his junior year, Bosa recorded 14 tackles and 4 sacks.
Oakland Raiders:


Pick 4: Clelin Ferrell, DE, Clemson
Clelin Ferrell played at Clemson for four years with one redshirt season as a freshman. After redshirting, Ferrell saw action in every game the rest of his career with the Tigers, culminating in a National Championship season his redshirt junior year in which he finished with 55 tackles and 11.5 sacks. After the championship, Ferrell decided to turn pro.
Pick 24: Josh Jacobs, RB, Alabama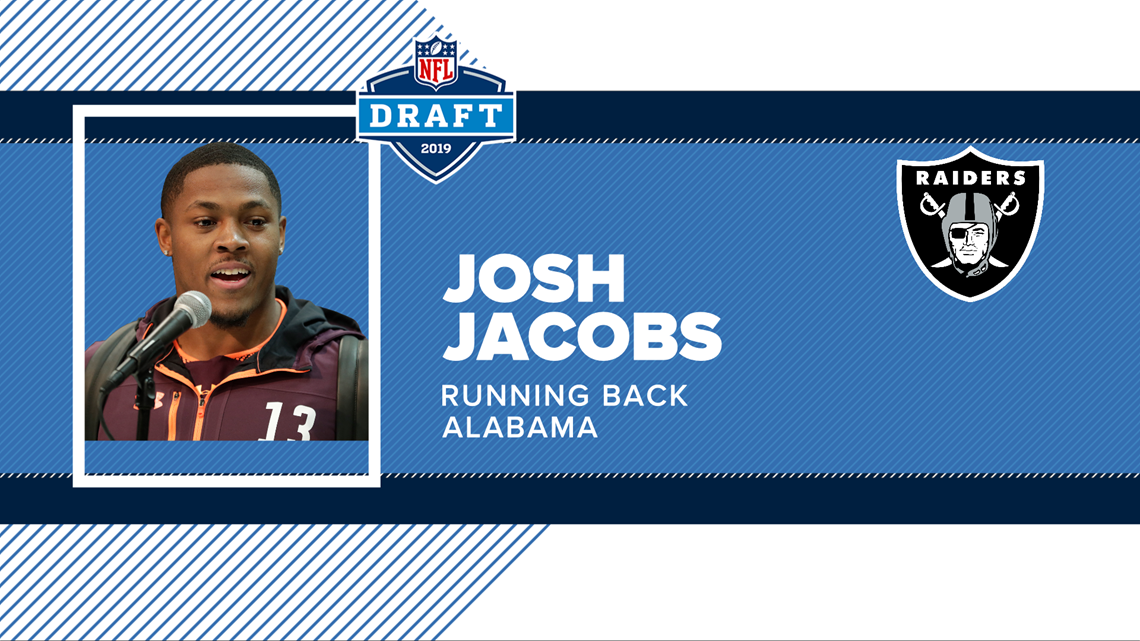 Pick 27: Johnathan Abram, S, Mississippi State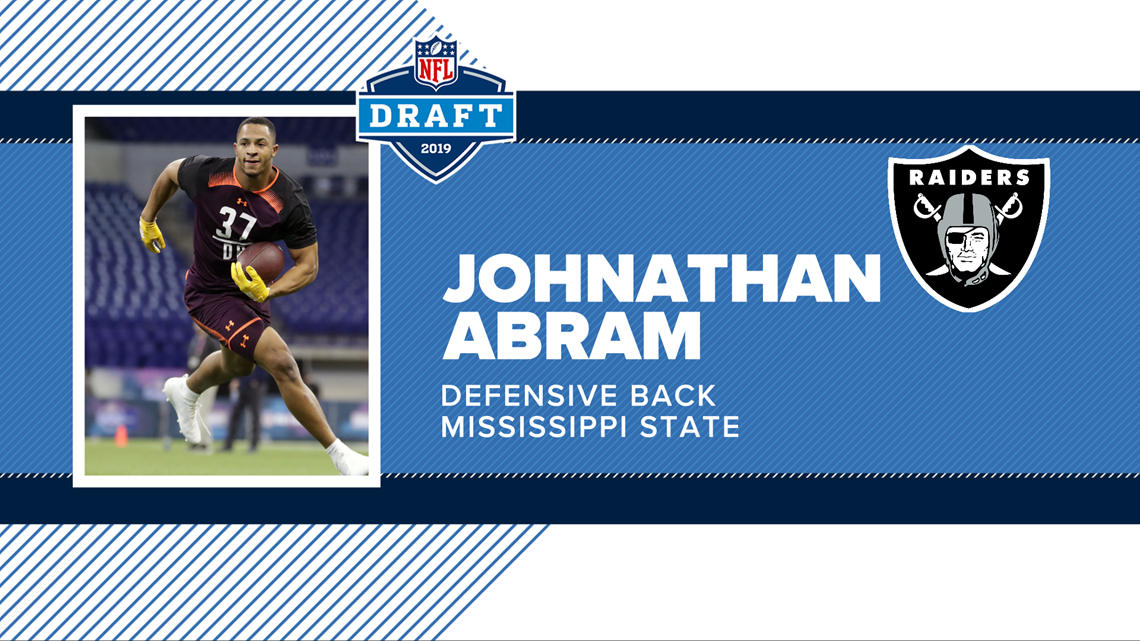 ________________________________________________________________
Pick 1 – Arizona Cardinals: Kyler Murray, QB, Oklahoma
Pick 2 – San Francisco 49ers: Nick Bosa, DE, Ohio State
Pick 3 – New York Jets: Quinnen Williams, DT, Alabama
Pick 4 – Oakland Raiders: Clelin Ferrell, DE, Clemson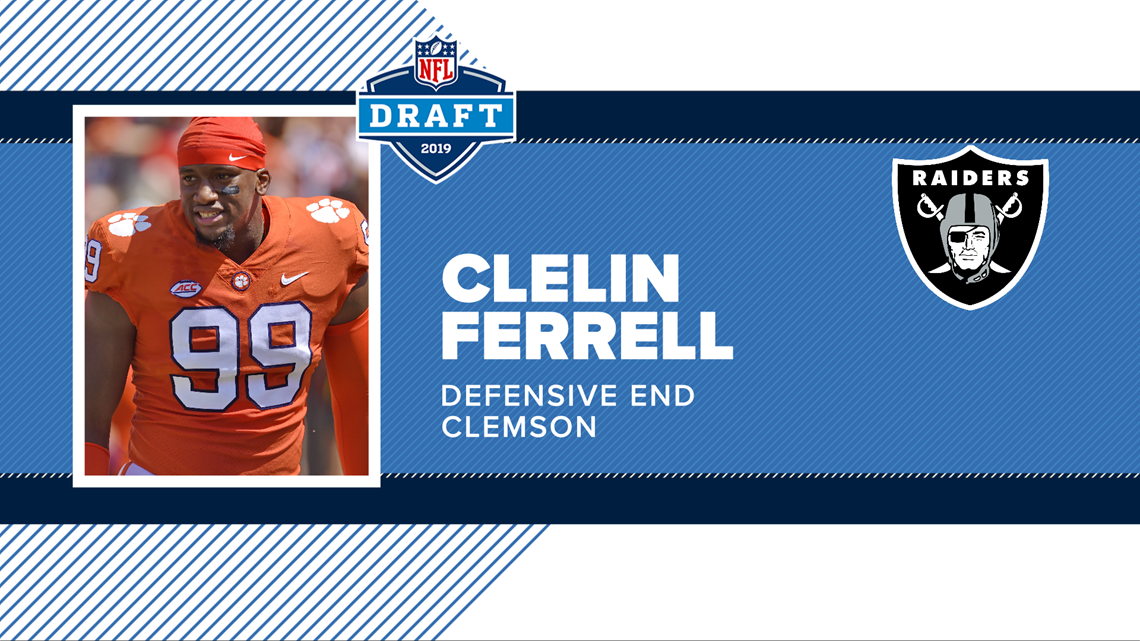 Pick 5 – Tampa Bay Buccaneers: Devin White, ILB, LSU
Pick 6 – New York Giants: Daniel Jones, QB, Duke
Pick 7 – Jacksonville Jaguars: Josh Allen, DE, Kentucky
Pick 8 – Detroit Lions: T.J. Hockenson, TE, Iowa
Pick 9 – Buffalo Bills: Ed Oliver, DT, Houston
Pick 10 – Pittsburgh Steelers (from Denver Broncos): Devin Bush, ILB, Michigan
Pick 11 – Cincinnati Bengals: Jonah Williams, OT, Alabama
Pick 12 – Green Bay Packers: Rashan Gary, DE, Michigan
Pick 13 – Miami Dolphins: Christian Wilkins, DT, Clemson
Pick 14 – Atlanta Falcons: Chris Lindstrom, G, Boston College
Pick 15 – Washington Redskins: Dwayne Haskins, QB, Ohio State
Pick 16 – Carolina Panthers: Brian Burns, OLB, Florida State
Pick 17 – New York Giants (from Cleveland Browns): Dexter Lawrence, DT, Clemson
Pick 18 – Minnesota Vikings: Garrett Bradbury, C, NC State
Pick 19 – Tennessee Titans: Jeffery Simmons, DT, Mississippi State
Pick 20 – Denver Broncos (Pittsburgh Steelers): Noah Fant, TE, Iowa
Pick 21 – Green Bay Packers (from Seattle Seahawks): Darnell Savage Jr., S, Maryland
Pick 22 – Philadelphia Eagles (from Baltimore Ravens): Andre Dillard, OT, Washington State
Pick 23 – Houston Texans: Tytus Howard, OT, Alabama State
Pick 24 – Oakland Raiders (from Chicago Bears): Josh Jacobs, RB, Alabama
Pick 25 – Baltimore Ravens (from Philadelphia Eagles): Marquise Brown, WR, Oklahoma
Pick 26 – Washington Redskins (from Indianapolis Colts): Montez Sweat, DE, Mississippi State
Pick 27 – Oakland Raiders (from Dallas Cowboys): Johnathan Abram, S, Mississippi State
Pick 28 – Los Angeles Chargers: Jerry Tillery, DT, Notre Dame
Pick 29 – Seattle Seahawks (from Kansas City Chiefs): L.J. Collier, DE, TCU
Pick 30 – New York Giants (from Seattle Seahawks via Green Bay Packers via New Orleans Saints): Deandre Baker, CB, Georgia
Pick 31 – Atlanta Falcons (from Los Angeles Rams): Kaleb McGary, OT, Washington
Pick 32 – New England Patriots: N'Keal Harry, WR, Arizona State
________________________________________________________________