SACRAMENTO, Calif. — Sacramento is a hot bed for MMA talent with UFC Hall of Famer Urijah Faber's Team Alpha Male based in the Capital City. In fact, training with Faber and Team Alpha Male is what motivated UFC fighter Vince Murdock to move from Michigan to Sacramento eight years ago. Murdock was preparing to make his debut at UFC Minneapolis in June of 2019, but a pre-fight physical not only kept him out of the octagon -- it could have saved his life.
"Even though it was kind of stripped away from me, I still found something out that was seriously wrong about my health that I would've not known," Murdock explained. "I could've had a stroke and either died or suffered some serious consequences from that."
Murdock, 28, is preparing for the fight of his life. He's won't be entering the octagon, rather, he'll be going under the knife for cerebral bypass surgery.
"It took him a long time to get that [UFC] opportunity," Team Alpha Male founder Urijah Faber said. "So when we heard the news that he had a brain condition that was going to hold him out of the fight at first and then later to find out that it's a super rare disease called Moyamoya, which is rarely found especially in someone his age and his ethnicity and everything else, I was shocked."
Moyamoya is a rare disease where blood vessels in the brain are narrowed, putting 28-year-old Murdock at risk for a stroke. Moyamoya effects less than one in every 100,000 people in the United States, according to the American Heart Association. Murdock will head to Stanford for surgery and treatment with one of the leading doctors in Moyamoya research on Nov. 11.
"I want to get it taken care of," Murdock said. "But I'm nervous to get cracked open like Humpty Dumpty."
Murdock remains positive in spite of his livelihood and future quality of life hanging in the balance following this major procedure. There's no exact timetable for his recovery, but he says it could be at least six months before he sets foot on a mat to start training again. Anything from extreme physical activity to crying could trigger a stroke, which is how many people diagnosed with Moyamoya learn they have been living with the rare condition. But in Murdock's case, it was the UFC's rigorous medical testing that alerted doctors to abnormalities in blood flow to his brain. Undergoing a successful surgery is the immediate concern, but Murdock has made peace with the possibility of never being able to fight and compete at the highest level again.
"Fighting doesn't define me," Murdock said. "That's been the hardest thing because I know fighting might not be in my future, and I'm okay with that too. If I had any advice for anyone who's going through something: it's never over. There are so many forks in the road. I'm highly confident that if it's not fighting it's something else and I'll be just as passionate about it."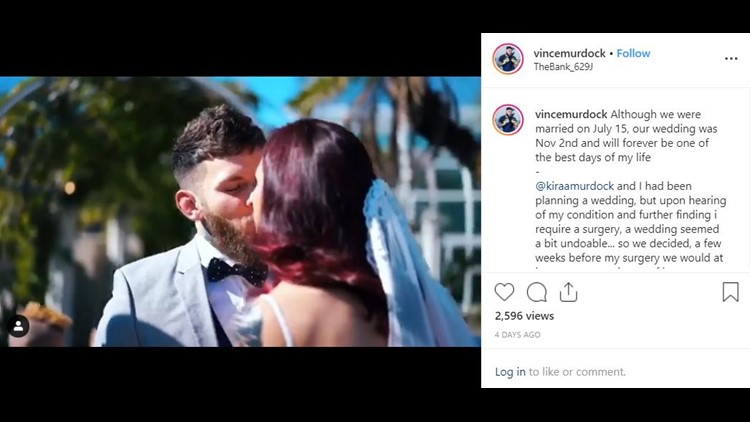 One thing Murdock is most passionate about is his wife, Kira. With the help of Faber and others, Murdock was able to pull off a last-minute surprise wedding to celebrate their nuptials in downtown Sacramento. Now the newlyweds are preparing to take on the financial burden of medical expenses as the surgery is going to cost Murdock upwards of $195,000 dollars. That's when Faber stepped up again.
"One of the things I love about Sacramento, and Northern California in general, is that we've got a real big heart," Faber said.
The UFC superstar took the initiative of setting up a GoFundMe campaign to raise money for Murdock's urgent surgery. Donating money through the GoFundMe campaign isn't the only way you can help Murdock. Several Sacramento-area businesses will be hosting fundraising events and donating all or a portion of their sales to fund the procedure. Here is a list of some of the ways you can support this cause:
Friday, Nov. 8: Urijah Faber's Ultimate Fitness hosting silent auction and boxing class led by Murdock from 5 p.m. to 8 p.m. Donations will also be accepted at the door and all proceeds will be donated to offset medical costs.
Saturday, Nov. 9: Title Boxing Ice Blocks is hosting two private boxing classes led by Murdock at 8:15 a.m. and 9:30 a.m. All proceeds will be donated to offset medical costs.
Tuesday, Nov. 12: From 8 a.m to 5 p.m. all Vibe Health Bar locations will donate 30% of all sales to offset medical costs.
US Cryotherapy Davis is donating half of every $40 treatment package for new or existing clients to offset Murdock's medical costs.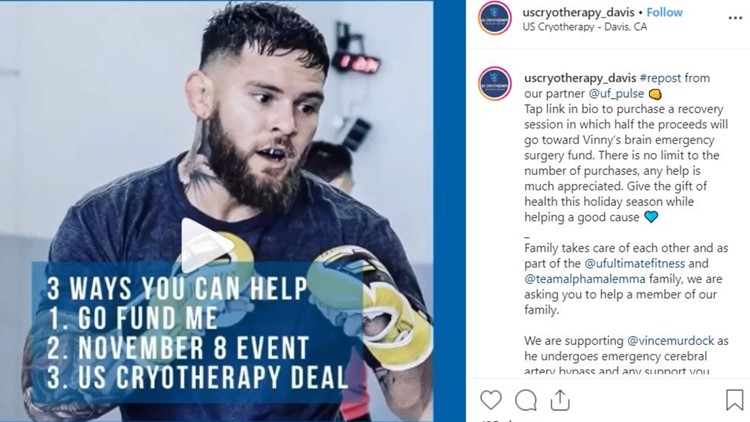 Follow the conversation with Lina Washington on Facebook, Twitter, and Instagram. You can e-mail Lina at LWashington@abc10.com.
FREE ABC10 APP:
ABC10's Lina Washington and Sean Cunningham catch up with Sacramento-based UFC fighter Vince Murdock just days before he undergoes an emergency brain surgery. After being diagnosed with a rare condition called Moyamoya, the rising star from Team Alpha Male is preparing to go under the knife for a potentially life-changing procedure.