SACRAMENTO, Calif. — Most of the Christmas trees people see this holiday season come from farmers in Oregon relying on the sun to allow for ideal growing temperatures.
But with Oregon farmers also suffering from persistent droughts in the state, owner of Lamb's Christmas Trees in Vacaville Robert Hicks, told ABC10 extreme heats are already killing trees once set to be harvested in 2024.
"The trees got brown on the side facing the sun. That Oregon heat was so brutal it ruined a lot of Christmas trees," Hicks said. "It's going to take years to recover from those loses."
Needles turn red across the burnt areas of the tree, creating what Hicks describes as a sunburn-like effect.
Hicks said he doesn't farm the trees and relies on Oregon exports to build up his inventory.
The coming shortage will become more apparent as people take their annual trip to the local Christmas tree lot and might find options are more limited, said Brian Stinnett, owner of Foothills Fresh Cut Christmas Tree.
His business is preparing to launch two locations in Sacramento.
"We have a few less of the bigger trees. The area they were growing got burnt up by the heat, but we still have plenty small (trees)," Stinnett said of his farm. "This is like a once-in-a-hundred-years type thing, but we're hoping it doesn't become a trend."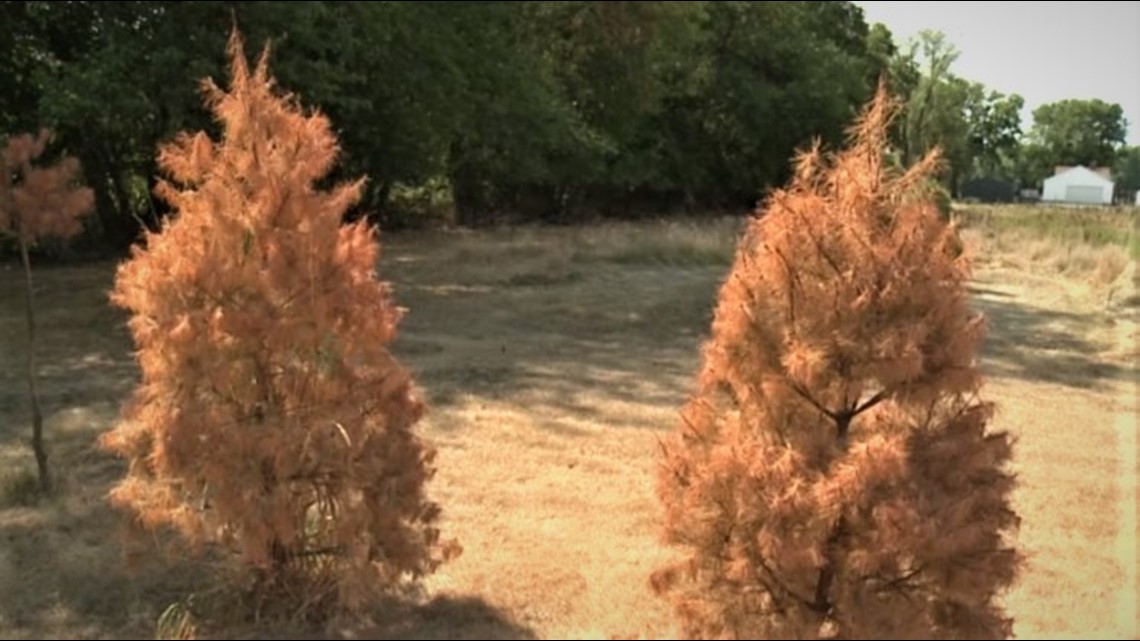 Long-time farmers like Jon Pronzini, who has been in the growing and wholesaling business for decades, say they foresee a wider shortage in about five years as a result of this season's heat damage.
"You look at the trees at 9 in the morning — nice and green, but come 3 p.m. they were bright red," Pronzini told ABC10. "(The heat) killed off 40% of my little trees."
Pronzini said trees are going to be flying out the door, or lot, much faster this season because of the narrowing options. Some could be sold out before Thanksgiving.
While some Christmas tree farms start kicking up prices on the prized holiday tradition, Stinnett, the Orego tree farmer, said this season won't be as bad for them since they were able to gather all the product they needed.
Hicks said he ordered his shipment of trees before he realized the full extent of the heat's destruction, but the shortage is a situation he'll be monitoring even more closely.
ABC10: Watch, Download, Read
Sugar Bear, the U.S. Capitol Christmas tree, leaves its NorCal home and heads for Washington, D.C.