SACRAMENTO, Calif. —
Northern California has been treated to a very soggy start to December.
Following the latest winter storm that dropped up to 70 inches of snow in the mountains, the snowpack sits at 223% of average for this time of year. The storms need to keep rolling through if California has any hope of breaking out of the drought this year.
Currently, 99% of California is in some level of drought. The next drought monitor could show some relief thanks to the storms California has received so far, but don't expect any news of drought busting anytime soon.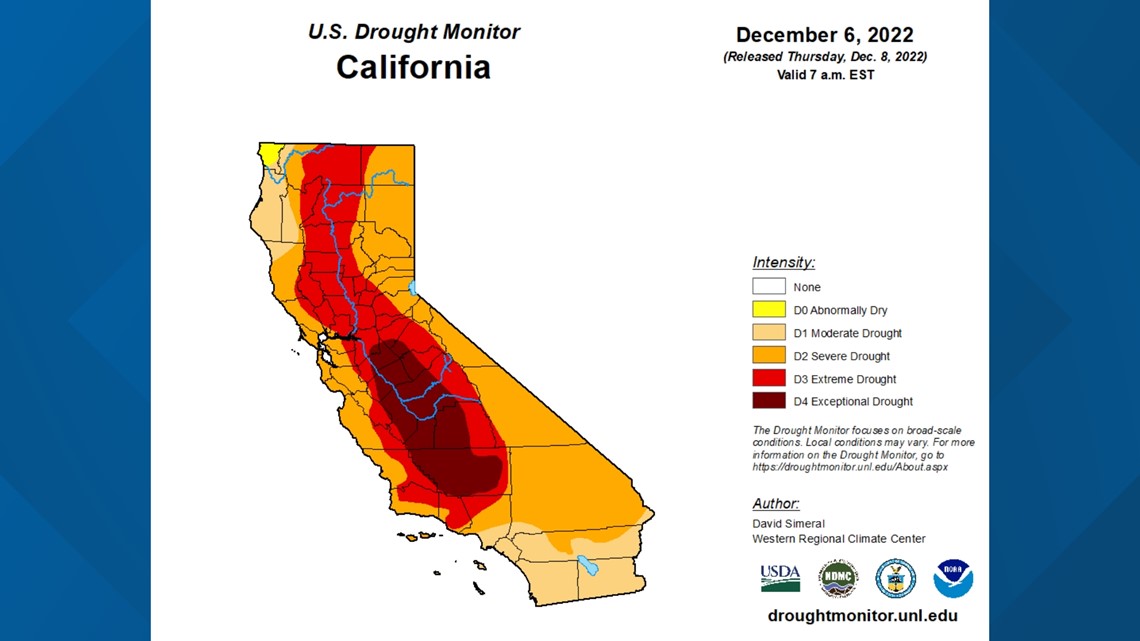 As California moves into its fourth year of drought, the state faces tough decisions when it comes to a precious, dwindling water supply.
The Bureau of Reclamation, in charge of the California Central Valley Project, is asking its contractors receiving Central Valley Project water for municipal and industrial use to begin planning for potentially extremely limited water supply conditions in 2023.
The Central Valley Project is a complex, multi-purpose network of dams, reservoirs, canals, hydroelectric powerplants and other facilities that reduces flood risk for the Central Valley, and supplies valley domestic and industrial water, according to the Bureau of Reclamation.

"The Central Valley Project is one of the world's largest irrigation projects," said Adam Nickels, chief of the Resource Management Division at the Bureau of Reclamation.
The project was intended to be built with 5 years of drought resiliency, according to Nickels, but aging infrastructure and higher demand means the resiliency is not what it used to be.
A strong start to the wet season has inspired hope that the state could potentially break out of drought, long term climate models and the presence of La Niña spell danger for the state. A comparable situation could be on tap to what California experienced last year, when a wet December was followed by an extremely dry January, February, and March.
Although the Bureau has warned those who rely on the water supplied by the Central Valley Project, there have not been any specific allocation thresholds. Meanwhile, the California Department of Water Resources announced an initial allocation of 5% on Dec. 1.
The Bureau will announce initial water allocations in February. Unless the state is pounded by storm after storm before then, the Bureau will find it increasingly difficult, if not impossible, to meet all the competing needs of the Central Valley Project, according to a statement released by the agency on Nov. 28.
"A low allocation does mean that we're just going to have a difficult time growing the food that we need. We're going to continue to have restrictions in our communities for water supply, watering lawns, potentially filling pools," said Nickels.
Even if California does manage to break out of drought, the problems associated with water security will continue as the infrastructure continues to age, population increases, and climate change makes drought more prevalent. Researchers from UCLA found that the current drought is 42% more severe due to climate change.
"We may have to change how we think about how we use water in a short-term and in a long-term perspective," said Nickels. "The short term need is more moisture. The long term is identifying drought resiliency projects and programs, including helping build storage projects and groundwater infrastructure that will help us through the next series of years."
ABC10: Watch, Download, Read