SACRAMENTO, Calif. — Drought conditions continue to fade statewide thanks to one of the wettest starts to the winter season in California history.
A massive snowpack sits in the Sierra thanks to the onslaught of storms. Statewide the snowpack is at 240% of average, higher at this date than the record snowiest winter of 1982-83.
The snowpack acts as California's frozen reservoir and will help replenish low reservoir levels.
The rest of the state exists in severe or moderate drought along with a few areas of abnormally dry conditions. These figures will likely continue to improve as the winter wears on.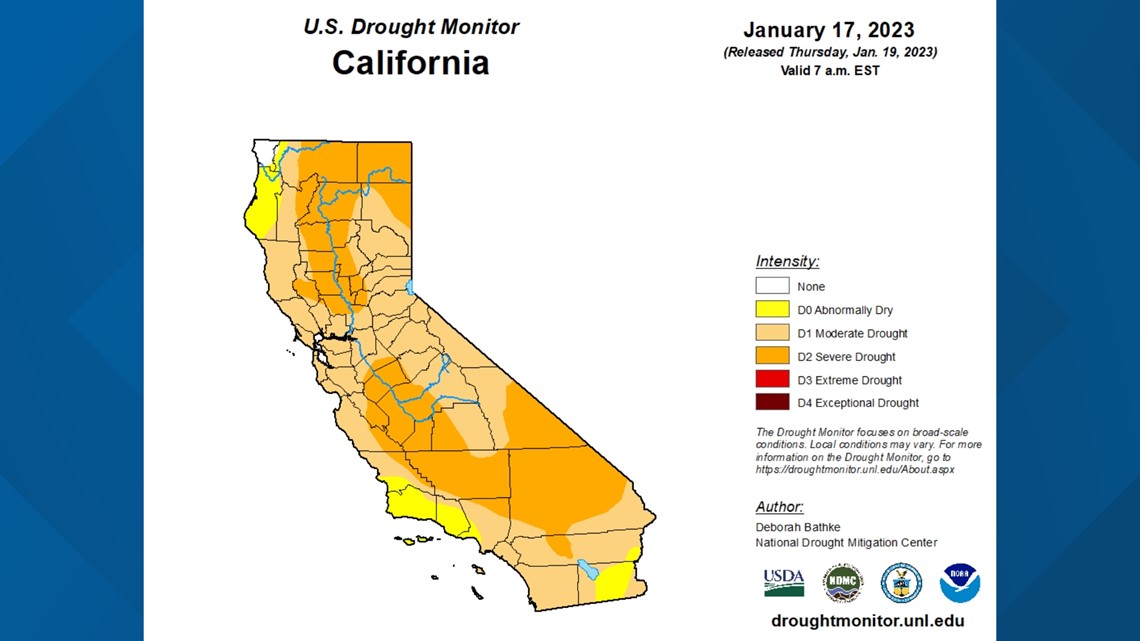 Folsom Lake, one of the major suppliers of water to the greater Sacramento metro, is expected to completely fill up this year thanks to the excessive precipitation seen so far.
Folsom Lake sits at the confluence of the north and south forks of the American River, about 25 miles northeast of downtown Sacramento. The area was dammed in 1955 with the sole purpose originally being flood mitigation for Sacramento downstream.
Although Folsom today has a variety of purposes, including water supply, recreation, and hydropower, flood control remains the main purpose.
"Flood protection is what I would typically say is first among equals for Project purposes. It is the public safety aspect of why we're here and we need to make sure that we deliver for certain," said Drew Lessard, area manager of the Central California office for the Bureau of Reclamation.
The recent storms have caused water levels to meet the flood protection threshold which is why water has been released lately.
Compared to other reservoirs, Folsom is relatively small at 1 million acre-feet. For comparison, Shasta is 4.5 million acre-feet.
The massive snowpack and continued runoff mean that plenty of water will be available to fill Folsom Lake while continuing to monitor flood potential.
"What we want to see as we go through this is keep adding to it a little bit, keep the precipitation coming at a moderate rate and allow it to just naturally melt in that end of April through May timeframe so we can fill up," said Lessard.
Recent improvements to the dam, including the addition of an auxiliary spillway in 2017 and better forecasting tools to better control lake levels, have raised flood protection from one in 88-year protection to about one in 250-year protection, according to Lessard.
If another strong series of storms rolls through the state, dam managers will have no choice but to let water out in order to alleviate flood risk.
"We'll try to maximize what we can get storage at the end of May for water supply, power, all of those other project purposes. But they cannot take a risk. If there's a public safety concern. They're going to evacuate and get prepared for that next storm," Lessard said.
He added that the drought is still not over and highlighted the importance of filling Shasta and Oroville to finally move out of the short-term drought plaguing California.
ABC10: Watch, Download, Read