SACRAMENTO, Calif. — The latest drought monitor, released Thursday, showed some minor improvements in drought status. Most of these improvements came along California's northern coast but the areas experiencing the worst of the drought, like the San Joaquin Valley, saw no improvement.
The monitor stops collecting data for its weekly updates at 4 a.m. Pacific time, so much of the rain that fell from the early week storm was not accounted for on this week's update. This means the state may be in a bit better shape on next week's monitor, but still has a long way to go to escape drought.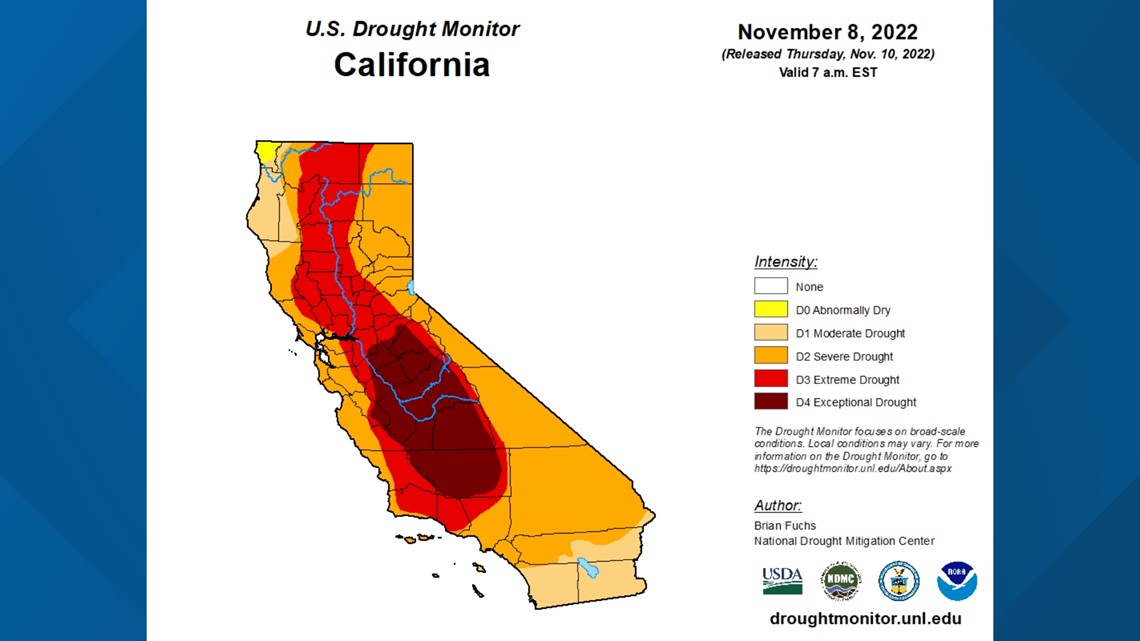 The recent storm coated the Sierra in a fresh blanket of snow, a good first step in building a beneficial snowpack, but the state is nowhere close to breaking out of the drought.
Data from the Central Sierra Snow Lab is essential to tracking everything snow in the Sierra Nevada mountains.
"If it has to do with snow, weather or water, we're all about it," said Andrew Schwartz, lead scientist and manager of the Snow Lab, operated by UC Berkeley and located in Soda Springs.

The lab was founded in 1946 by the Weather Bureau (now known as the National Weather Service) and the U.S. Army Corps of Engineers to study the snowpack and hydrology in the mountains. Although the lab was founded 76 years ago, snowpack measurements at the lab can be dated all the way back to 1879, making it the longest continuous snowpack measurement site in the world, according to Schwartz.
The lab features a variety of data collection tools from cutting edge meteorological equipment to the old fashioned yardstick.
So far this season, the lab has measured 53.35 inches of pristine Sierra snow, putting the snowpack at 341% of average for early November. These numbers will certainly drop as the state moves into a dry period as no precipitation is expected until at least Thanksgiving week.
The odds of a drought-busting wet year are slim, unfortunately.
"It's not looking good this year, we're expected to be warmer and drier than average," said Schwartz, adding that the early season snow is certainly a good sign, especially with added precipitation variability due to climate change.
The Sierra snowpack is often referred to as California's frozen reservoir, but it has struggled to replenish the drought-stricken reservoirs in the state as of late. Shasta, Oroville, and Folsom are all near 30% capacity and 60% of historical average.
"If we hope to come out of this drought at all, we absolutely need to have storm systems throughout the winter," said Schwartz.
ABC10: Watch, Download, Read