SACRAMENTO, Calif — The end of the 2020-21 water year is Thursday, Sept. 30, and the forecast is similar to what we have seen in Sacramento all year: dry conditions.
These conditions are normal for late September, but this year has been especially dry.
The Downtown Sacramento location has logged 7.87 inches of rain since Oct. 1, 2020. The Executive Airport in south Sacramento has logged even less at 6.61 inches of rain. Officially, this was the fourth driest water year for Sacramento.
The downtown location for Sacramento — near Sacramento State College — has moved multiple times since record tracking started in 1849. Record keeping is somewhat problematic in areas where the official site has changed. Rainfall and temperatures can vary significantly by location, but for the sake of the Sacramento area, the downtown location and executive location are used to keep track of trends and records in the area.
With both locations showing less than eight inches of rain, this rainy season easily is one of the top 10 driest on record for either location.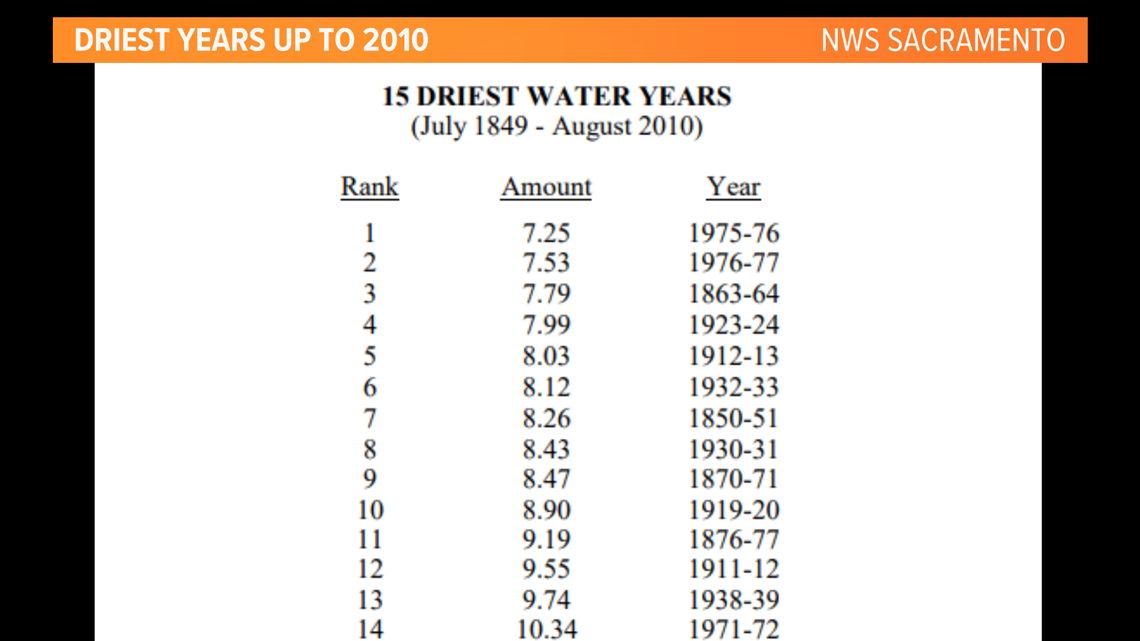 Another complication of record keeping is changing the dates for the Water Year. Until a few years ago, records for precipitation were measured from July to the following June 30. Now, all agencies use the same water year dates for California from Oct. 1 of a year to the following Sept. 30 for the next year.
As we start a new water year, the forecast is more of the same dry weather. There are a few signs next weekend may see some wet weather return to the area.
RELATED WEATHER STORIES FROM ABC10:
ABC10: Watch, Download, Read
Here's what California's rainy season changing means for already worsening fire danger