Since the beginning of February, Sacramento Executive Airport has recorded 0.56" of rain. The relatively dry weather since mid-January allowed the state to dry out and lowered flood risk, but another storm cycle heading into the dry season would be incredibly beneficial in terms of breaking out of drought.
Spring is on the way, as is the trademark hot, dry California summer. With only about 2-3 months left in the rainy season, what can California expect?
Well, for at least the next week, there won't be much in terms of precipitation. Tuesday saw some light snowfall over the Sierra but that was it. The pattern of inside sliders has been the reason Northern California hasn't seen any major winter storms since mid-January, only light Sierra snow and a few valley sprinkles. High pressure just off the coast is sending the majority of storm activity north and east, leaving just the scraps for California.
The widely covered third straight year of La Niña, which was expected to bring drier than normal conditions to Northern California, has so far produced a very wet winter. The NOAA ENSO prediction gives the ENSO an 85% chance of becoming neutral in the February-April timeline and a 60% chance of transitioning to El Niño by autumn.
There are some signals that a negative Pacific North American (PNA) pattern may set up towards the end of the month and into March. This would set the stage for potentially more rain and heavy snow producing storms but it's still too far out to tell specific impacts. A negative phase in the PNA typically results in a "much more of a wet pattern for California," according to meteorologist, author, and journalist at Yale Climate Connections, Bob Henson.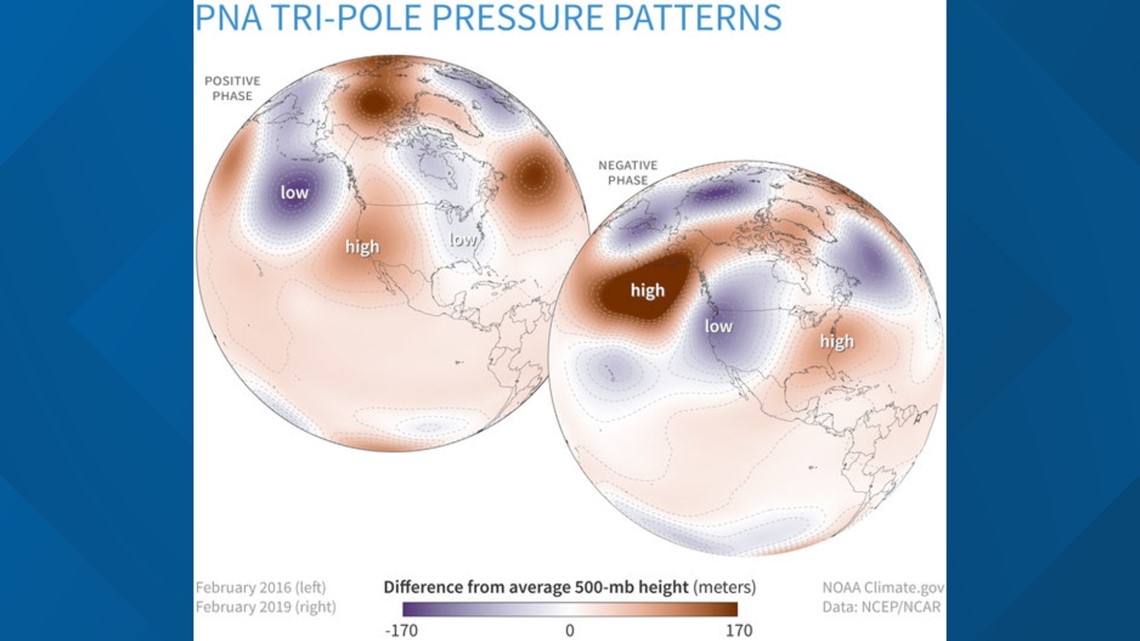 For the last few days, the GFS and Euro weather models have been hinting at this wetter and colder period setting up. The Climate Prediction Center is on board as well, painting the state in shades of blue and green representing cooler and wetter than average conditions, respectively.

The pattern change looks to take place midweek next week. Until then, cold nights and near average high temperatures are expected along with dry conditions.
ABC10: Watch, Download, Read