SACRAMENTO, Calif. — California is nearing that make-or-break point to pick up some rain and snow totals. January has turned out to be a total bust for big storms, continuing that winter whiplash of wet to dry weather.
Almost all the gains we've made reducing the severity of our two-year drought came from storms in October and December. In October, those gains were from one big atmospheric river sitting over the state for days. December saw multiple storms ending in a record setting snowiest month for the Sierra.
In between those months though, there was November, which barely had any measurable rain and snow. Now as we close out January, it will be another bust for bringing in much needed precipitation.
Since January and February are historically the wettest months of the year, there's still a chance to get back on track.
For example, in 2011 we had a similar mid-winter dry stretch. The storm cycle changed in February and March, delivering above average snow ending in an above average season total for the Northern Sierra 8-Station Index. That was not the case in 2013. Again, a mid-winter dry stretch happened in January, but the storm track didn't change and ended in below average precipitation at that same location. That happened to be the beginning of our historic 2012-16 drought.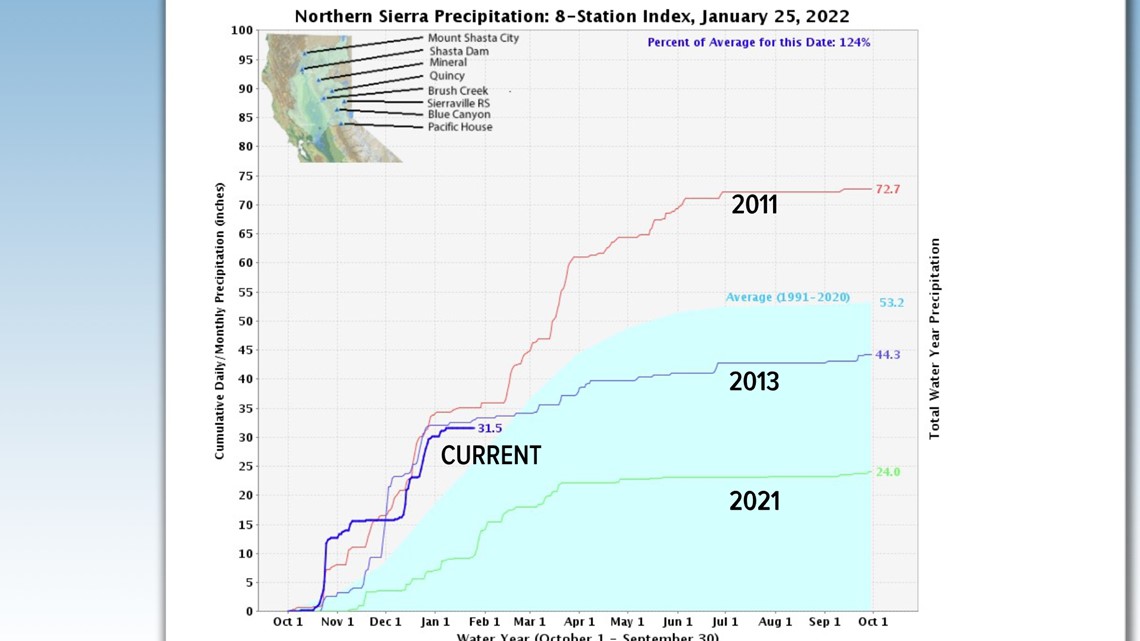 This current drought though is off to a drier, warmer start with the combined 2020 and 2021 water years marking the driest two-year period in state history. The current dry-stretch and winter whiplash is now elevating concerns that the drought not only continues but gets worse.
February really is the turning point. If the storm track doesn't start to change, it's unlikely a miracle March could deliver what the state really needs to make a much bigger dent in our ongoing drought.