CALIFORNIA, USA — Update: PG&E is reducing the customers affected in its next round of power shutoffs to 88,694 customers across 16 counties and one tribe. PG&E officials previously said 21,000 customers could lose their electricity.
PG&E is shutting off the power in waves, starting with 15,000 customers throughout Butte, Shasta, Plumas and Tehama counties at midnight.
Portions of Lake and Napa counties could lose power at around 4 p.m. on Sunday that would affect around 74,000 customers.
Here is the list of counties that might experience PG&E power shutoffs.
Alpine
Amador
Butte
Calaveras
El Dorado
Lake
Napa
Nevada
Placer
Plumas
Shasta
Sierra
Tehama
Yuba
The National Weather Service [NWS] has issued a fire weather watch starting at 11 a.m. Saturday, Sept. 26, through 8 a.m. Monday, Sept. 28. Because of this alert, Pacific Gas & Electric [PG&E] customers may find themselves sitting in the dark once again.
PG&E officials previously said approximately 21,000 customers in Butte, Plumas and Yuba Counties could be impacted by what the company calls Public Safety Power Shutoffs [PSPS] starting Sunday and extending into Monday. Officials do not know the strength or the timing of the weather system.
Now, a recently updated outage map points to more counties possibly being affected by power shutoffs. Placer, El Dorado, and Nevada County show sizable portions of affected area. The shutoffs would start on Sunday at 4 a.m. to 6 a.m. and last until Monday at 10 p.m.
Parts of Amador, Calaveras, Sierra and Alpine County also appear to be affected, while the outage map creeps north to include Shasta and Tehama County. To the west, Napa, Sonoma, and Lake County also appear to be under a PSPS watch.
Over 97,000 customers would be affected, though this number is subject to change. PG&E also updated its information to include the Bay Area in its PSPS Watch Sunday through Monday, though the number of households affected within these areas included is not known at this time.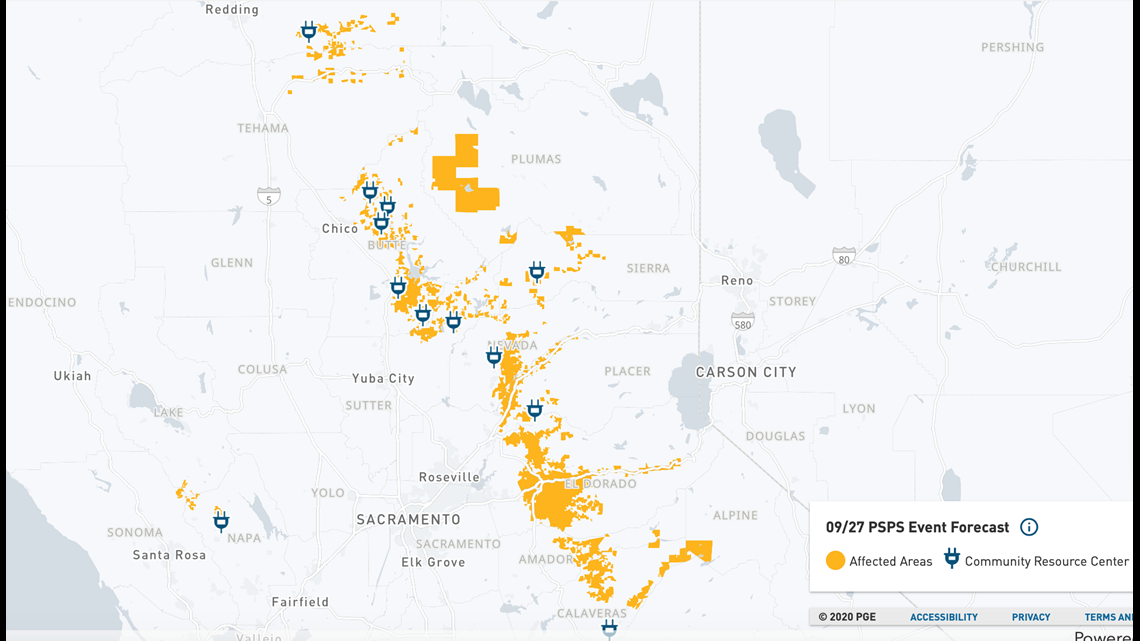 A spokesperson for Cal Fire, Scott McLean, spoke to ABC10 about where the focus will be over the weekend in the North Complex West Zone as the fire weather watch begins.
"We're focusing more on the southeastern corner of the fire, in the Forbestown area, off of Forbestown Road and Old Forbestown Road," McLean said. "That's the area that was giving us the most problem over the last few days. By that I mean, it's extremely rugged terrain. Very steep, where folks were having to hike way down into the south fork of the Feather River Gorge there."
The concern for the weekend has to do with gusty winds along with near triple-digit high temperatures, which will increase the opportunity for fire danger throughout areas of Northern California.
"Hot temps along with the potential for gusty winds could introduce the opportunity for critical fire weather this weekend for parts of the Sacramento Valley," ABC10 meteorologist Tracy Humphrey said.
Gusts are expected to reach up to 30 mph, with poor humidity recovery overnight in the range of 20-40%.
"We don't want any embers to fly across the line, or any debris, or hot logs, small pieces to roll across the fire line, due to the nature of the topography," McLean said. "Unfortunately, we're looking at a fire weather watch...it probably, and more than likely as usual, will get turned into a Red Flag Warning situation."
These weather conditions increase the potential rapid fire spread. California has already seen more than 8,000 wildfires scorch 5,600 square miles this year.
"We've been very lucky up until this point with great weather to be able to mitigate this fire," McLean said.
PG&E's equipment has been linked to more than 20 wildfires, including the deadly 2018 Camp Fire. The utility initiates what it calls Public Safety Power Shutoffs to de-energize transmission lines during fire-favorable weather conditions. That means more communities are facing the potential for power shutoffs as PG&E preemptively shuts off the power, waits for the weather conditions to pass and then inspects every inch of the de-energized lines to make sure it's safe to turn the power back on.
However, PG&E said fire danger remains seasonably high. The U.S. Forest Service Pacific Southwest Region has extended closures and fire restrictions in its forests due to the fire weather watch, including Plumas National Forest.
"The main concern is, you know, promoting those hotspots that are still out there within the fire. The winds can definitely catch an ember, as you know, and bring it across the fire line. This particular fire—well, all fires as of late—have been promoted up to a mile, in some cases, they think two miles in this particular fire when it first started. Those embers get way out ahead of the fire and start other fires which bring the main body of the fire into it," McLean said.
Those tiny embers could create spot fires in difficult to reach places, increasing the challenge of firefighting in the already difficult terrain.
According to the National Interagency Fire Center, wildland fire potential outlook favors above-normal large wildland fire potential for most of Northern California for September and October followed by normal large fire potential for November and December.
At least for the North Complex West Zone where fire weather concern is high, McLean says Cal Fire has enough resources in that area.
"We want to make sure we take care of that situation. That's why we still have almost 1,900 individuals assigned to this fire. That's why we have over 120 fire engines, over 50 hand crews and over 40 dozers to make sure we keep a handle on this," McLean said.
Dr. Eunie Jung explains how repeated power outages and threats of wildfires can take a toll on our emotional and mental health – and how to deal with it.