SACRAMENTO, Calif. — UPDATE: 6:45 p.m. Monday
Heat wave is here with highs running 10-15 degrees above average. This Memorial Day was one of the hottest on record for Downtown Sacramento.
A big ridge of high pressure will move in early in the week and lock in sunny skies, dry air, and near-record temperatures. Monday through Thursday afternoon daily heat records could easily fall with temperatures ranging from 100-107 degrees.
Monday will see temps only rise to about 100 degrees which would still put many locations heat records within reach. This level of heat has prompted the National Weather Service (NWS) to issue an Excessive Heat Warning for the region with a threat to health.
Hot daytime temperatures combined with little overnight relief can stress the human body and provoke heat exhaustion or the sometimes-fatal heat stroke. The warning lasts from Monday to Thursday at 7 p.m.
Between the hours of 10 a.m. and 8 p.m. seek shade daily and shelter from the heat. If you are outdoors for extended periods drink lots of water before you are thirsty, wear light loose clothing and a hat and seek breaks as often as possible. If you feel faint or dizzy or stop sweating, go indoors immediately.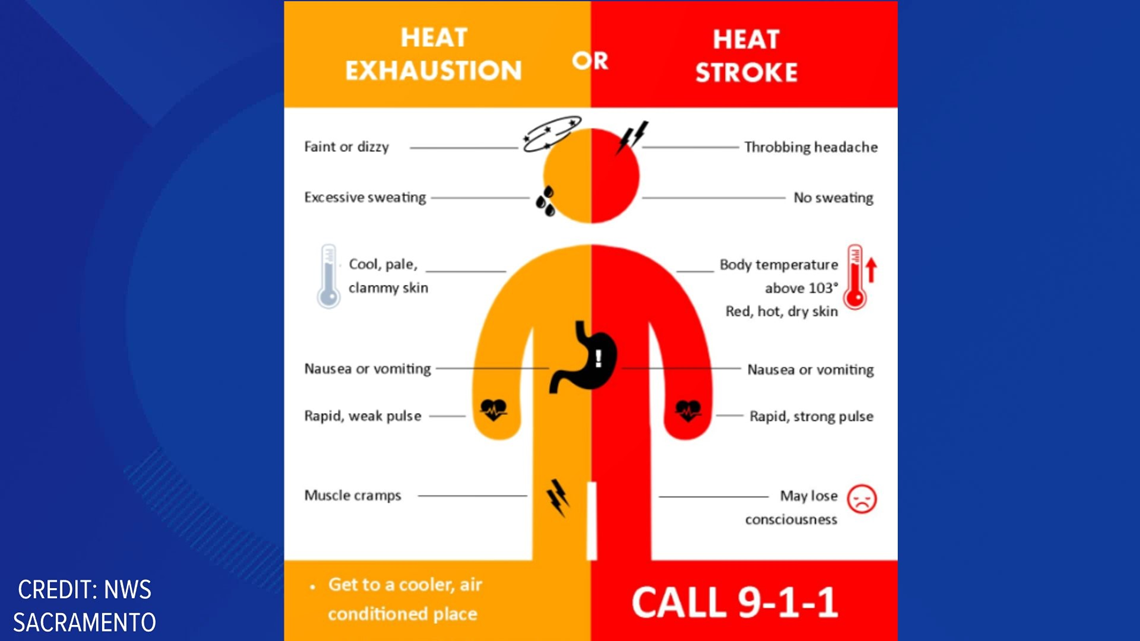 Young children and seniors are at risk for extreme heat and need to take extra caution. Check on seniors that may need help as well.
One extra element that may add to the daily weather concerns is breezy conditions on Wednesday and Thursday. Grassfires are possible with the dry air, extreme heat, and breezy conditions.
Friday the temperatures will dip below 100 for many, but it will still be hot. More cooling is in the forecast with highs in the 80s for the upcoming weekend. Monday next week we could see even more changes with a chance of rain in the forecast.
Read more from ABC10
RAIN OR SHINE? GET THE LATEST FORECAST IN YOUR NEIGHBORHOOD BY DOWNLOADING OUR APP: