SACRAMENTO, Calif. — Drought conditions in parts of Northern California are showing signs of improvement according to the Thanksgiving Day Drought Monitor release.
An historic early season heavy rain/snow event followed by some smaller weather systems brought much needed precipitation to the region after two years of dry conditions.
Northern California saw the biggest improvements with nearly 20 counties coming out, or partially out of exceptional drought, the top level on the US Drought Monitor. Those areas are: Shasta, Tehama, Glenn, Butte, Colusa, Sutter, Yuba, Lake, Napa, Nevada, Placer, El Dorado, Amador, Sacramento, Yolo, Solano, Contra Costa, Tuolumne, and Calaveras.
At the peak of this multi-level drought, more than 47% of California was listed in Exceptional Drought — meaning the regions experienced widespread crop and pasture losses, fire risk, and other water emergencies.
And at one point, 58% of the state in the mid 2010s was listed at the highest drought level.
But as of Thursday, Nov. 25, only 28% of the state is now in the top level — a drop of 10% from last week. The second level of drought is labeled as 'Extreme' and the state stayed at 80% in that level the past week.
This is encouraging news for Northern California's reservoirs, Shasta and Oroville, the largest reservoirs in the state.
Another reservoir is the natural one, the Sierra snowpack. It provides one-third of the water for the state during the dry season. Snowpack has dramatically dropped after a huge start to the season. See below the one month changes.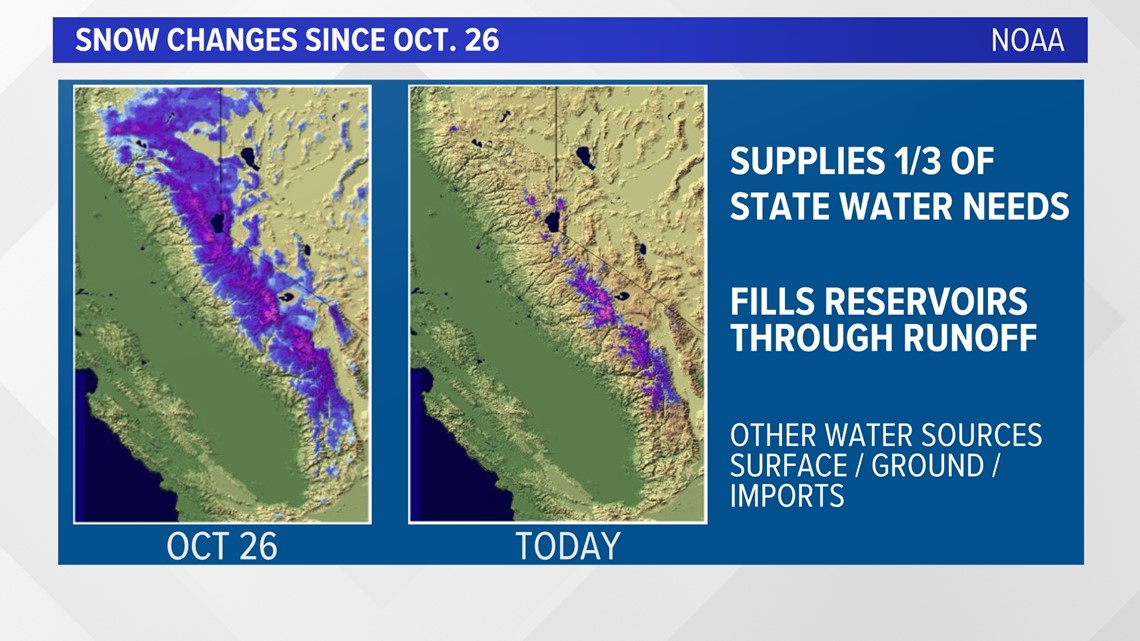 This is a reminder that although the state started with abundant rain and snow, conservation is still needed.
ABC10: Watch, Download, Read