SACRAMENTO, Calif. — Update: 9:45 p.m. Thursday
A strong ridge of high pressure across the West is bringing record-breaking heat. Sacramento and San Joaquin Valley highs reached near 111° in some places. Several records were hit throughout Northern California.
This is a dangerous heat wave with our Excessive Heat Warning continuing through 9 p.m. Saturday, June 19. Highs will stay in the 100s with some places reaching up to 113 degrees in the Sacramento Valley, Sierra Foothills and the Delta. Lows will only drop to the upper 60s to low 80s.
Not much change for Friday which will likely be another record-setting hot afternoon.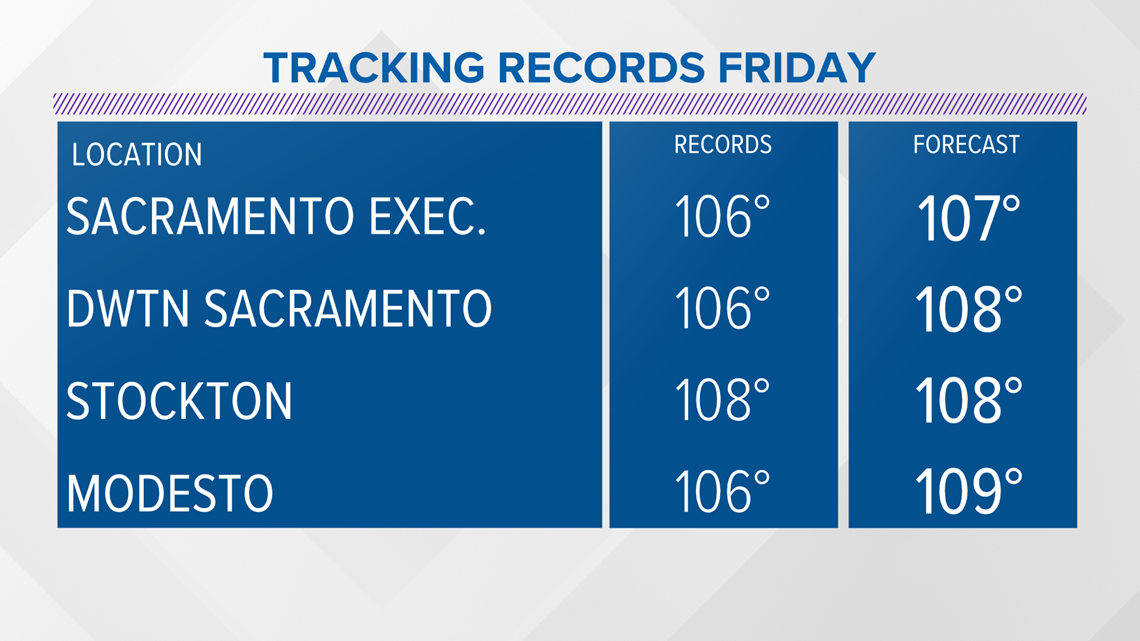 This significant heat will impact everyone and especially those working outdoors.
Heat-related illness is possible for people, pets and livestock with extended time outdoors.
To avoid heat-related issues:
Drink extra water
Avoid outdoor strenuous activities from 10 a.m. to 6 p.m.
Help elderly, kids and pets stay cool
Plan to be in air-conditioned buildings
Fire danger will also be elevated in the Valley due to hot and dry conditions. Grass and other vegetation are running at near-record dryness right now. Any spark will have plenty of fuel to spread.
Cooler temperatures are expected over the weekend but highs over the weekend will still be near 100°. Highs return to the 80s and 90s by the beginning of next week.
ABC10: Watch, Download, Read