SACRAMENTO, Calif. — We all know August 2020 was hot, but did you know how hot it really was?
Almost every single day in downtown Sacramento was much hotter than average with 13 days of 100 degrees or hotter. The month saw very warm mornings with above-average temperatures and very hot afternoons.
The middle of the month saw one of the longest and hottest heat waves in Sacramento history with eight days in a row of 100 degrees of heat.
Downtown Sacramento also recorded the hottest temperature ever for the month at 112 degrees. That kind of heat has not been seen in Sacramento in more than a decade.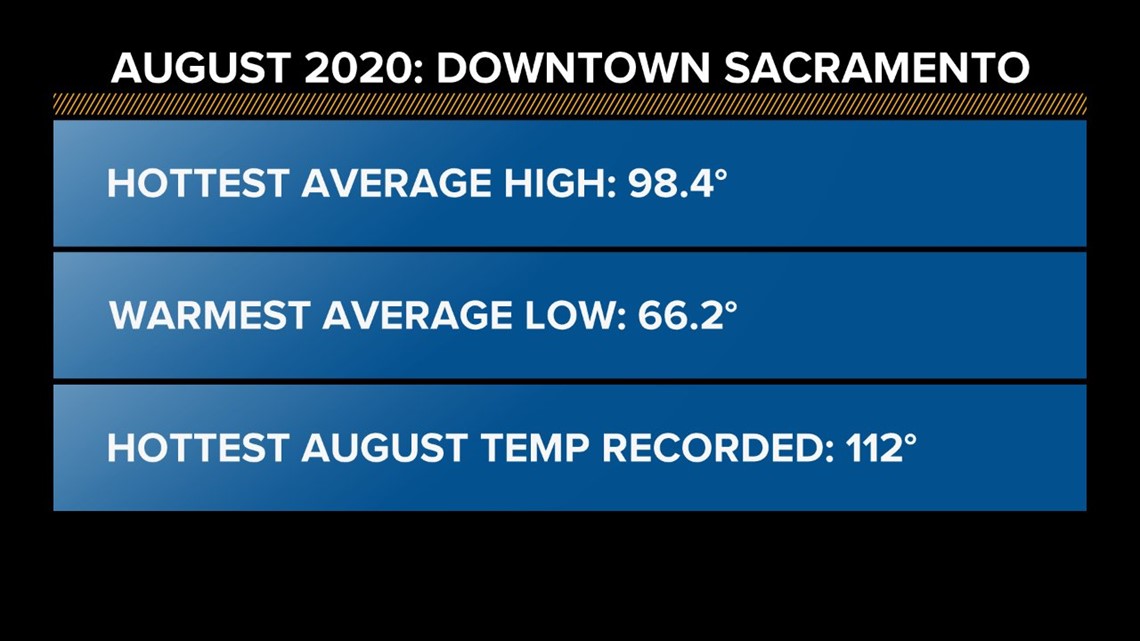 If you take the average highs for the month they were 6 degrees above average at 98.4 degrees. If you take the average lows for the month they were almost 5 degrees warmer than average at 66.2 degrees.
The remarkably hot August set the stage for one of the biggest fire outbreaks in California history when dry lightning created more than 500 fires in two days.
September weather outlook
September has continued to be mostly above average with lingering smoky skies.
Labor Day weekend will see another heat wave with four days forecast above 100 degrees. Daily high-temperature records could fall with multiple days forecast to be four to five degrees above the records.
If we reach 110 degrees on Monday, that would be the hottest September temperature ever recorded. It would beat the 109 degree reading from 1955.
Sacramento has been keeping weather records since 1849, during the gold rush, although the exact location of measurement has changed many times over the years.