CALIFORNIA, USA — Tropical Storm Hilary continues to deliver record-setting rainfall to Southern California.
The cumulated rainfall is causing flash flooding and small slides on hillsides into some roads. Hilary is moving north northwest at 28 miles per hour. The latest advisory from the National Hurricane Center has winds at 45 miles per hour which means it is still holding its tropical storm status.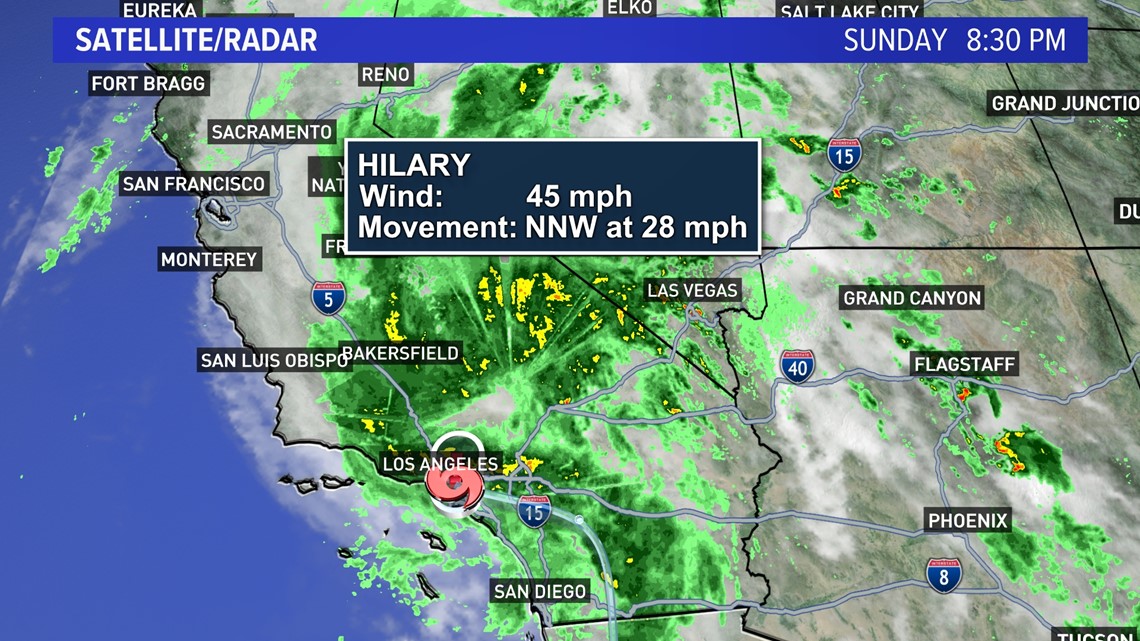 Hilary will continue to bring life-threatening flooding as well as the potential for small mudslides and debris flows through early Monday. Localized flooding is possible through the Intermountain West as Hilary moves north during Monday.
The storm will steadily lose strength overnight as it moves over land, but still bring a chance of localized flooding through the Intermountain West.
The risk of thunderstorms and heavy rain ends for extreme southern California on Monday, expanding north and east along with the path of the storm.
Gusty winds early Monday are expected for Northern California with periods of showers and a slight chance of isolated thunderstorms.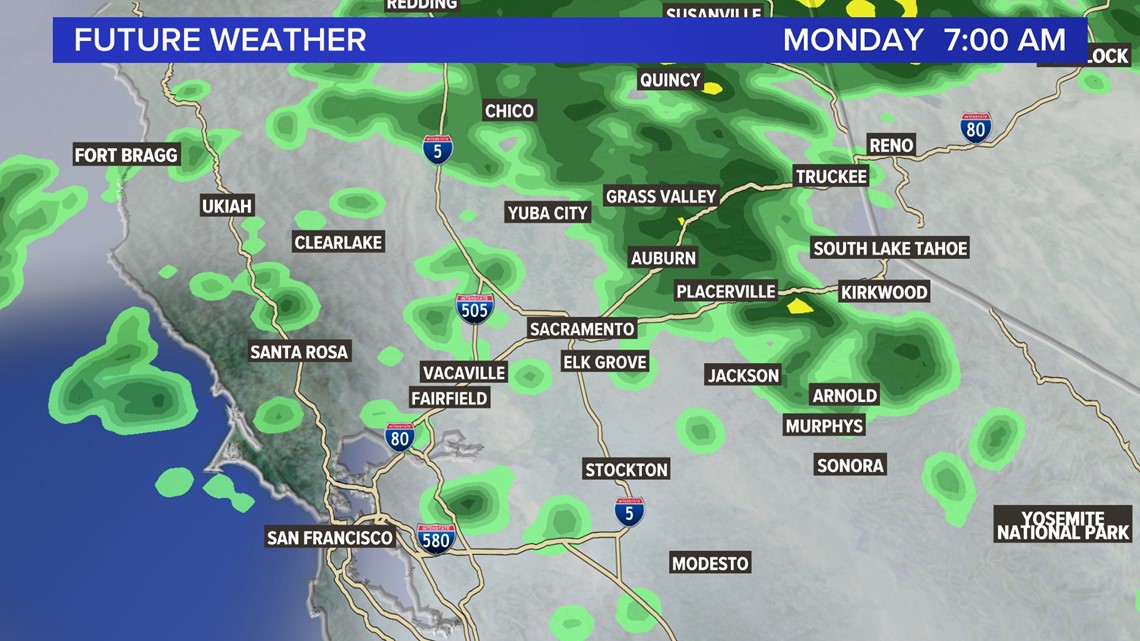 6:00 P.M. Update
Hilary has officially crossed the border into California as a tropical storm.
Heavy rain will continue to raise flooding risk across most of Southern California. Flood, high wind, and tropical storm warnings are present across the region and the impacts brought along by Hilary will continue through the overnight hours.
Surface winds show the center of rotation now over the San Diego area as heavy rain and gusty winds continue. Hilary peaked as a Category 4 hurricane with a central pressure of 939 millibars and maximum sustained winds of 145 mph but quickly weakened as it encountered cooler ocean waters. It is moving north at 23 mph with a central pressure of 997 millibars and maximum sustained winds of 50 mph.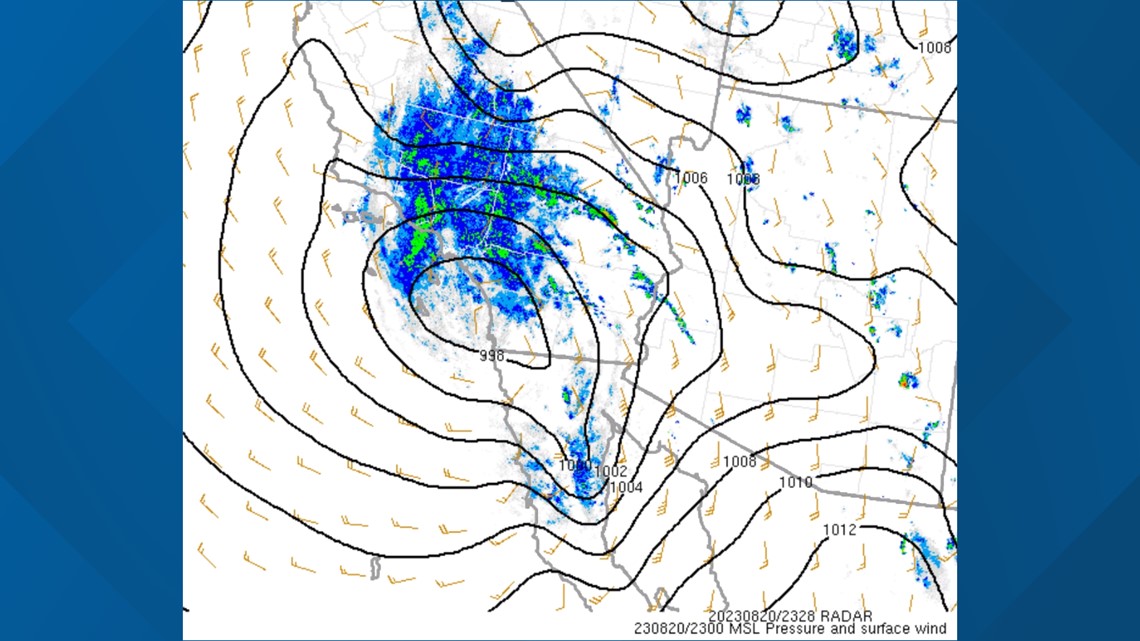 The rainfall is expected to peak from now until 9 P.M., according to NWS Los Angeles, but chances remain through Monday afternoon.
The forecast remains on track for Northern California, although rain chances have slightly fallen for the valley and the Sacramento area.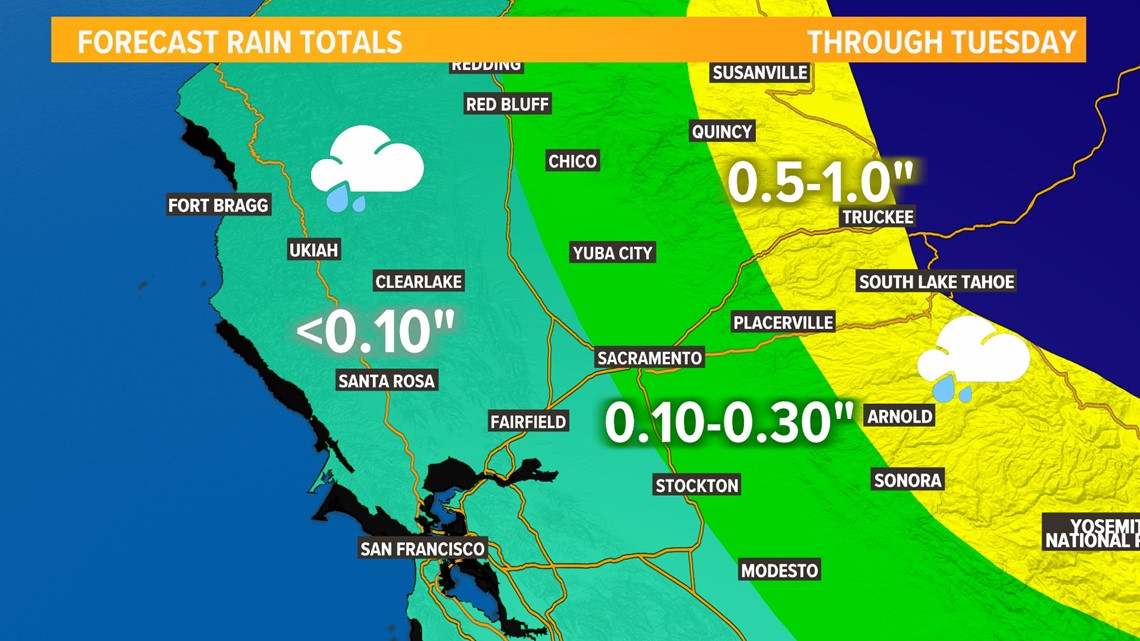 1:30 P.M. Update
Hilary is continuing its trek across the Baja Peninsula and is on track to center itself over Southern California in the next few hours.
Maximum sustained winds are near 60 mph and Hilary is expected to retain tropical storm status once it crosses the border into California. Gusts of 70 miles per hour plus have already been recorded along the higher elevations of Southern California and strong gusts will continue as Hilary nears.
Rain totals are beginning to add up in Southern California. Some of the heaviest rain as of 2 P.M. is occurring along Interstate 10, where numerous flash flood and severe thunderstorm warnings are in effect. Regardless, heavy rain is occurring across the majority of Southern California and will continue throughout Sunday.
In Northern California, the main impacts associated with Hilary are still on track to bring light rain chances to the valley, heavy rain to the Sierra, extensive cloud cover, and tropical-like humidity on Monday.
STORM RESOURCES:
► FORECAST DETAILS | Check out our hourly forecast and radar pages
► GET WEATHER ALERTS TO YOUR PHONE | Download the ABC10 mobile app
► GO DEEPER | Stream in-depth weather forecasts on ABC+
► WEATHER IN YOUR EMAIL | Sign up for our daily newsletter
11 A.M. Update
As of the 11:00 A.M. update from the National Hurricane Center, Hilary is a tropical storm with sustained winds of 65 mph. This weakening was expected, but there are no changes in the expected impacts across Southern California.
Tropical Storm Hilary is on a direct course into Southern California. The storm will bring heavy rain, strong winds, and flooding potential to a wide swath of Southern California.
The novelty of this storm is that it will hold together as a tropical storm when it impacts Southern California. That has prompted the issuance of the first-ever Tropical Storm Warnings in California, which are still in effect for Southern California. But as much as this is a wind event, this is an even bigger rain event.
Five or more inches of rainfall is possible for the eastern side of the Peninsular Ranges and into the deserts of Southern California. For some places, this is more than double the average rainfall for an entire year. A Flood Watch is out for all of Southern California, western Arizona, southern Nevada, and even parts of Utah, Oregon, and Idaho. As important as it is to prepare for wind impacts, it's especially important to prepare for rain and flooding impacts.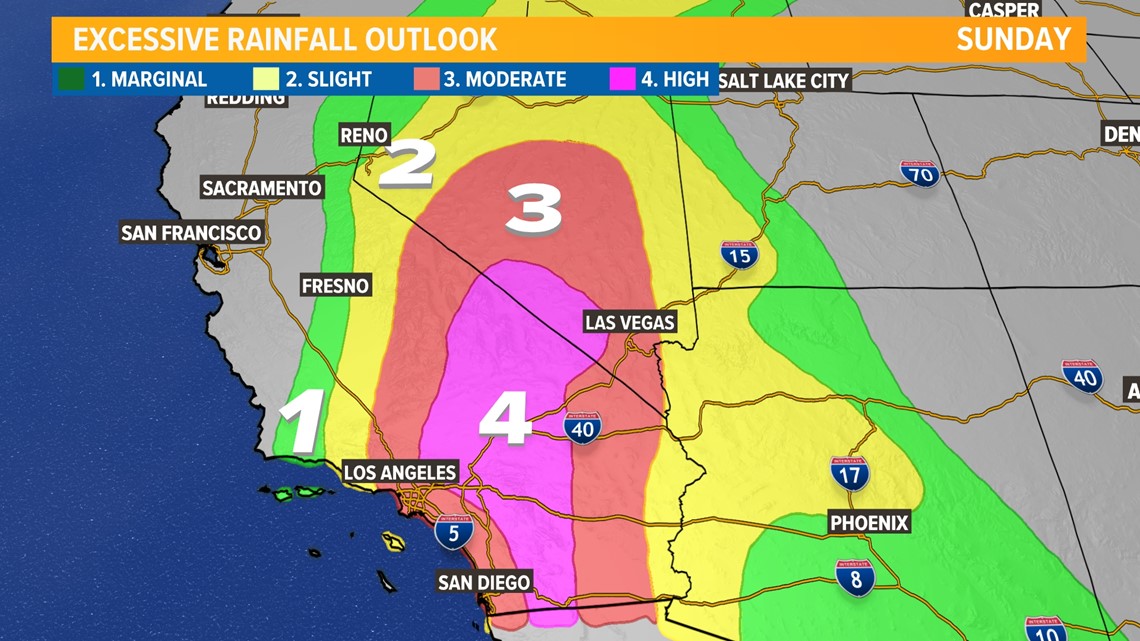 Rain has already begun in Southern California. The storm has been getting stretched out as it decays, with the bulk of the rain on the north side of the eye. There is a mix of light and moderate rain this morning, but heavier rain will arrive this afternoon. This will bring the potential for "catastrophic flooding," in the words of the National Hurricane Center, especially in the deserts. A level 4/4 High risk for flash flooding potential is in place for the deserts.
The flood threat isn't limited to the deserts however. Urban flooding is a real threat as well. Much like an atmospheric river storm, Hilary will bring significant amounts of rain that will fall very quickly. Mudslides and debris flows are also possible, especially near burn scars.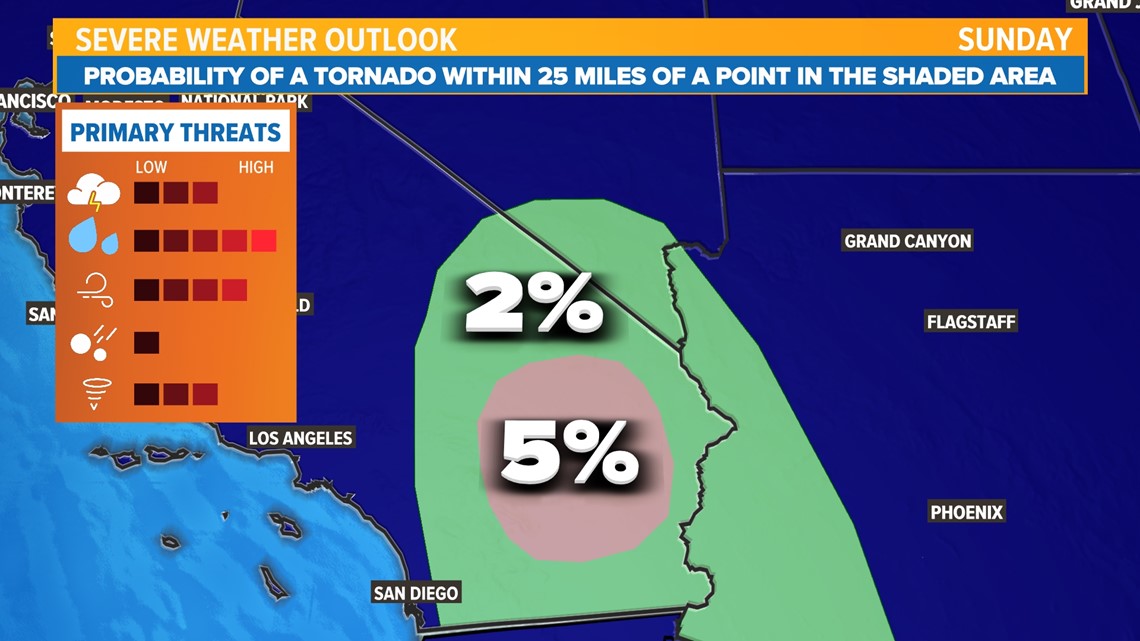 In addition to the wind and flood threat, storms may also spin up tornadoes, especially east of the Peninsular Ranges. Hurricanes are a large, spinning storm. Since there is already a large amount of spin associated with hurricanes by default, it doesn't take much for tornadoes to spin up in the rainbands that pass through.
This is a multifaceted event so stay weather aware!
In Northern California, some will begin to notice some changes today as well.
Clouds are moving overhead already, an indicator of the tropical moisture streaming across California. Most of Northern California will be under mostly cloudy to overcast skies today, but rain stays away until late this evening.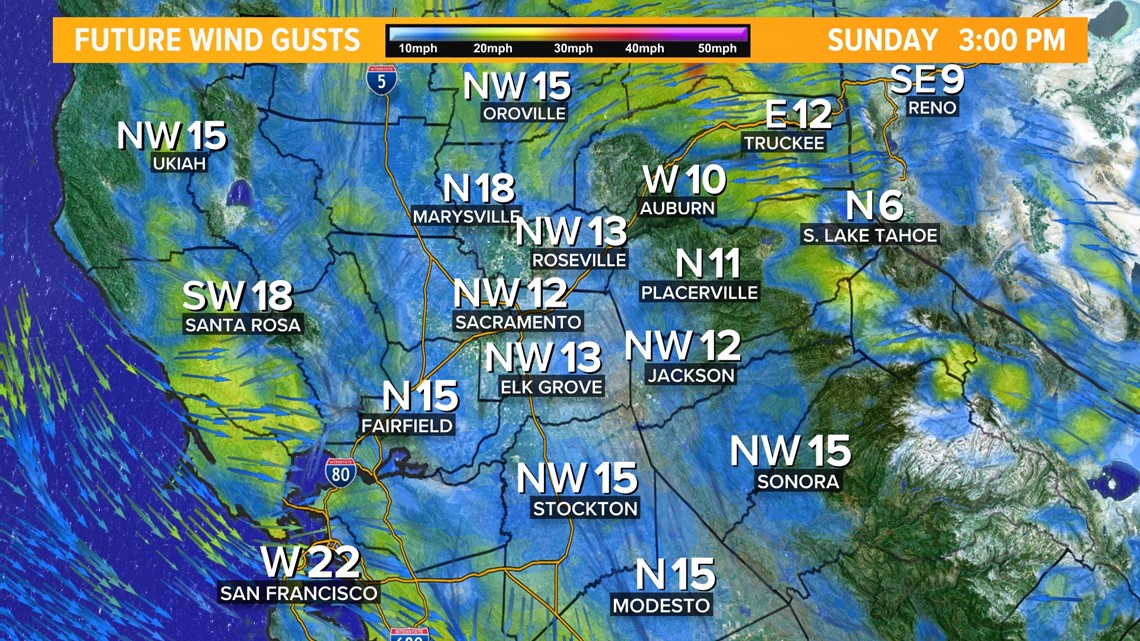 The other sign that something is changing are the north winds that will develop this afternoon. These north winds will dry the region out and provide a brief window of higher fire danger, but the overall risk is lower because of the short duration and the excessive moisture coming immediately after.
Overnight Sunday into Monday, winds shift to become southerly as the remnants of Hilary move by Northern California. This southerly wind will be very humid and accompanied by rain showers. Widespread showers are expected across the valley for the Monday morning commute, lasting through about the lunchtime hour. By the afternoon, rain chances decrease, but scattered showers and thunderstorms are possible in the valley and high country.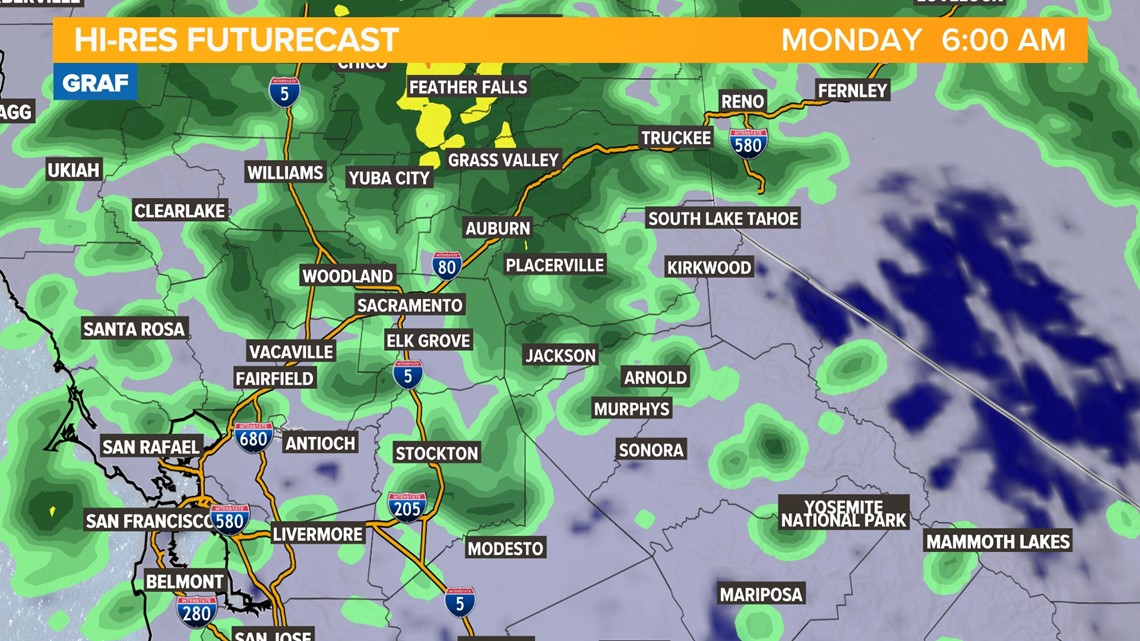 Regarding rain in Northern California, it's important to note that exact rainfall totals still highly depend on the exact track of the storm. However, there is good consensus in the data that the center of the remnants will pass through Western Nevada, just on the east side of the Sierra. That means Central Valley rain chances are better east of I-5 and into the foothills. Rain is all but guaranteed across the Sierra.
Rainfall totals will generally be less the closer to the Pacific coast you are. West of Interstate 5, expect rainfall totals of less than a tenth of an inch. Along and east of I-5, rainfall totals are likely to be between a tenth of an inch and a half-inch, with the higher amounts in the foothills. Across the high country, up to an inch and half of rain is likely, as increased moisture and terrain effects will help sustain showers.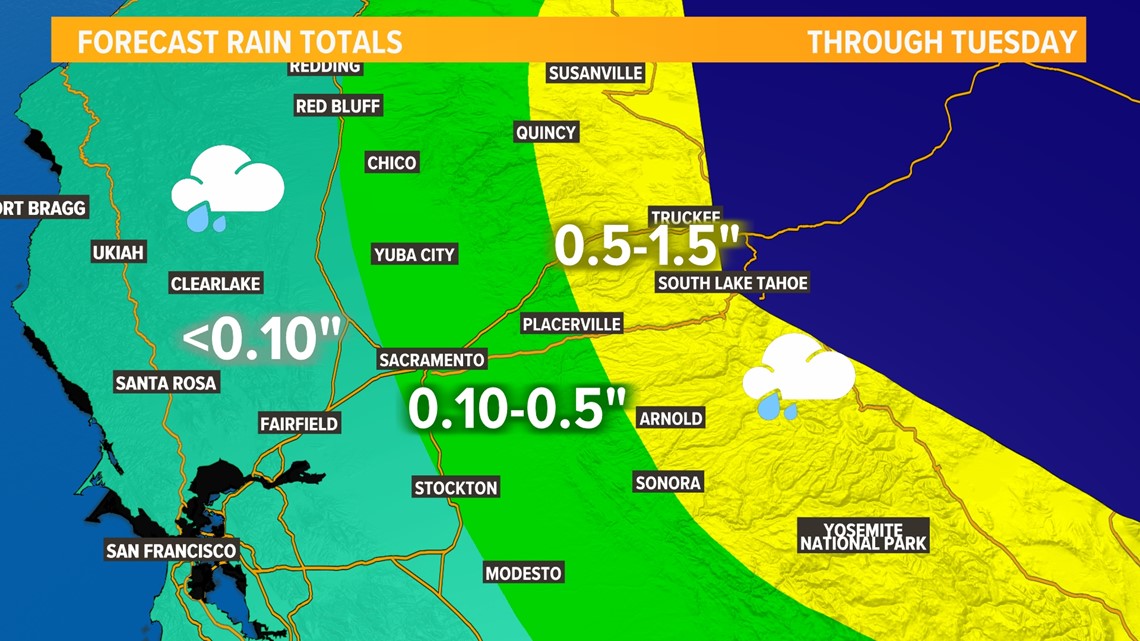 What Happened on August 19 with Hurricane Hilary
Hurricane Hilary began weakening from category 4 status as the storm moved into significantly cooler ocean temperatures.
The very first tropical moisture plumes pushed into Southern California
Rain increased in Southern California heading into the overnight hours
ABC10: Watch, Download, Read