SACRAMENTO, Calif. — The volatile water year of 2022 ended with a bust. Epic, record-setting storms started off the year giving a big lead to rain and snowfall numbers.
The conditions were on pace to help dig California out of two years of drought. Then record dry conditions set in January through March. This put the state back on track to head deeper into drought.
The latest U.S. Drought Monitor shows the state is once again seeing extreme drought covering the Central Valley. This is hitting the agricultural community particularly hard as the dry season approaches.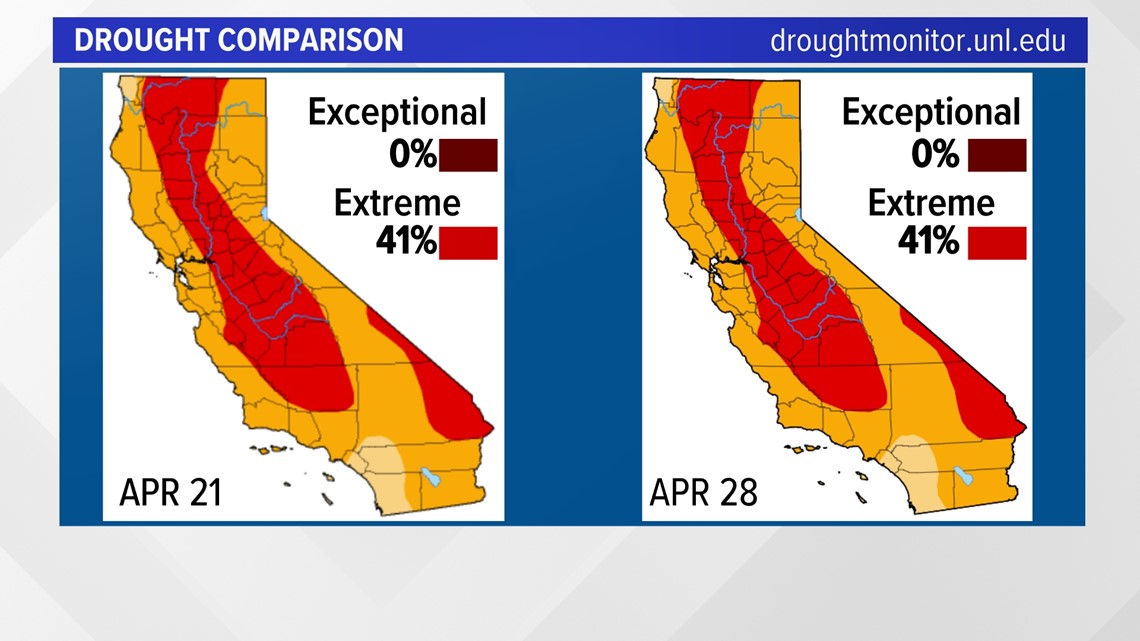 Mid-April storms helped slow the rapid snowmelt and growing deficits. Snowpack in the Sierra grew by about six feet in some places but those gains weren't enough to erase drought conditions.
The California Department of Water Resources conducted the final snow survey of the 2022 water year at Phillips Station in the Sierra Nevada Mountains, April 29 and found no snow.
Snowpack is an important measure of water access through the dry summer months, supplying 1/3 of the state's water needs.
Conservation continues to be the message. Some parts of California are already cutting water availability and putting restrictions in place ahead of the dry summer months.
Another danger of the dry conditions is an earlier start to the peak wildfire season.
ABC10: Watch, Download, Read