SACRAMENTO, Calif. — It's no drought buster but after a long stretch of dry weather, wet weather returns to Northern California. A late spring storm started bringing rain and snow early Thursday. The low-pressure system will continue to move south through the weekend with active weather through Saturday and possibly a few lingering showers Sunday.
The biggest impact will be in the Sierra with a Winter Weather Advisory in place through Thursday. 1-12 inches of snow is possible on some mountain passes. Ebbetts and Sonora passes were closed ahead of this cold spring storm. Caltrans is suggesting anyone traveling through the Sierra check for updated road conditions. Snow is possible down to near 4500 feet.
Friday: A few isolated snow showers in the morning. Widespread snow, rain and thunderstorms developing during the day. Snow level 5000-6000 feet. There's a slight chance of a valley shower during the late afternoon and early evening.
Donner Pass on I-80 is forecasted to get hit with the highest snow totals. 8-12 inches is possible by late Friday. Valley and foothill rain totals will be about 0.01-0.03 inches.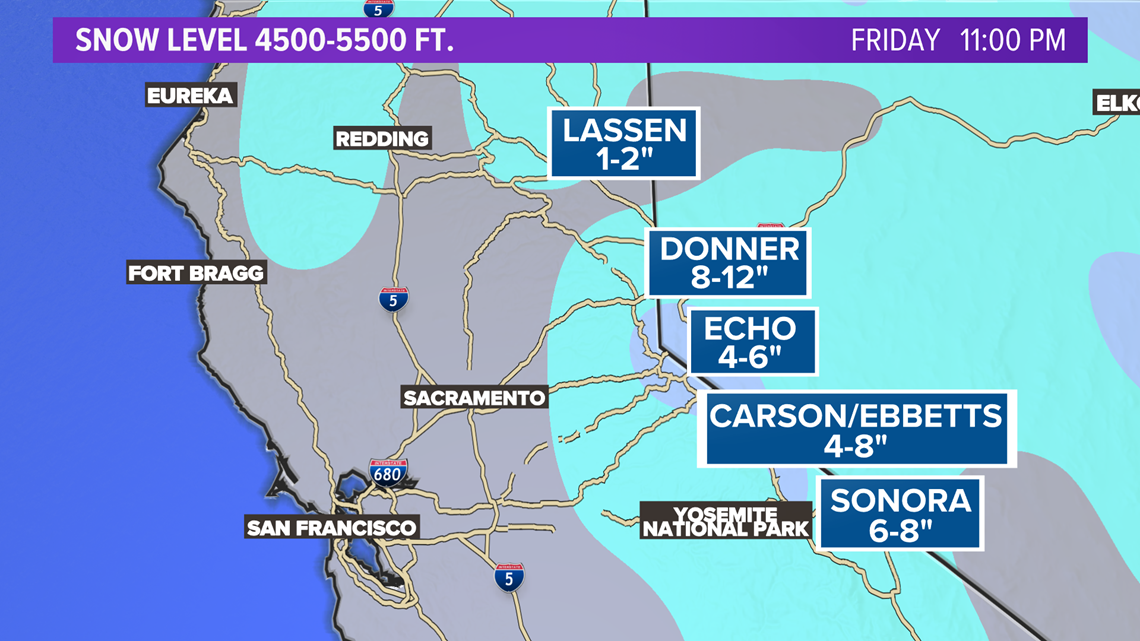 Saturday: Mostly sunny for the valley but Sierra snow showers return with a chance of thunderstorms during the afternoon. This looks like it could be the most active day of thunderstorms in the Sierra with a chance of lightning, hail and gusty winds. New fire starts are possible with lightning sparking a flame on dry grass. Snow level near 6500 feet.
Sunday: Slightly warmer in the valley with sunshine. The Sierra will be mostly dry but there's a chance of an isolated shower late in the day. Snow levels will be above the passes.
ABC10: Watch, Download, Read