SACRAMENTO, Calif. — High winds take their toll on Sacramento neighborhoods
A tree fell on a car near 27th and H Street while the owners of the car were inside working from home. It happened as debris from fallen tree limbs scattered itself all over the Sacramento region on Monday.
"We've had some issues on this side, so we were a little nervous about parking over here last night," Jessica Jones, a neighbor said. "We came outside to get like a closer look, and it hit the back of my fiance's car."
The tree crunched the roof and shattered the back window.
"Very unfortunate. I have a feeling it's going to be totaled out," she said.
Just a few blocks over, the same thing happened to another car near F and 10th Street. The only difference was that a mother and daughter were still inside the car and parking when the tree fell.
Both got out safely, but their car is a bit of another story.
Experts like Scott Shaw, an arborist, says the change in weather has a lot to do with it right now.
"All of the root systems are somewhat dry right now. The trees cant retain the moisture year round, and so once we start having that initial wind event, a lot of branches are breaking and snapping," Scott Shaw, the owner of Fair Oaks Arborists, said.
He explained that the less moisture trees have, then the more brittle they can become.
"Everything has their life span, and so we're coming up on a lot of trees that have reached that life span and so they've just kind of given up," Shaw said.
High winds caused a tree to fall on Sacramento resident Ryan Kastigar's car this morning near 27th and H Street in Midtown. The tree dented the roof of the car and broke multiple windows including the back windshield. Kastigar told ABC10 this is the second time this has happened this month.
A North Stockton resident wasn't home when a large tree fell on his roof. The homeowner, Ray Harris, said his neighbor told him the tree fell.
Harris told ABC10 when he was driving up to his house he thought the tree had landed in his living room, but it just fell on the roof.
"It could always be worse. No one got hurt. We don't know how much damage is done to the house yet," Harris said.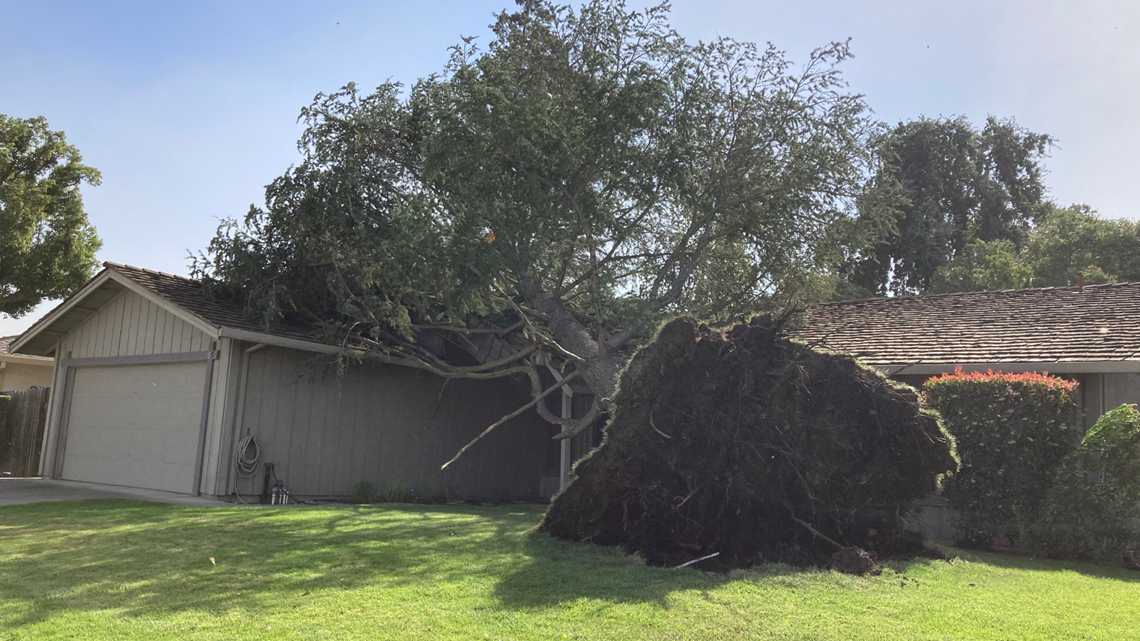 A fallen tree was blocking Winding Way in Fair Oaks earlier today. The county cut the tree into parts to move it out of the road. One of the neighbors, Steve Ghadiri, worked to clean up some of the smaller branches.
A dry, cold front is prompting a serious weather day for Northern California. The front is mostly dry with only light snow for the eastern Sierra including the Tahoe Basin and Truckee.
Most of Northern California will be seeing winds pick up Monday with peak gusts in the lower foothills of the Sierra, valley, and Coastal range in the 30-40 mph range with some gusts up to 50 mph.
Historically, this kind of weather pattern comes with high fire danger with vegetation at its driest point after months without rainfall. The wind will peak between noon and 6 p.m. — but before and after that timeframe the winds will be strong as well.
A Red Flag Warning covers the entire Central Valley and most of the lower foothills for the Sierra and Coastal range today and tomorrow.
In addition to fire risk, the wind will also cause issues. Wind damage is possible and could cause power outages in some areas. Some pre-emptive outages will occur to lower the risk.
Customers can look up their address HERE to see if they might be affected by the power shut-offs.
Power restoration efforts are expected to start Tuesday afternoon.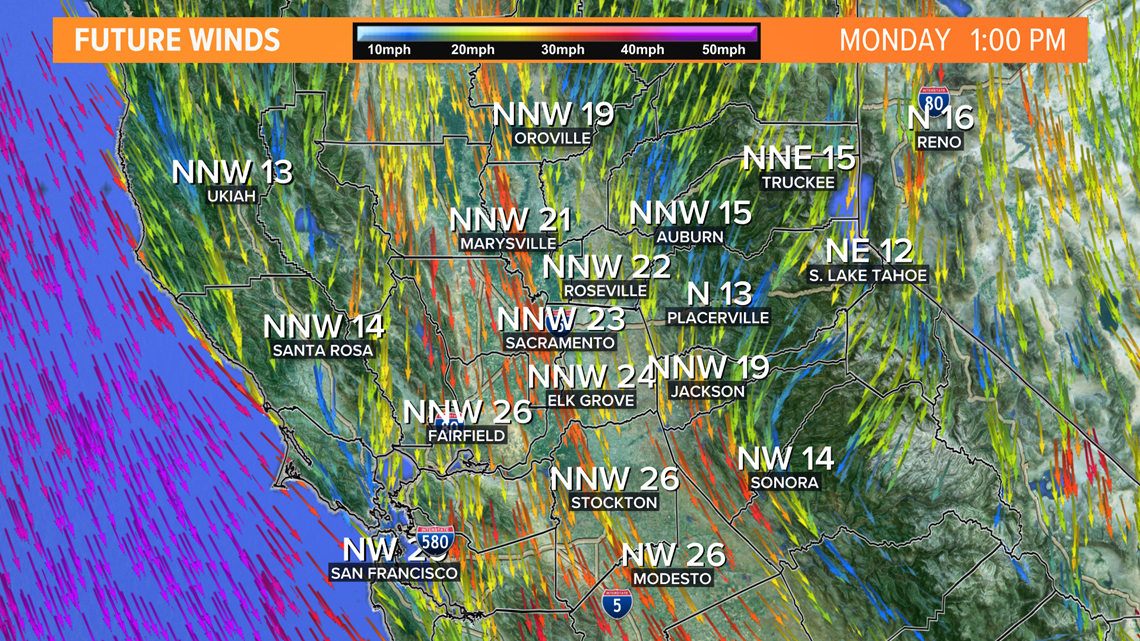 On windy days, watch where you park your vehicle and walk. Tree limbs getting knocked down by strong winds have caused cars to be crushed and deaths and injuries.
The wind and dry air will still be a critical fire risk Tuesday but the winds will not be quite as strong.
How to check power outages of other providers:
Customers can 211 or text "PSPS" to 211211. PG&E says the free hotline can provide free "local health and social services during PSPS events as well as during natural disasters and other emergencies." Service is proved in English, Spanish, Cantonese and Mandarin. Interpreters are provided for more than 100 languages.
ABC10: Watch, Download, Read