SACRAMENTO, Calif. — A high-pressure system brought warmer air on Friday, which led to a new record high temperature in Sacramento.
Today's record high temperature was 97 degrees at the Sacramento Executive Airport. The former record was 96 degrees set back in 2001. Sacramento wasn't the only city with very warm temperatures in the 90s.
Friday's Afternoon High Temperatures:
Sacramento: 97
Stockton: 98
Modesto: 95
Marysville: 94
Oroville: 95
Fairfield: 99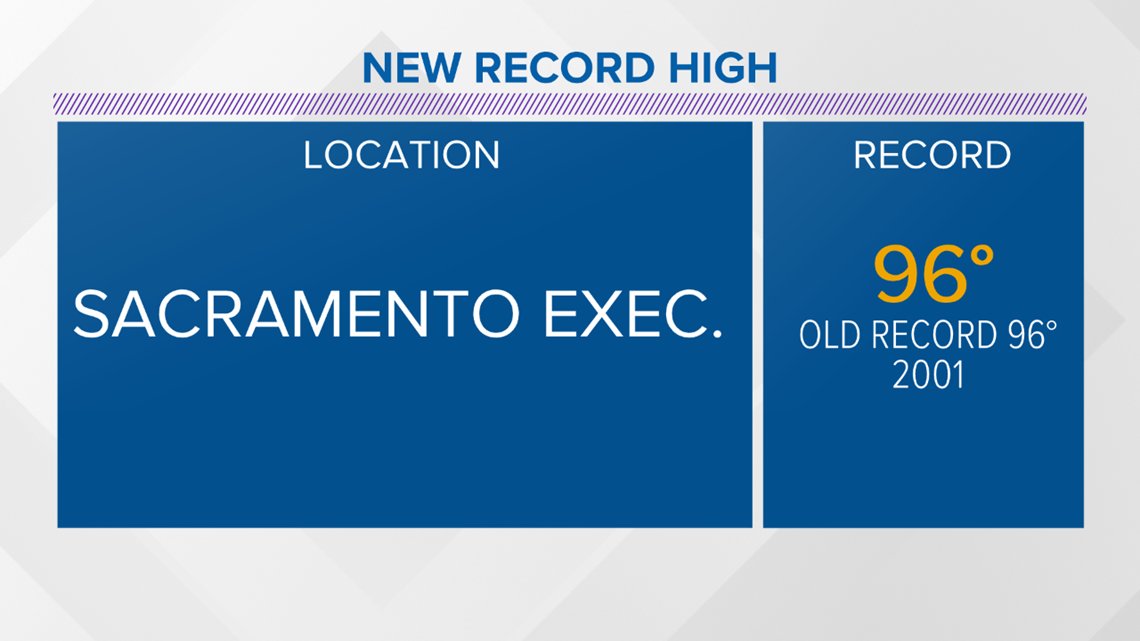 As we head into the weekend, more warm temperatures in the 90s are expected for Saturday. After that, there will be a huge shift in the weather pattern causing temperatures to fall into the 60s by Tuesday.
Projected High Temps - Next 5 Days:
Saturday: 92
Sunday: 86
Monday: 77
Tuesday: 69
These cooler temperatures will be accompanied by a chance of rain showers for the Central Valley Monday through Wednesday. There will be a chance of rain and snow mix for the Sierra with higher elevations capable of seeing nothing but snowfall.
RAIN OR SHINE? GET THE LATEST FORECAST IN YOUR NEIGHBORHOOD BY DOWNLOADING OUR APP: