SACRAMENTO, Calif. — The weather as of late has been extremely dry and warm, and, as we head into the weekend, Friday through Sunday, an upper-level ridge of high pressure will stay over Northern California.
This high-pressure system is essentially a broad region of sinking air which reduces mixing in the atmosphere.
When you don't have mixing, pollutants are trapped in the lower levels of the atmosphere which can lead to air quality concerns. In addition to that, calm to light winds can also limit pollutant dispersion.
Keep in mind, there's also the opportunity for the transportation of wildfire smoke from multiple fires because of light northwesterly winds. This will also increase the ongoing opportunity for increased particle concentrations.
As a result, particle levels will be Moderate on all three days: Friday, Saturday and Sunday.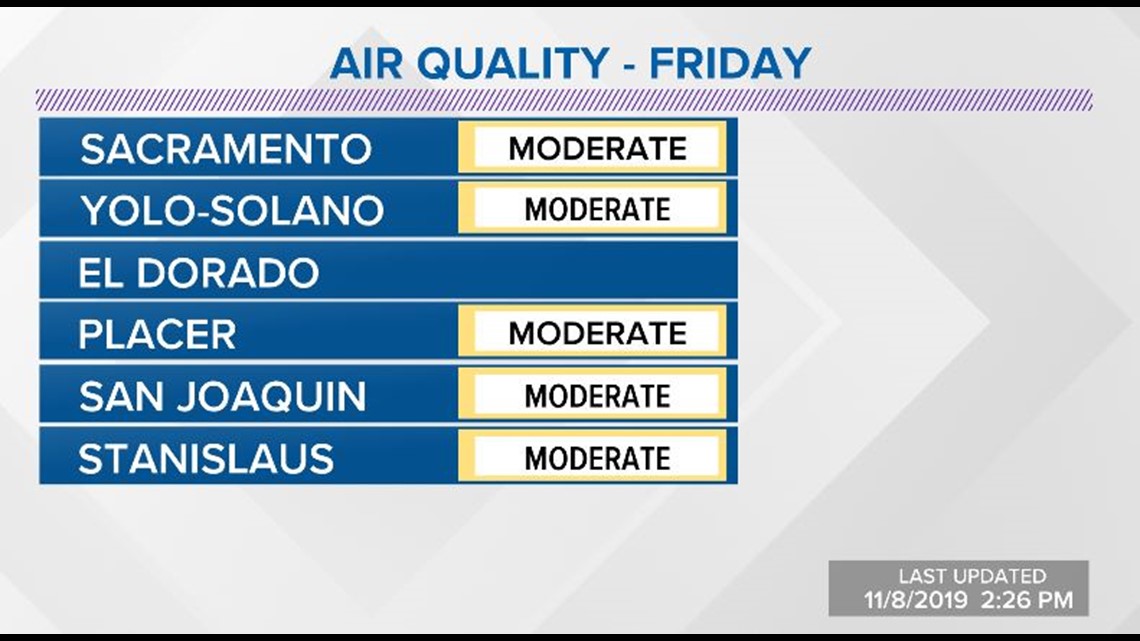 Health Effects of Air Pollution
Many of us experience some kind of air pollution symptoms such as watery eyes, coughing or wheezing.
Even for healthy people, polluted air can cause respiratory irritation or breathing difficulties during exercise or outdoor activities. An individual's actual risk depends on their current health status, the pollutant type and concentration, and the length of exposure to the polluted air.
People most susceptible to severe health problems are:
Individuals with heart disease, such as coronary artery disease or congestive heart failure
Individuals with lung disease, such as asthma, emphysema or chronic obstructive pulmonary disease (COPD)
Pregnant women
Outdoor workers
Children under age 14 whose lungs are still developing
Athletes who exercise vigorously outdoors