The Yosemite National Park Service is warning would-be visitors that Horsetail Fall's infamous "firefall" may not be as visible to viewers of the park this year when it returns.
Why? Well, runoff better known as snowmelt from snowpacks in the Tuolumne River and Merced River basins are running below average for this time of the year. Tuolumne River is 68% of average and the Merced River basin is 59% of average.
Because of that, park officials are warning potential visitors they may miss the show, if it even happens at all.
The beauty of "firefall" lies in the unique lighting effect that happens during the middle to end of February. The waterfall create an orange glow when it's backlit by the sunset.This phenomenon occurs mostly during the evenings with a clear sky.
PHOTOS: The firefall at Yosemite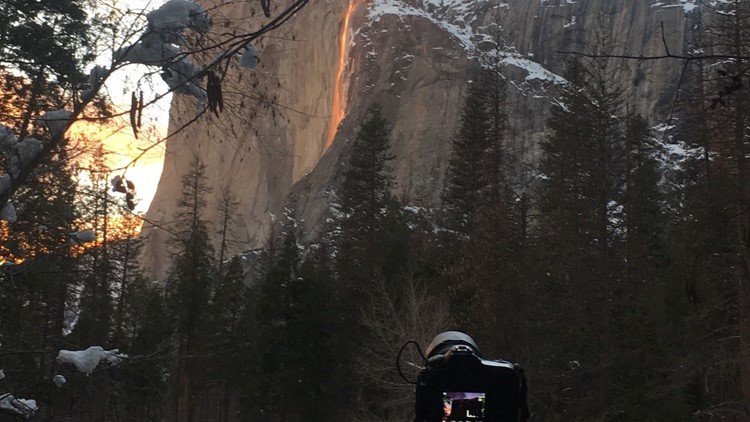 This isn't the only waterfall in Yosemite running low. Yosemite Falls, Vernal Fall, Nevada Fall, and Bridalveil Fall are all also running low, which isn't out of the norm during the wintertime.
If you're planning on making a trip to Yosemite to see the "firefall", it flows over the eastern edge of El Capitan in Yosemite Valley. Expect traffic delays if exiting Yosemite Valley around sunset. Also, keep in mind, there are some changes to traffic patterns, parking, and visitor access. These changes will be in effect from February 13–27.
No permit or reservation is required to view Horsetail Fall.
FOR NEWS IN YOUR COMMUNITY, DOWNLOAD THE ABC10 APP:
Yosemite Firefall 2019 | Extended Cut