SACRAMENTO, Calif. — A weak low pressure system will brush the state this weekend, keeping in place the cooler temperatures that have stuck around the last two weeks.
Temperatures in the mid to upper 50s are expected both Saturday and Sunday, which is still well below the average temperature of 67 for this time of year.
Rain showers are possible in the afternoon hours but don't expect much accumulation. The main impacts associated with this event will be cooler than normal temperatures and increased cloud cover with rain chances sitting around 30%. Precipitation chances are higher in the mountains, but snow accumulation more than 2-3" is unlikely.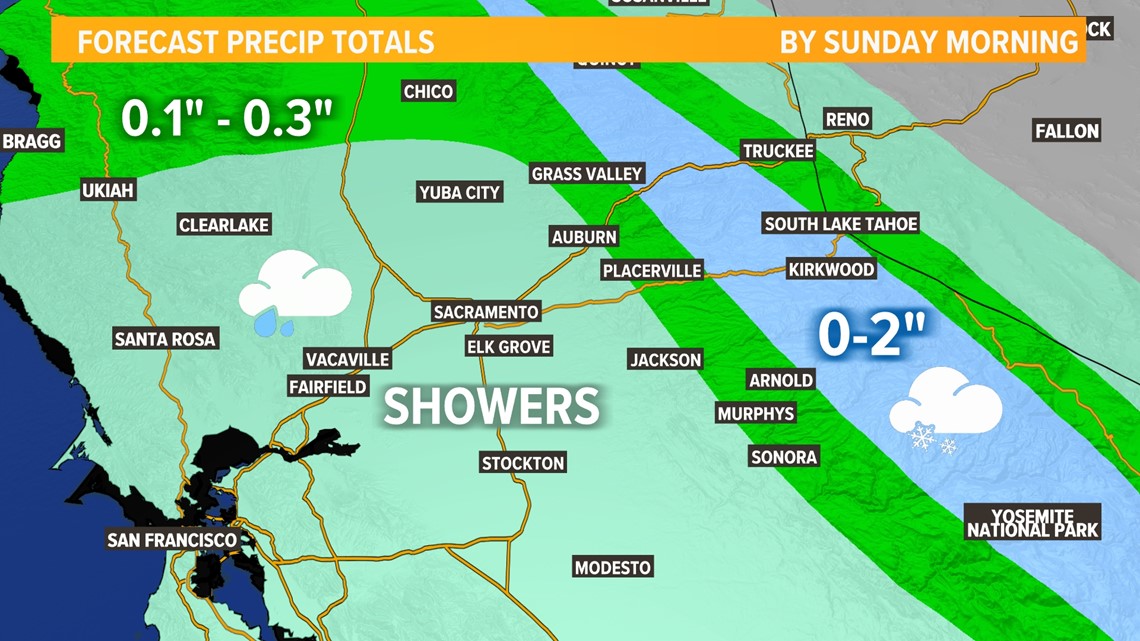 The system will roll through overnight, keeping overnight temperatures in the 40s due to increased cloud cover. The prior storm ushered in very cold air resulting in morning temperatures in the low to mid 30s for the valley. Following the passage of the weak cold front, expect sunny skies starting Sunday and into the work week. Morning temperatures will still be very cold as temperatures are expected to dip into the 30s for the rest of the week.
While cooler temperatures are expected to stick around, don't expect any more rain chances for at least the next two weeks. The latest storm boosted snowpack, but it will certainly take much, much more to break out of drought.
ABC10: Watch, Download, Read