SACRAMENTO, Calif. — Tuesday 4:30 pm update:
Peak wind gusts are reaching 35-40+mph Tuesday. Even stronger winds Wednesday with a WIND ADVISORY in effect. Wind gusts will be 40-50mph with the strongest winds on the west side of the valley and Delta.
These types of winds could bring down more tree branches and trees that were damaged by the late January storm. Localized power outages are possible too.
Today's winds are projected to reach between 20-25mph. Winds are expected to increase on Wednesday into Wednesday evening. These strong winds gusts have the potential to knock down power lines and trees along with creating hazardous driving conditions.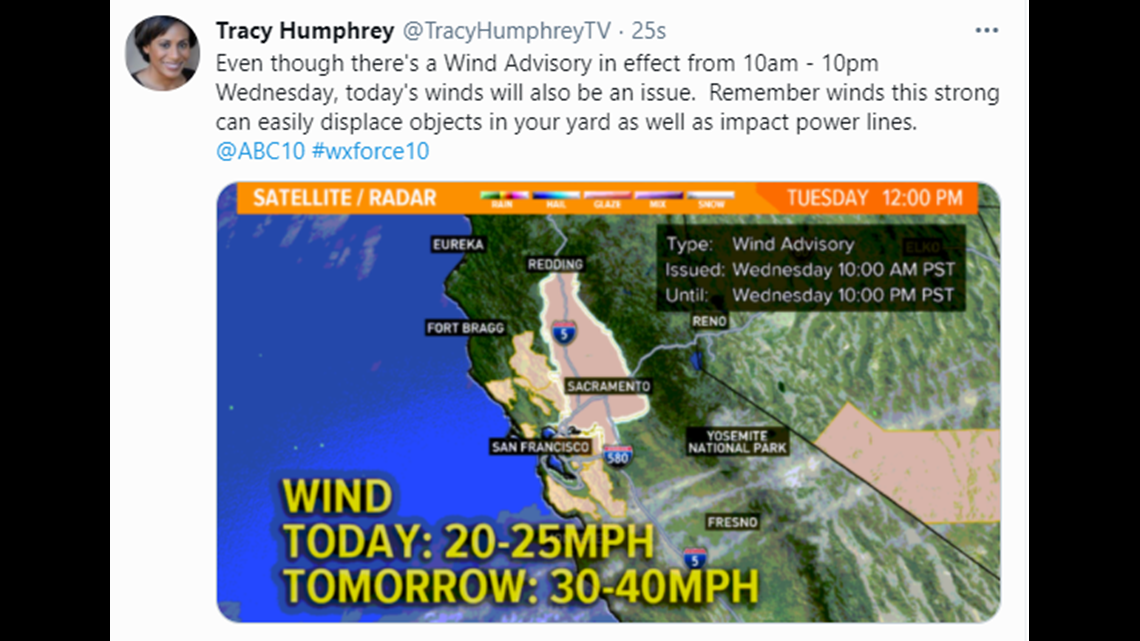 A warm start to the workweek with near record highs will give way to a windy weather pattern developing for the Sacramento and San Joaquin Valleys, surrounding foothills and the Sierra.
High pressure across the Pacific Ocean has kept afternoon highs across much of Northern California about five to ten degrees above average since Sunday. An opposing weather system will move just east of the state Wednesday creating gusty winds.
Tuesday, northwest and east winds will become breezy during the day. Winds start to ramp up Wednesday with gusts reaching 40-50mph, especially on the west side of the Valley and the Delta.
These winds could impact outdoor dining and medical tents. Also, unsecured outdoor items could be blown around. Higher profile vehicles could have difficulty navigating overpasses, the Yolo Causeway and roads in the Sierra.
The Tahoe Basin has a Lake Wind Advisory in effect Wednesday. Choppy waves are expected on the Lake.
Calmer winds are expected Thursday. There's a possibility another weather pattern will set up for gusty winds again this weekend.
A tornado hit Davis between east Highway 101 and Highway 29 Saturday evening. The National Weather Service said they can't confirm many details on the intensity of the tornado or even the type of tornado as they are still combing through videos and photos. Click here to watch on the ABC10 YouTube (Sep 30, 2019)
ABC10: Watch, Download, Read