Loophole in California vaccine law leads to rise in medical exemptions
A loophole in a California law intended to increase vaccination rates in schools may have had unintended consequences: a rise in doctor-approved medical exemptions.
A loophole in a California law intended to increase vaccination rates in schools may have had unintended consequences: a rise in doctor-approved medical exemptions.
Senate Bill 277, signed into law in 2015, did away with the personal-belief exemption. The personal-belief exemption allowed parents to choose not to vaccinate school-age children based on their own individual views.
SB-277 required all future exemptions to be granted by a doctor based on medical reasons.
A study published in the Journal of the American Medical Association (JAMA) suggests that leaving medical exemptions up to doctors' discretion may have created an opportunity for doctors — and for some vaccine-wary parents — to avoid vaccinating their children.
The study found that in the 20 years before SB-277 passed, the percentage of kindergartners with medical exemptions for vaccinations was stable. But medical exemptions for kindergartners tripled in 2016 – the first year SB-277 went into effect.
Advertisements for medical exemptions
A quick online search yields clues as to how more parents may be accessing medical exemptions under SB-277.
There are a handful of websites that have published lists of names of California doctors who may be more inclined to sign off on exemptions. Some of these doctors' websites appear to advertise medical exemptions; other sites instruct parents on how to get doctors to approve medical exemptions.
State Senator Richard Pan, M.D. (D-Sacramento) says behavior like this raises serious red flags.
Pan, a pediatrician, co-authored SB-277 after seeing immunization rates fall below levels needed to maintain herd immunity, which occurs when a high percentage of the population is immunized against an infectious disease, creating less of an opportunity for an outbreak.
"For someone to advertise they're granting medical exemptions, it sounds more like they're not looking at the underlying [medical] condition," Pan said.
A video called "3 Vaccine Mandate Myths" posted by Fair Oaks-based internist Kelly Sutton, M.D. tells parents that, "The role of vaccines is minor in health." At the end of the video, Sutton advertises her $97 program that she says will give parents "full support for [their] medical exemption, with many pages of printable materials for you and your doctor."
In an email, Sutton wrote:
"Vaccines cause much more injury than is formally recognized. They should not be administered casually or automatically. Vaccines should be carefully considered and chosen by parents in consultation with medical professionals."
Sutton's views run counter to those of the American Medical Association (AMA), which released a statement in June saying, "[The association] fully supports the overwhelming evidence that vaccines are among the most effective and safest interventions to both prevent individual illness and protect the health of the public."
Her views also stand in contrast to those of the American Academy of Pediatrics and the Centers for Disease Control and Prevention, both of which, like the AMA, promote childhood vaccines and work to dispel fears over vaccine safety.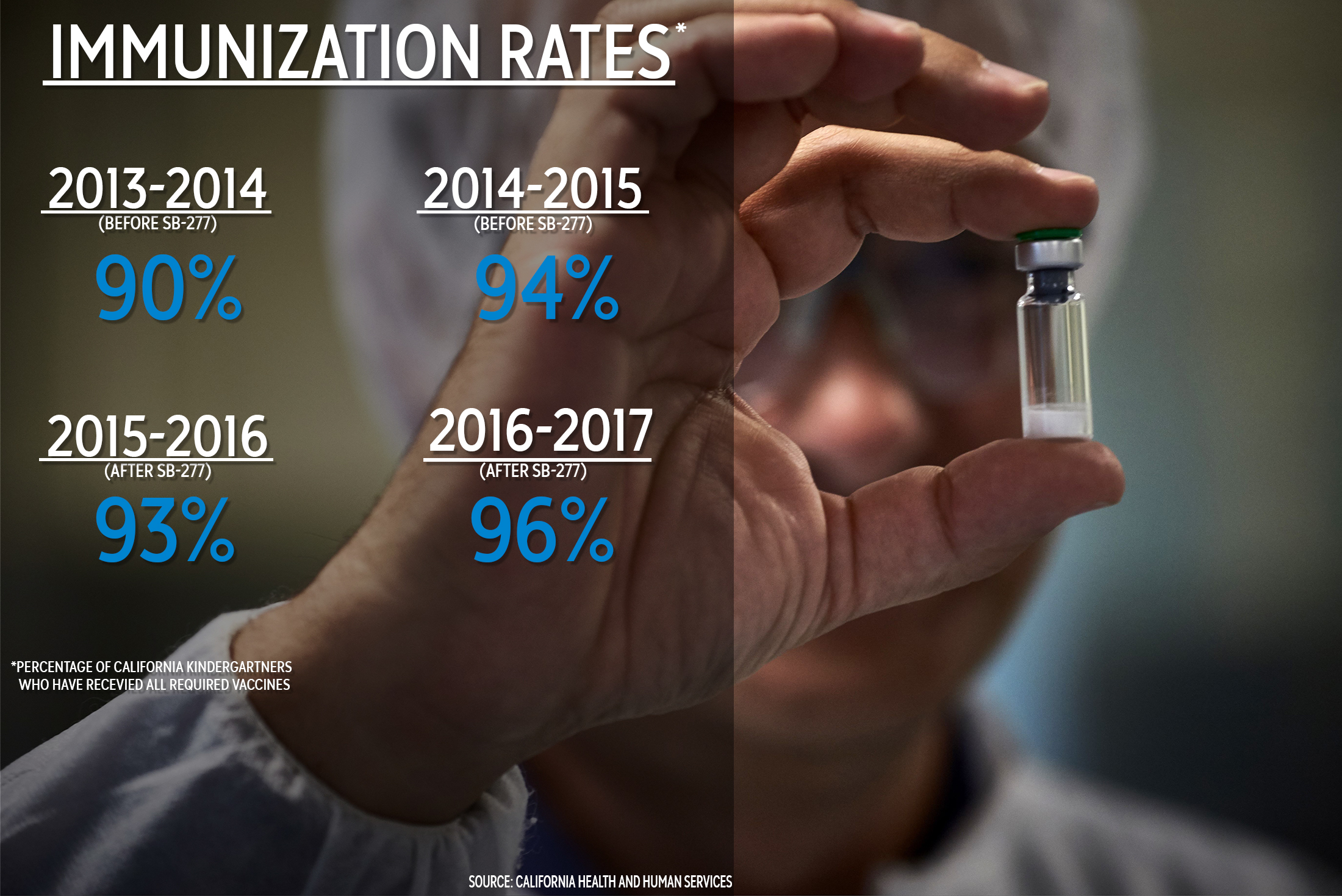 A website for Escalon Physical Medicine, a chiropractic medicine office in the small town of Escalon in California's Central Valley, was advertising adult and child vaccination exemptions as recently as this summer.
A receptionist who answered the phone for William Clark, D.O. said that it would cost $500 to have the doctor sign off on a medical exemption for a child before the school year began.
UC Davis's Chief of Pediatric Infectious Diseases Dean Blumberg, M.D. reviewed the website for Clark's practice, as well as the intake form for parents. Blumberg said the form listed medical conditions that the vast majority of doctors would not consider as reasons to avoid vaccines, such as pollen allergies.
"[I]t appears to be taking advantage of parents' fears of vaccines, and it also appears extraordinarily biased to providing exemptions in ways that standard routine mainstream providers would not provide an exemption for the conditions listed on the website," Blumberg said.
An attorney representing Clark denied the doctor has ever or would ever give a vaccination exemption regardless of the medical history of the patient.
Challenges face medical board oversight, investigations
Despite the number of doctors' websites advertising exemptions and raising questions over vaccine safety, only one California doctor is currently facing possible disciplinary action related to medical exemptions for vaccinations.
That pediatrician — known as "Dr. Bob" Sears, M.D. — is well-known for being the author of "The Vaccine Book: Making the Right Decision for Your Child."
The September 2016 accusation filed against Sears alleges the doctor was "grossly negligent and departed from the standard of care" when he wrote a medical exemption for a toddler without getting a complete detailed medical history. If found guilty, the medical board could revoke or suspend Sears's license to practice medicine.
In total, however, the Medical Board of California has received 54 complaints regarding vaccination exemptions. Twenty-four of those are still pending. The Osteopathic Medical Board of California, which oversees doctors of osteopathy like Clark, says complaint information is confidential and not releasable. The Osteopathic Medical Board has not taken any disciplinary action regarding vaccination exemptions to date.
But as it turns out, it's fairly difficult for the Medical Board of California to investigate doctors regarding vaccination exemptions, even after having received complaints.
"Just an anonymous tip in some instances might not be enough, because we have to be able to get those [medical] records to evaluate," Medical Board of California executive director Kimberly Kirchmeyer said. "[The] medical board doesn't have the authority to get medical records without patient authorization, so we'd have to get that."
The only way around patient authorization is for the medical board to get a subpoena – but the medical board would need to investigate and compile enough information to pursue the subpoena, making that avenue unlikely. Currently, there are no checks or balances built into the system once a licensed physician has granted a medical exemption.
Blumberg, the chief of pediatric infectious diseases at UC Davis, says he's not surprised that there hasn't been more disciplinary action against doctors who appear to be advertising medical exemptions or promoting anti-vaccine theories.
"I think it can be very challenging to pursue these cases, but I would like them looked at and evaluated and if appropriate, I think it would be great if the medical board made sure parents are not being taken advantage of," Blumberg said.
Pan, the state senator who co-authored SB-277, says he's been having some early-stage conversations with the Medical Board as to whether they have enough sufficient tools at their disposal to investigate doctors accused of granting exemptions that are not medically necessary.
"The vast majority of doctors are in support of SB-277," Pan said. "Unfortunately, it only takes a small number of physicians to undermine that."
Pan's next shot at improving vaccination rates
Overall, immunization rates have risen since the passage of SB-277. The state reports that the percentage of California kindergartners who have received all required vaccines increased from 92.8 percent in the 2015-2016 school year to 95.6 percent in the 2016-2017 school year.
Pan thinks California could still do more to improve vaccination rates. He compares outbreaks of vaccine-preventable diseases to destructive wildfires.
"If someone is engaging in negligent behavior, and starts a wildfire, [he or she] may be responsible for the cost of that wildfire through [his or her] own negligence," Pan said.
He says he's considering introducing legislation that would hold parents, patients, or doctors financially responsible if they knowingly engaged in behavior that led to a disease outbreak.
"If you engage in some behavior that requires the state to rescue you," he said, "you have to pay for those expenses."