Their shirts said it all: "Free Mom Hugs" and "Free Dad Hugs."
Howie Dittman and Denna Hays' plan was simple enough: They planned to attend Pittsburgh's Pride parade and spread love one embrace at a time. No money, elaborate costumes or floats involved.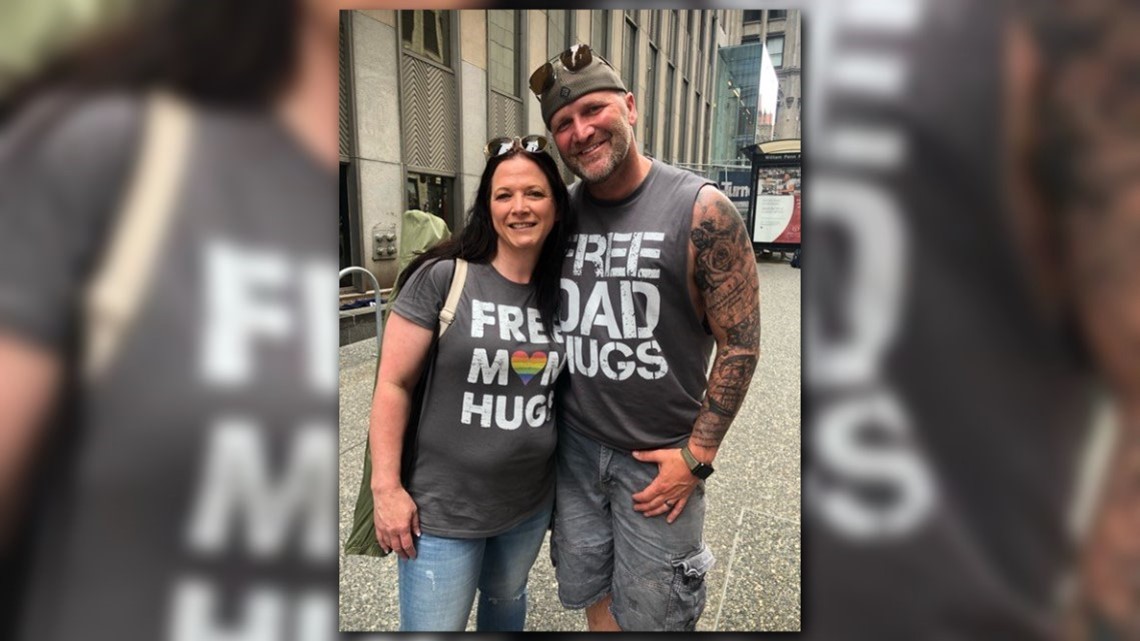 They had no idea how meaningful their simple act of kindness would be.
Howie shared a photo of him hugging two attendees and detailed their intensely emotional reactions to his shirt in a Facebook post that's been shared more than 200,000 times.
The man in the one of the photos broke down in tears while hugging Howie.
"He cried on my shoulder. Sobbed. Squeezed me with everything he had. I felt a tiny bit of that pain that he carries with him every minute of every day," Howie wrote.
Another woman ran across the street to seek out a hug.
"She stood in front of me and looked up at me, with a look of sadness and helplessness that I'll never forget," he said in the post.
Those reactions were two of many that day.
He wanted to support members of the LGBTQ community who have been ostracized by their parents, while setting a good example for his young son.
Denna works with abused children through her organization Butler County Alliance for Children, and said she's seen an increase in LGBTQ youth needing their services. Her daughter is also a member of the LGBTQ community.
Denna wanted to support attendees at Pride, so she and Howie, who know each other through their community service organizations, planned to go with Denna's daughter and girlfriend and spread some love.
As soon as they arrived, they were bombarded with hugs.
"Those moments were overwhelming," Howie said.
The two parents were surprised by how many people needed comfort.
Denna was particularly struck by the gratitude they felt from parade attendees, who frequently thanked them for attending. Howie described the day as "life-changing."
Even after the parade, Howie's inbox has received thousands of messages from kids and parents alike online, expressing gratitude or confessing regret for damaging relationships with LGBT children.
Howie and Denna continue to share community resources in the hopes of improving conditions for LGBT youth everywhere.
After his experience that day, Howie has a message for parents who disown their children: "Do you understand the damage you're doing and is it worth it?"
HeartThreads are the best stories about the best of us.