SACRAMENTO, Calif. —
While California has been treated to mild, even below average temperatures the past week, the Earth has seen the hottest temperatures ever recorded.
The record-setting streak began on July 3 when the average temperature on Earth reached 62.6 degrees Fahrenheit, breaking the previous record set in August of 2016.
July 6 now holds the record at 63.01 degrees Fahrenheit, and the past week features the seven hottest days on Earth in recorded history.
While this was happening, Sacramento was experiencing one if its cooler July stretches in recent history. Downtown Sacramento had only its eighth day with a high temperature not reaching 80 degrees in the month of July since 2000, according to the National Weather Service.
Global average temperature is an abstract concept, said Dr. Andrew Pershing of Climate Central.
"This is, I think, really hard to put in perspective, right? This is a temperature that's the average over the planet. It's a temperature that in some ways, nobody experiences, but it's a temperature that in some ways, everybody experiences," said Pershing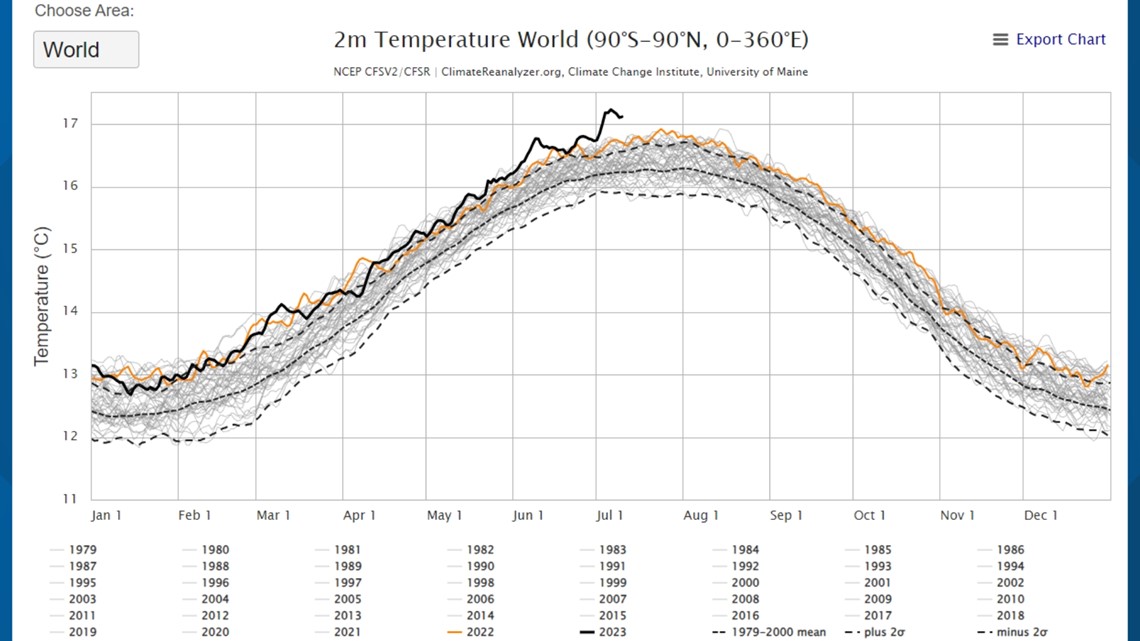 "This is based on reanalysis that NOAA does every day. So they take weather observations and models and kind of smush them together. And so it's a really our first look at the numbers," said Pershing.
Even though the dataset only goes back to the 1970s, there are various tools and methods that can be used to compare the current climate to the past.
"If you look at the ice core data from Greenland, you see that the temperatures that we're experiencing now are the warmest that we've probably experienced on the planet in the last 125,000 years," said Pershing.
Human-caused climate change will continue to push temperatures to new heights. The average peak of global average temperature typically occurs in early August, so it is possible Earth continues to break records this summer.
The development of El Niño also plays a role in the record-breaking heat. 2016 featured a strong El Niño and still holds the record as the warmest year in recorded history.
Pershing reaffirms that the cool and wet start to the year in California does not work as evidence against climate change.
"I think these global patterns are really like, that's the strongest evidence for climate change. As you move down to smaller and smaller chunks of the planet, you see more and more kinds of variability coming into play. So the fact that California is cooler this spring... El Niño is probably had a big part of that," said Pershing.
ABC10: Watch, Download, Read