SACRAMENTO, Calif. — January 2022 will go down as one of the driest on record for much of Northern California. For Downtown Sacramento, it was the second driest on record behind January 2015. Stockton hit its driest January record with just a trace of rain recorded.
It's been a winter of weather whiplash going from wet to dry weather. October and December storms delivered big rain and snow gains putting much of California in good position with above normal precipitation to start the water year, which runs from Oct. 1 through the following year Sept. 30.
The extremely dry weather in January though has dropped some monitoring spots below average rain and snow. Eureka, Redding and Ukiah are now at below average rainfall for the water year.
For the Northern, Central and Southern Sierra monitoring stations, snowfall has dropped below average for the first time since those big December storms rolled through. Most of the north facing slopes are keeping a good bit of snowpack, but the southern facing slopes are losing snow at all elevations.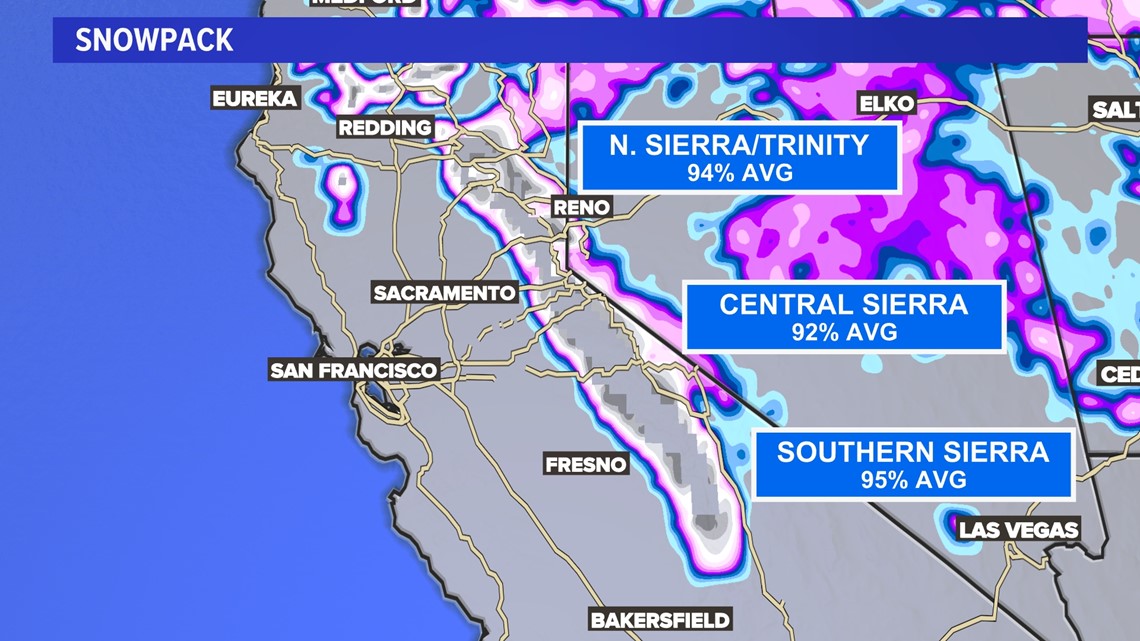 The dry January weather is part of an ongoing dry streak. These periods of little rain or snow are typical during the mid-winter season. Our current stretch of no significant rain (more than 0.08") is now at 33 days and counting for Sacramento.
The long-range forecast is not looking favorable for a return to wet conditions. In fact, the forecast doesn't only look unseasonably dry but warm.
Since January and February are historically the wettest months of the year, there's still a chance to get back on track.
For example, in 2011, we had a similar mid-winter dry stretch. The storm cycle changed in February and March delivering above average snow ending in an above average season total for the Northern Sierra 8-Station Index. That was not the case in 2013. Again, a mid-winter dry stretch happened in January, but the storm track didn't change. It ended in below average precipitation at that same location. That happened to be the beginning of our historic 2012-16 drought.
This current drought though is off to a drier, warmer start with the combined 2020 and 2021 water years marking the driest two-year period in state history. The current dry-stretch and winter whiplash is now elevating concerns of drought not only continuing but getting worse.
February really is the turning point. If the storm track doesn't start to change, it's unlikely a miracle March could deliver what the state really needs to make a much bigger dent in our ongoing drought.