This year Box Tops for Education decided to go digital with a smart phone app. The new system is supposed to simplify the Box Top collection system. The app scans your receipt, and suddenly, that information is up for grabs. Among the many things listed in the Box Tops privacy policy, one is "to develop and deliver advertising and other communications more tailored to your interests."
Many former grade school students will remember collecting Box Tops. Each of those little cardboard cutouts was worth actual money that went directly to your public school. Since its inception in 1996, Box Tops has helped contribute $913,710,018 in earnings to public schools.
In the "old days," a person would buy participating products and clip the Box Top right from the container — usually found on the top of the box, hence the name "Box Tops". The student would then take the Box Tops to their school, where a coordinator would count and sort them. Each valid Box Top was worth 10 cents for the school.
With the new system, that monetary value stays the same. However, instead of snipping little rectangles of cardboard, you have to download the Box Tops app and scan your receipt.
"By opting into the mobile app and scanning a store receipt, all participating Box Tops products and bonus offers are automatically identified and instantly added to a school's earnings online," Jamie Bastian, Box Tops for Education spokesperson, told ABC10 in an email conversation.
It sounds incredibly simple. It also represents a shift to a more modern collection system and a new wave of millennial parents.
On their website, Box Tops For Education writes "Smart phone usage has reached a tipping point and people want to have 'instant gratification,' seeing how their contributions are impacting their school. With this new technology we can connect an entire school community together seamlessly to earn for their school."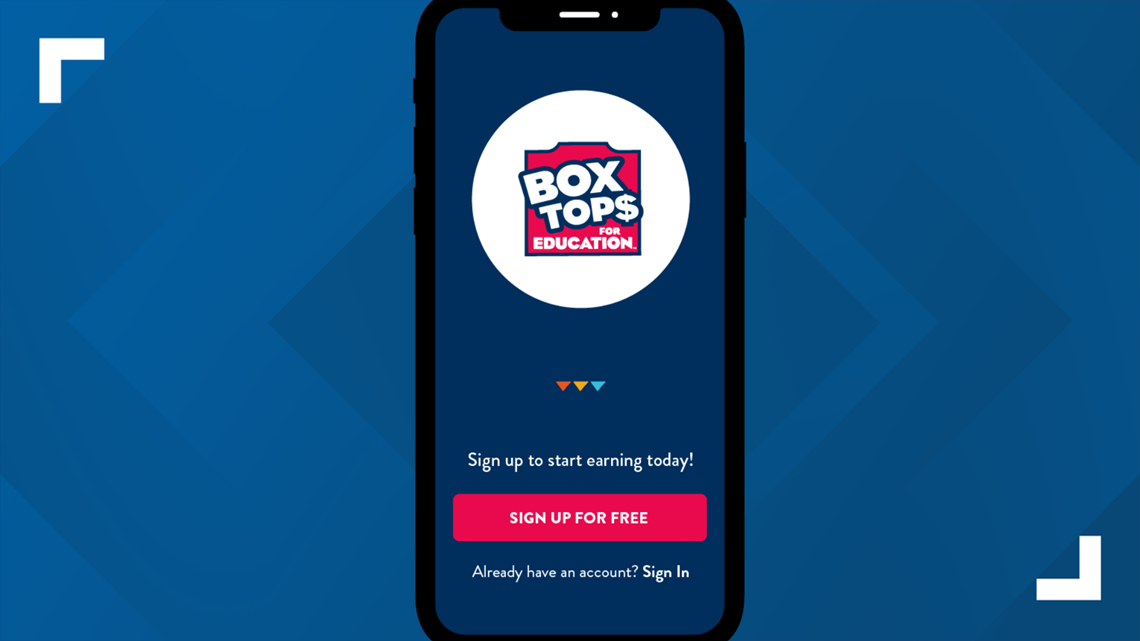 However, the new system could have some downsides. Scanning your receipt gives General Mills, which owns Box Tops for Education, access to your information. Based on its privacy policy, this constitutes as "directly provided information" and it falls under information that you have willingly provided to the company.
Because users are scanning receipts, General Mills can not only see what participating Box Top products you're buying, it can also see what competing brands you're buying. In essence, they're building a data bank of your family's shopping habits. And with that, the company can use targeted marketing to get you to switch products.
According to Bastian, users would have to manually hide information that they don't want to share.
"Shoppers are welcome to block out other items on their receipt, so long as eligible Box Tops for Education product information, and information used to ensure a receipt is not a duplicate (retailer name, transaction total, transaction date and a time stamp) are included," Bastian said.
App users provide a lot of information to Box Tops for Education. Through sources such as public databases, other brands and groups within General Mills, data aggregators, and "other commercially available sources" General Mills potentially has access to all sorts of information like email addresses, social media networking IDs, and phone numbers. It can glean demographics, ages, and spending habits. The company can even access geolocation data.
Many other complaints on social media about the new system are directed towards bugs on the app and the short time frame in which people must submit their receipts.
The new expiration date to scan a receipt is 14 days. This is substantially shorter than the expiration dates for the physical Box Tops, which were months or even a year long. According to Bastian, this is in line with industry standards for receipt scanning programs, but it doesn't make the time crunch any less frustrating. Some users have even been having trouble getting the system to recognize their purchases in the first place.
On Facebook, some older consumers are posting that they are experiencing difficulty navigating the app.
There are also a few comments calling the system "invasive" and "a privacy intrusion."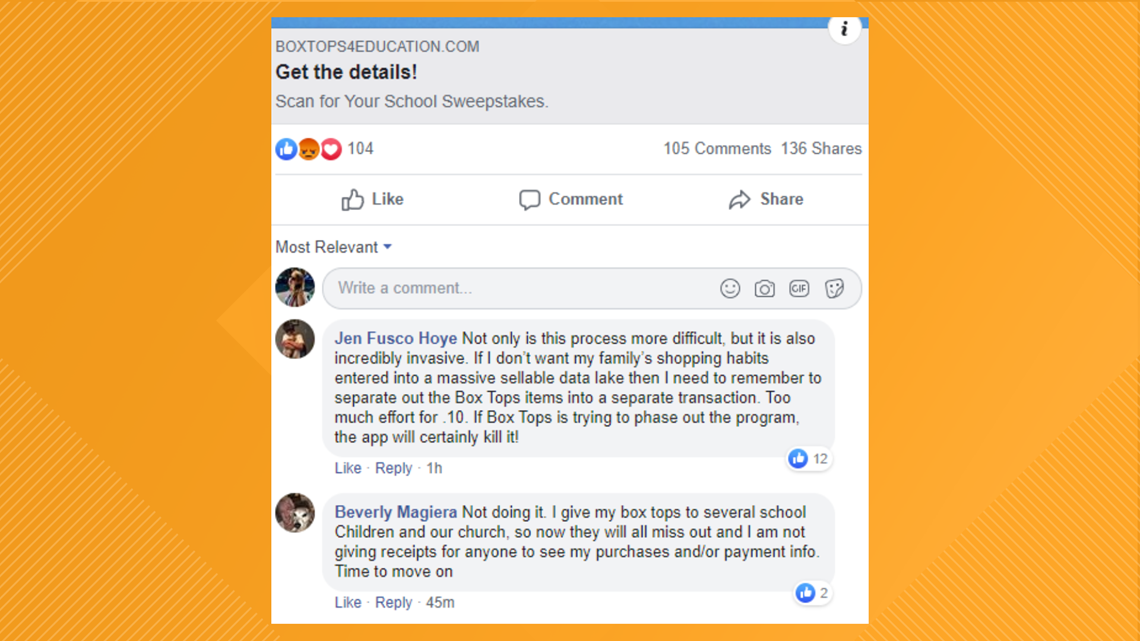 It is clear that there's quite a bit of frustration. In comments like the ones above, long-time Box Top collectors are calling it quits on the new system. Others, determined to send in every extra bit of funding for their school, are waiting on bug fixes and responses from the Box Tops for Education team.
If the company fails to fix problems with the app, public schools could be in for a rough year in terms of funding. In the end, this is who is hurt the most when collecting Box Tops is more trouble than it is worth: the public schools that lose out on critical funding.
FREE ABC10 APP: