SACRAMENTO, Calif. — At 13-years-old Jackson Manning's passion is sports, specifically flag football, basketball and golf. But when he was 11-years-old, playing sports wasn't an option because he was fighting for his life.
What seemed like a routine cold turned out to be type 1 diabetes. His body was shutting down and one of his lungs collapsed.
"It was shocking. You know, you're never prepared. My son's lips were blue that morning and he wasn't responding. And when you see your child like that it's terrifying," said Tricia Manning, Jackson's mom.
Jackson was rushed to the ER and UC Davis Children's Hospital took him in. He was a perfectly normal kid one day, and then spent nearly a month in the pediatric intensive care unit, fighting for his life.
"He was so sick they told us afterwards, when he was getting better, that he was the sickest kid on the floor when he went in, and he almost didn't make it," said Mike Manning, Jackson's father.
Fast forward two years and Jackson is thriving. He has become the child champion for Children's Miracle Network, the organization that helped save his life.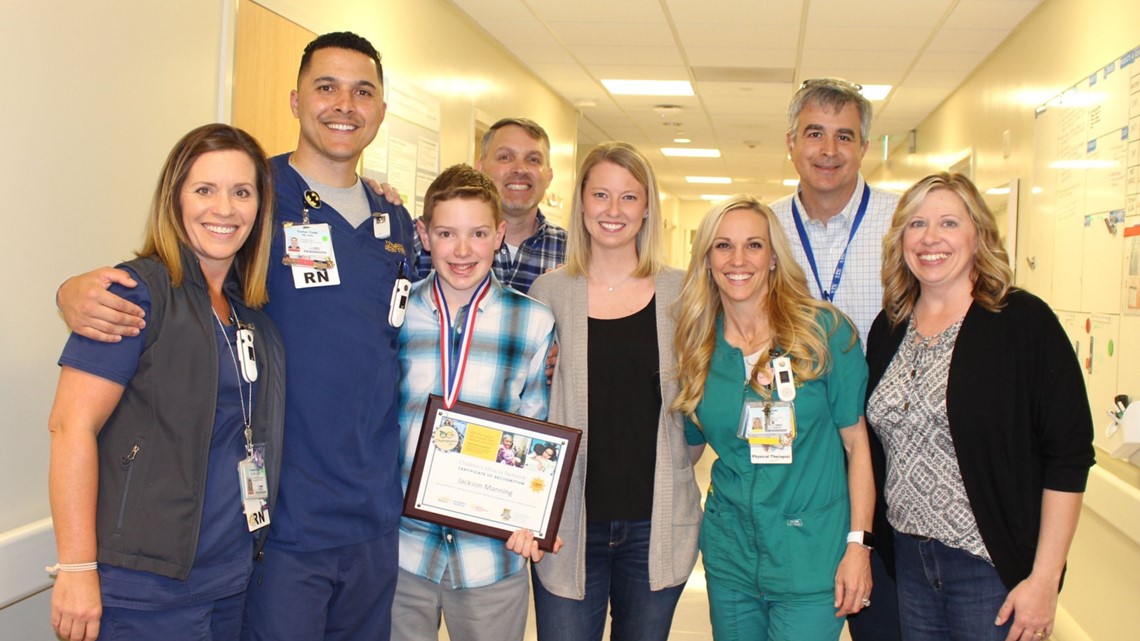 Recently, he spoke in front of a huge crowd to raise money that will help provide treatment for other sick kids.
"I'm feeling much more fresh. I get a second chance of life and I'm just excited," Jackson said. "I'm trying to live life more because... I almost got that taken away from me. And I'm going to live [and] enjoy as much as I can while I'm still here."
His parents are incredibly proud of his accomplishments.
"Yes, he is incredible. He is my hero. I've told him that since he first woke up in the hospital. Ever since then, he's battled everything. He just keeps his spirits up. He has a great attitude. He's a champion, child champion. He really is," Manning said.
Jackson's parents never expected to go through such a scary time so early on in their son's life. They are forever grateful for the dedicated staff who helped save their boy as well as the Children's Miracle Network.
Mike said they are lucky that Jackson got his miracle. Their goal is to let as many people as possible know about the Children's Miracle Network.
"It makes such a huge difference. It's all for these kids to make sure that they have another day, that they get their miracle," Mike said. "Jackson has been a very healthy kid. He was just never sick. And so when you go from never having an illness to all [of a] sudden you're on a breathing tube, it shakes your world."
Their world is now maintaining Jackson's health, including his type 1 diabetes, and allowing him to go back to being a normal kid, who happens to be a child champion.
Jackson said he owes it all to the nurses and doctors who saved his life.
"They really did. They helped us so much and I'm so grateful," he said.
For more stories and info on how you can help the Children's Miracle Network at UC Davis Children's Hospital, visit www.abc10.com/give4kids.