REDDING, Calif. — The last time local prosecutors charged Pacific Gas and Electric Corporation with criminally negligent killings, then-CEO Bill Johnson stood in court pleading out loud "guilty, your Honor," 85 times.
This time, the utility's leaders are taking a decidedly different track by fighting the charges.
America's largest power monopoly was previously convicted of felony reckless arson and 84 felony counts of involuntary manslaughter for starting the 2018 Camp Fire that destroyed the town of Paradise. Johnson urged Californians to judge PG&E by its "actions" during the June 2020 guilty plea.
Just three months later, in September 2020, four people died when a PG&E power line sparked the Zogg Fire in the Shasta County community of Igo.
District Attorney Stephanie Bridgett charged PG&E with the negligent killings of 8-year-old Feyla McLeod and her mother Alaina Rowe-McLeod, along with two of their neighbors: Karin King and Ken Vossen.
"An eight-year-old little girl. PG&E took her life," said Suzie Bewley, the grandmother of Feyla McLeod. "I'm angry and I don't want to see it happen again."
The McLeod family has called on PG&E to change its plea to guilty.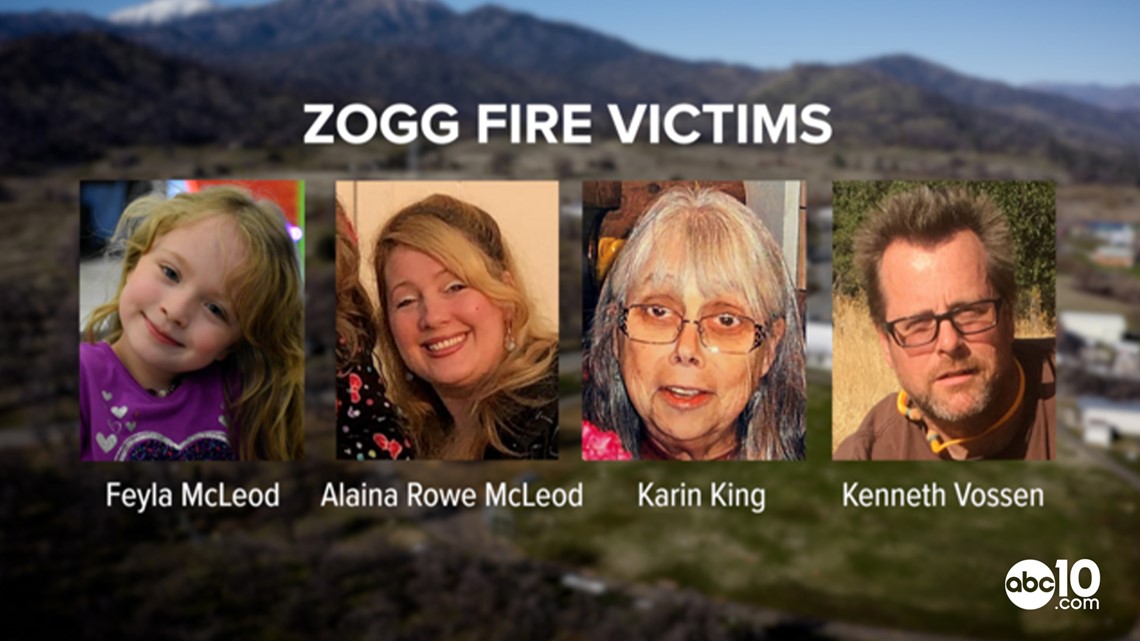 Current CEO Patti Poppe has thus far been absent from PG&E's court appearances.
In a corporate video release, she insisted "we did not commit a crime" and that "my coworkers are not criminals."
The company admits its power lines sparked the fire but denies criminal negligence.
PG&E pleaded not guilty to all 11 counts on Wednesday.

A trial date was set for June 6, though delays are possible because PG&E is considering an appeal of the decision to bind the case over for trial.
A settlement conference was set for May, but Shasta County District Attorney Stephanie Bridgett thinks a jury trial is likely to happen.
"We certainly are ready to go and prove our case," Bridgett said in an interview after the Wednesday court hearing. "The families and everyone involved deserve to have their case heard as soon as possible."
The charges name PG&E Corporation, not any of its individual managers or executives, as the criminal defendant.
In a seven-day preliminary hearing that ended this month, prosecutors argued PG&E failed to perform required safety work by removing a damaged gray pine tree that was a known risk to the power lines.
Through witness testimony, prosecutors revealed a PG&E manager filed a formal written report warning of systemic problems alleged in the case.
Manager Ken Loomis warned in an internal memo that damage to trees "will go unnoticed" because contracted inspectors were not walking all the way around trees to see if they had damage that wasn't visible from the view beneath power lines.
A federal judge who supervised PG&E on its now-expired probation for 2010 felonies previously found the company committed violations by starting the Zogg Fire because contracted inspectors marked the tree as a hazard in 2018 but the utility never followed up to cut the tree down.
"You know good and well you started the fire," U.S. District Judge William Alsup said at the time.
"We believe the conduct of our coworkers and contractors reflects good-faith judgment by qualified individuals," PG&E spokesperson Lynsey Paulo said in a written statement when the Zogg case was bound over for trial this month. "We will continue to defend against these charges as the proceeding unfolds."
Prosecutors have not charged any individual officers or employees of PG&E in the Zogg Fire. If convicted, the corporation itself cannot be sentenced to prison.
After PG&E paid a $3.5 million fine as its sentence for the Camp Fire crimes, Butte County prosecutors have called on state leaders to toughen the penalties for these corporate criminal offenses.
The idea has not gained traction at the state capitol.
For over three years, ABC10's award-winning Fire - Power - Money team has been at the forefront of covering California's wildfire crisis, the danger of PG&E's power lines, and how the company avoids accountability.
ABC10: Watch, Download, Read