SACRAMENTO, Calif — The hundreds of pages of charging documents released by the FBI this week detail how a Sacramento man — William "Rick" Singer — created and operated a massive, nationwide college admissions scam that helped the elite of the elite fake their children's way into top universities.
Among the pages of documents are transcripts of wiretapped conversations between Singer and his clients that detail how he was able to alter test scores and doctor athletic recruitment applications. Most of those conversations occurred without Singer or the parents knowing. However, by last fall, Singer began cooperating with law enforcement and knowingly recorded his calls with clients.
In a range of conversations with Los Angeles marketing executive Jane Buckingham beginning in the summer of 2018, Singer arranges for a colleague to take the ACT exam for her son at a cost of $75,000.
The colleague is Mark Riddell, who was also charged in the scheme and told law enforcement he would often assist students on the exam or go back later and change their answers. At Singer's request, Buckingham sent a sample of her son's handwriting to Singer so that Riddell could attempt to match it on the exam.

Her son ultimately scored a 35 out of 36 on the ACT.
Singer detailed how that part of the scheme worked in conversations with another parent — Gordon Caplan, a lawyer from Greenwich, Conn. — which range from last summer through the fall. He told Caplan that in order for their Riddell to oversee her exam, his daughter would need to be evaluated by a psychologist and diagnosed with learning disabilities.
That way, Singer said, she could ask the College Board to grant her more time to take the exam, which would allow him more ways to facilitate where it was proctored.
"I also need to tell [your daughter] when she gets tested, to be as, to be stupid, not to be as smart as she is," Singer told Caplan about the psychologist evaluation.
The transcripts also show what lengths parents would go to conceal these schemes from their children.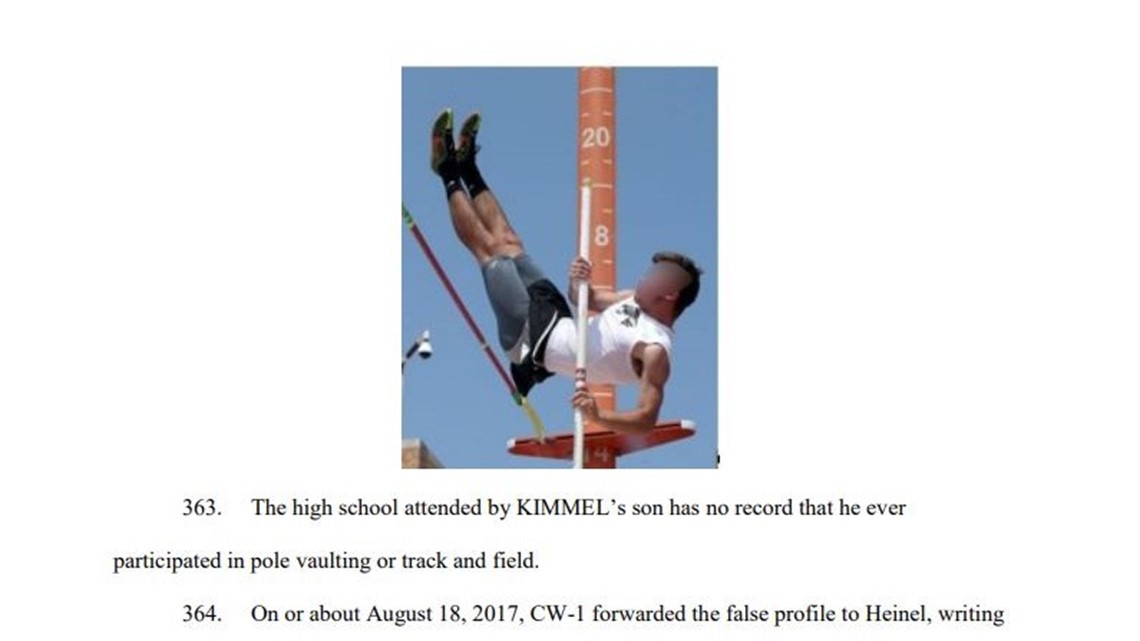 Elisabeth Kimmel, a television executive from San Diego, and her spouse told Singer they failed to tell her son he was on the USC track team — something Singer's company had facilitated by creating a false athletic profile that included a doctored image of Kimmel's son pole vaulting.
SPOUSE: So [my son] and I just got back from [U]SC Orientation. It went great. The only kind of glitch was, and I— he didn't— [my son] didn't tell me this at the time— but yesterday when he went to meet with his advisor, he stayed after a little bit, and the— apparently the advisor said something to the effect of, "Oh, so you're a track athlete?" And [my son] said, "No." 'Cause, so [my son] has no idea, and that's what— the way we want to keep it.
SPOUSE: So he said, "No, I'm not." So she goes, "It has it down that you're a track athlete." And he said, "Well I'm not." She goes, "Oh, okay, well I have to look into that."

Devine Sloane, a Los Angeles-based CEO, also utilized that service and had his son accepted into the USC water polo team even though he didn't play water polo and his high school didn't have a team. When admissions counselors questioned it, Sloane was outraged.
CW-1 responded as follows: They know about USC. One of the counselors questioned [your son] getting in as Water Polo player this week. My folks at [U]SC called me so we could restate [your son] playing in Italy as [his high school] does not have a team.
SLOANE replied: "Any concerns?" Three minutes later SLOANE responded again, as follows: "The more I think about this, it is outrageous! They have no business or legal right considering all the students' privacy issues to be calling and challenging/question [my son's]'s application."
________________________________________________________________
"I understand what they were trying to do. It's not right, especially for us. The majority that don't have that kind of wealth to put their kids into that situation."